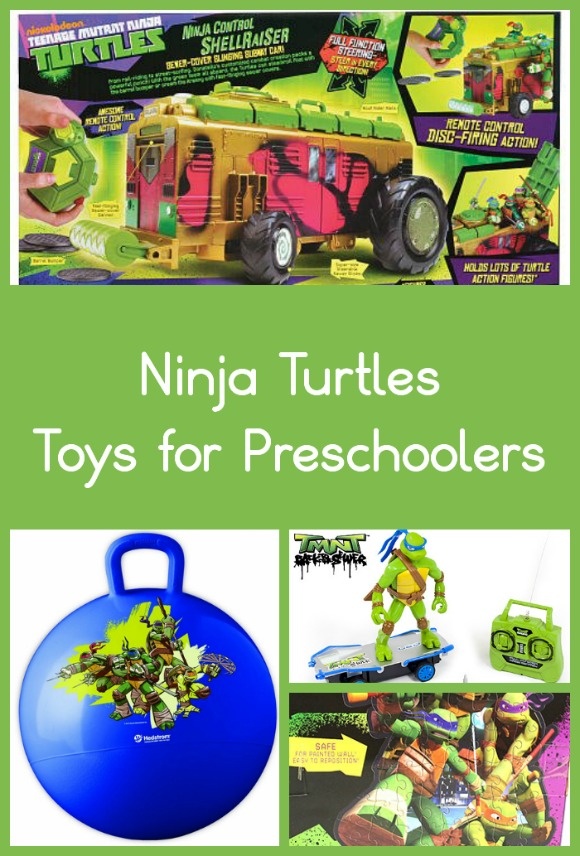 We're celebrating the upcoming release of the new Teenage Mutant Ninja Turtles movie with a full week of  fun here on MyKidsGuide, starting with great  Ninja Turtles toys for preschoolers ! First, tell me, are there any other kids of the 80s out there who automatically hear the original theme song in their head when they see anything related to  TMNT? You're singing it now, aren't you? "Heroes in a half shell, turtle power!"
That "turtle power" has been brought to a whole new generation. While their look and theme song may have changed, the Ninja Turtles are as popular as ever with the preschool and up crowd! I honestly think that our generation is bringing back our childhood favorites because we want a chance to play with the toys again! Check out these cute Ninja Turtles toys for preschoolers that you just may want to play with yourself!
Teenage Mutant Ninja Turtles Toys for Preschoolers

TMNT Hopper Ball (affiliate link)
Do you remember these from when we were little? I used to love them! I wish they made them in my size, I got a ton of exercise on them as a kid. (Note, if you know where I can find grownup versions, let me know!). The one thing I love about this one: the ball deflates so you can pack it and take it on the go. I don't recall ours deflating as a kid. It's made of tough

Teenage Mutant Ninja Turtles Ninja Control Shellraiser RC Vehicle (affiliate link)
The Shellraiser is the Ninja Turtle's main vehicle. Now, your kids can take control (make that remote control) with this fun RC vehicle! It's for indoor use only, and kids must stay within about 15-20 feet of the Shellraiser.

TMNT Water Sprinkler (affiliate link)
This is the coolest of the (pun intended) Ninja Turtles toys for preschoolers! Beat the heat by running around in the water sprayed by Michealangelo! Features two water splashing sprinklers! This would also be a perfect compliment to those great pool party games you have planned this summer!

Teenage Mutant Ninja Turtles Wall Puzzle [72 Pieces] (affiliate link)
So, I honestly can't figure out if you're supposed to put this puzzle together ON the wall, or put it together THEN hang it up. In either case, it's definitely my favorite of the Ninja Turtle puzzles, mostly because of its fun shape.

TMNT Skateboarder – Leonardo (affiliate link)
Your little ones will love sending Leonardo chasing after bad guys with this cool remote control skateboard! Just be sure to use it indoors. Comes with an 8″ Leonardo that doubles as an action figure!
Looking for more of your own childhood favorites to share with a new generation? Check out our 5 Fun Wizard of Oz Toys for Preschoolers: Introduce the Classic to Your Little Ones and 5 Fantastic Scooby Doo Toys For Kids!
Do you have any favorite Ninja Turtles toys for preschoolers? Tell us about it in the comments!