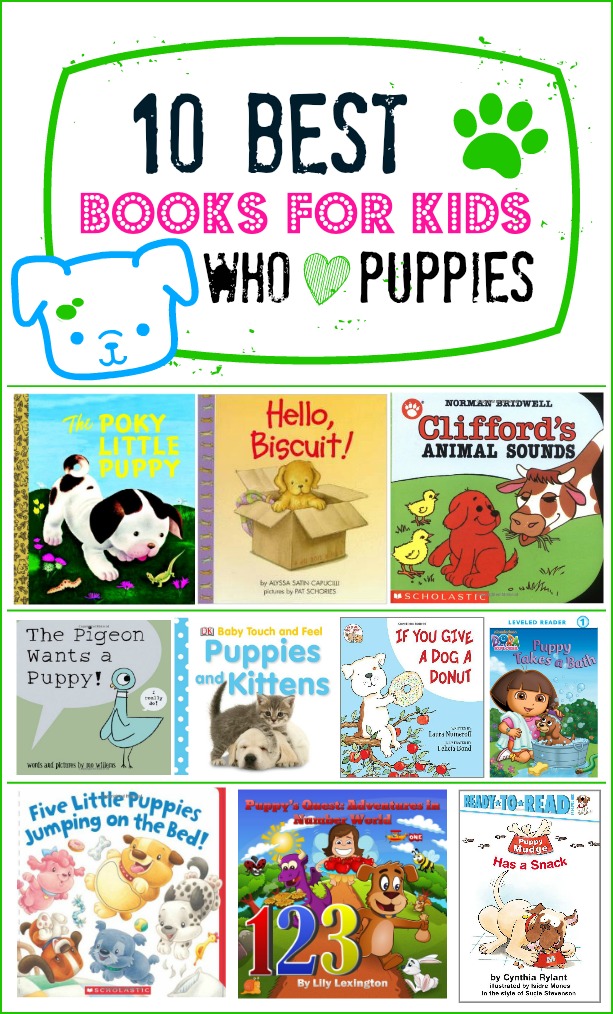 It's Love Your Puppy Week! We've shared fun puppy toys for kids and great puppy party games. Today we are looking for the best books for kids who love puppies! While on my search for our top ten, I came across puppy adaptations of our favorite stories. Instead of, If You Give a Moose a Muffin, I found, If You Give a Dog a Donut. I even found Five Little Puppies Jumping on the Bed. How adorable is that?
When I think of the best puppy books, my first thought is always the Poky Little Puppy, Clifford, and Biscuit. These three characters are timeless and their stories are loved by all young children.
10 Best Books for Kids Who Love Puppies
The Poky Little Puppy (affiliate link)
One of the original 12 Little Golden Books, The Poky Little Puppy has sold nearly 15 million copies since 1942, making it one of the most popular children?s books of all time. Now this curious little puppy is ready to win the hearts and minds of a new generation of kids.
Clifford's Animal Sounds (affiliate link)
Clifford the small red puppy meets a variety of animals and discovers what kinds of sounds they make.
The Pigeon Wants a Puppy (affiliate link)
Pigeon, the stubborn preschool impersonator last met in Don't Let Pigeon Stay up Late (2006), returns for another encounter with an unseen adult. This time, he's angling for a puppy, and once again his approach perfectly mirrors a child's, from calm reassurances ("Oh, don't worry. I'll take care of it!") to sulking to a full-blown tantrum: "I WANT A PUPPY! RIGHT HERE! RIGHT NOW!" Amazingly, his dream comes true, but when a big, slobbery pooch appears in the frame, the terrified Pigeon discovers that, in fact, he may not be a "puppy-loving pigeon" after all. Maybe a walrus is more his speed. Willems skillfully executes the formula that made previous Pigeon titles so popular: minimal artwork that places all the attention on the cajoling little bird, whose words and body language will strike a chord of familiarity with every child. Once again, kids will reach the story's end wondering what Pigeon will want next. Preschool. –Gillian Engberg
Puppy Takes a Bath (Dora the Explorer) (affiliate link)
Dora wants to give her puppy a bath. But first she has to find him! – Level One expands the vocabulary and uses longers sentences for kids who are just starting to read. Some Level One books also employ rebuses or picture icons.
Puppies and Kittens (BABY TOUCH & FEEL) (affiliate link)
With padded covers, simple images, and an amazing range of novelty textures, Baby Touch and Feel books will immediately capture the attention of the very youngest children, and create an experience they'll want to repeat over and over again. Baby Touch and Feel Puppies and Kittens features baby dogs and cats in all sorts of adorable poses.
Hello, Biscuit! (affiliate link)
Biscuit, star of the best-selling My First I Can Read Books Biscuit and Biscuit Finds a Friend, debuts in his first two picture books! The world of this adorable and mischievous puppy is one preschoolers are eager to enter and quick to recognize as their own. Author and illustrator team Alyssa Satin Capucilli and Pat Schories present appealing stories perfectly attuned to the interests and funny bones of young children. In these two books, fans learn how Biscuit got his name and what happens when his young owner has a party and forgets to invite Biscuit!
Puppy's Quest: Adventures in Number World (affiliate link)
Explore the numbers 1 through 10 with your child in this exciting rhyming story featuring Pup the Puppy, Drago the Dragon and Blossom the Fairy. Join them on their quest to explore number world as they plant two magic seeds which end up growing into four magnificent trees. (These aren't ordinary seeds!)
Puppy Mudge Has a Snack (affiliate link)
Henry's puppy, Mudge, loves to eat. He really wants to share Henry's snack. Henry keeps saying, "No, Mudge!" But it's hard to resist a puppy as cute as Mudge!
If You Give a Dog a Donut (Affiliate link)
If you give a dog a donut, he'll ask for some apple juice to go with it.
When you give him the juice, he'll drink it all up.
Then, before you can say "Woof" . . . Dog is off on a backyard adventure!
The exuberant dog who first appeared in if you give a pig a party is now the star of his very own book. Written in the irresistible "If You Give…" tradition, if you give a dog a donut is another home run from the beloved team of Laura Numeroff and Felicia Bond.
Five Little Puppies Jumping on the Bed (Affiliate link)
FIVE LITTLE PUPPIES JUMPING ON THE BED is a playful twist on the famous "Five Little Monkeys" song. Every spread has a unique and plush touch-and-feel as the text highlights each puppy, allowing children to sing along and explore the appealing textures.
Looking for more great books for kids? Check out our favorite Muppet Books and fun Summer Reading Books!
What was your favorite puppy book as a child?
What is your little one's favorite puppy book?