This Haba Wagon Walker Toy review contains affiliate links. We recommend what we love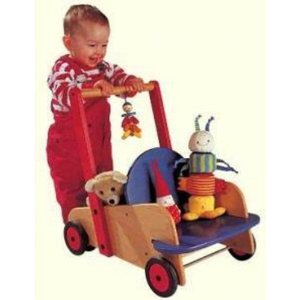 Gone are those days when parents used to spend foolishly on toys and toddler accessories; people now spend their money wisely on kids' stuff –things and toys that are educational and have multipurpose usage. The Haba Wagon Walker is one such educational toy for toddler that has become one of the must-haves; not only can it be used for your toddler when he is only a little child, the Haba wagon walker is going to come in handy even when he reaches his pre-school years.
If you have a little toddler who is just learning to stand up and take a few steps then the Haba Wagon Walker is just the thing for him. It is unlike the traditional walkers that have a seat for the toddler in the center to sit in with some flashy, colorful toys in the front. This educational toy for toddler is a stylishly designed push-walker made from wood with rubber tires.
Bright colors have been used to paint the seat and tires of this educational toy for toddlers. At the front of the Haba Wagon walker, a little seat has been adjusted so that the child can have fun while he takes his stuffed toys or dolls for a ride. The seat can also be used for the little baby brother or sister; or if you want, you can give your little baby a ride by pushing it yourself.
The whole beauty and attractiveness of the Haba Wagon Walker lies in the simplicity of its design and sturdiness of its construction. A little basket is also constructed behind the chair to store stuff for your toddler. You can put things that he likes or needs in that basket, so that wherever he strolls over to, he always has his favorite things nearby.
The Haba Wagon Walker has a small seat at the front and a handle that is supported by two wooden bars behind the seat. The handle is placed at a height that would be easy for the toddler to grab on to when he gets up from the floor. Your toddler can then use the wagon walker as a push cart to roam around the house or the garden carrying his goodies around with him.
An educational toy for toddler, like the Haba Wagon Walker, stays good for many years to come. Not only will it remain intact because of the explicit construction, but it can also be used for many more years by your child. So far, the Haba Wagon Walker has only received good reviews from the parents who have had the opportunity to buy this wonderful toy for their child.
 BUY IT: Purchase the Haba Wagon Walker, an educational toy for toddlers that can be passed down through generations, at Amazon for $143.99