The Oregon Scientific Tinker Bell Junior Laptop Toy Review contains affiliate links. We recommend only what we love!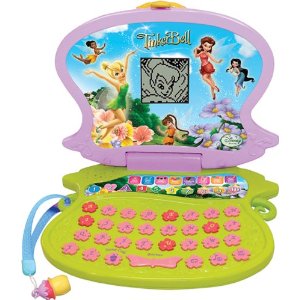 Toddlers love to copy the adults around them; especially how they talk on cell phones or how they work on their computers and laptops. If you, too, have a cute little daughter or granddaughter who wants to have a go at your laptop, why not buy her very own personal laptop that does not cost hundreds of dollars and that can be fun and educational for her at the same time. So why don't you consider The Oregon Scientific Tinker Bell Junior Laptop?
The Oregon Scientific Tinker Bell Junior Laptop: A Perfect Educational and Entertaining Gift for Disney Fans
The Oregon Scientific Tinkerbell Junior Laptop
is just the thing she needs. This little laptop has all those features which can easily attract any little girl. To start off with, it is designed with Disney's favourite character, Tinker Bell. Tinker Bell is an iconic character that has been an all-time favourite of little girls and boys.
The cute little laptop has both alpha-numeric keys so that your child learns to recognize both the alphabetic letters and numeric figures. But that's not all; the Tinker Bell laptop doesn't contain keys only, it also has 8 interactive games that are built into the laptop, so that your little child can gain loads of fun from interactive learning experience. To aid the interaction, an LCD screen is also provided to keep your child even more involved in it.
The Oregon Scientific Tinker Bell Junior Laptop has incorporated one of Disney's famous characters and has also used bright colours to support that theme. Your little daughter, niece or granddaughter is going to be simply delighted just by the look of this laptop. What's more, it is extremely easy to use too. You can just hand it over to her and she is going to have fun working her way through the games.
Numerous Disney characters are used to produce kids' products as it makes the thing more interesting for the child; Tinker Bell is by far one of the most popular ones. If you buy the Oregon Scientific Tinker Bell Junior Laptop laptop for your precious little girl, she is bound to be very excited. The laptop also has a cute little handle and a Bell strap to make it easier for the child to carry around when she is not playing with it.
Purchase the Oregon Scientific Tinker Bell Junior Laptop right now and gift it to the little girl in your life on the upcoming holidays. The Tinker Bell laptop is not only fun and colourful, it also makes learning fun.
BUY IT: Buy the Oregon Scientific Tinker Bell Junior Laptop on Amazon for $49.95