This Educational Toys for a 2 Year Old post contains affiliate links. We recommend what we love.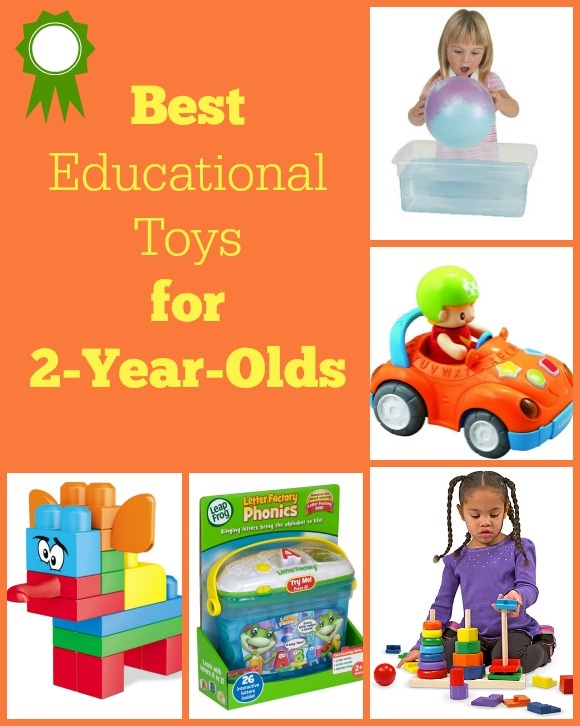 At 2 years old, children are not only learning more about the world around them, but are also developing their language, cognitive, coordination, and fine motor skills. There are so many educational toys for toddlers to choose from that it can be difficult to determine which toys are both fun and educational.
Awesome Educational Toys for a 2 year old
LeapFrog Letter Factory + Numbers
LeapFrog is known for its award-winning educational toys for children and my toddler has learned a great deal with their products. Letter Factory + Numbers is an interactive toy that speaks and sings to teach children the letter names, letter sounds and counting up to 10.
This is no ordinary toy car; this remote control educational toy actually teaches children about left, right, up and down as well as colors, shapes, logic, and memory.
Match It: What Goes Together Puzzle
At 2 years old, it is not too early to use puzzles as an educational toy to teach children about colors, shapes, and objects. There are even fuzzy puzzles that help with sensory exploration. Match It: What Goes Together puzzle helps children learn what goes with a specific item. For example, a candle would go with a birthday cake or a horseshoe is associated with a horse.
MegaBloks Funny Animals
Building blocks are a fun and educational toy. MegaBloks sells large building blocks perfect for 2 year olds. Playing with blocks teaches children how to put pieces together and works on developing their motor skills.
Kaplan Primary Beads in a Box
Stringing beads on a string is a great educational toy that develops a child's fine motor skills. Kaplan Primary Beads in a Box is just the right size for 2-year-old fingers. They are not too small where it could be a choking hazard, but not too big either.
Melissa & Doug Geometric Stacker
For educational toys that will help develop cognitive skills, use geometric stackers. Children will have fun learning how to sort from largest to smallest as well as learning skills such as problem solving, sequence, and sorting.
Magic Gertie Ball
Learning to catch and toss a ball is not just for fun. Learning this type of skill helps a child develop dexterity and coordination, which will help them keep their balance when they walk, run, skip, and play sports later as they grow up. The Magic Gertie Ball is textured to make it a little easier for children to grasp on to it.
There are many educational toys that can be both fun and help your child learn the skills they need to reach their milestones.