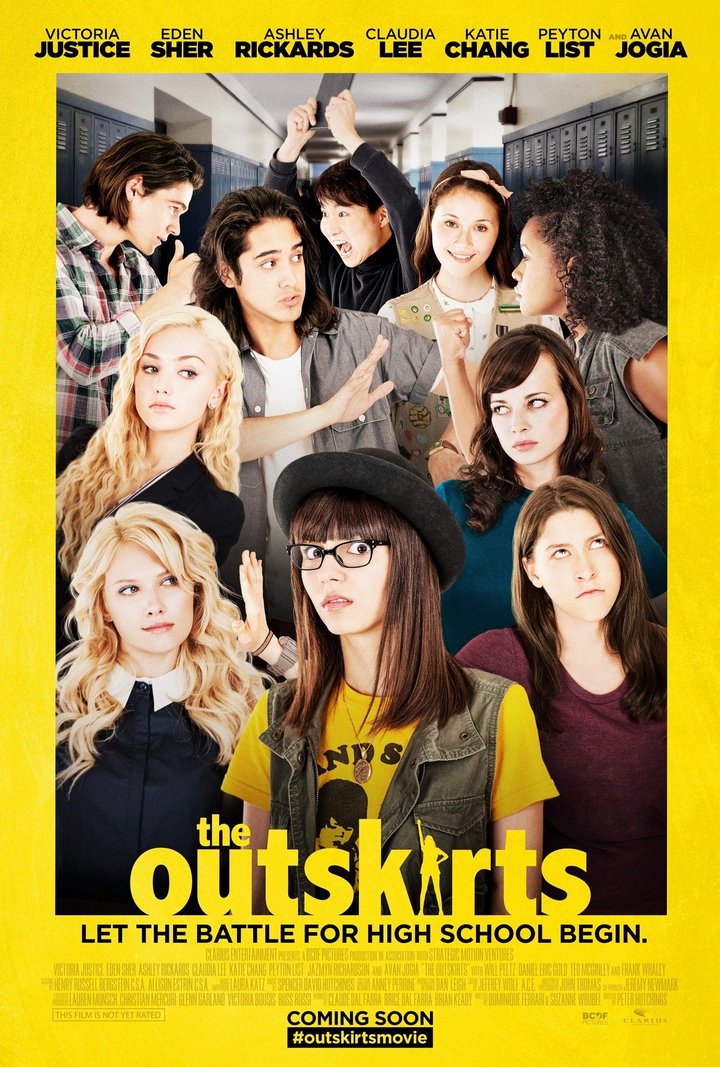 The Outskirts is a comedy movie that is due to be released in theaters on November 6, 2015.  Watch the Trailer to learn more about this teen comedy movie.
The film is directed by Peter Hutchings and written by Suzanne Wrubel and Dominique. The photography for the movie started in New York City on July 2, 2014. The actual filming started a month later in Great Neck, NY at the John L. Miller Great Neck North High School as well as other spots around not only Great Neck but also Port Washington. This comedy movie is about Jodi and her best friend Mindy. Jodi was the victim of a horrible prank at the hands of the queen bee at the high school. Jodi and Mindy decide that revenge is the only answer, so they gather all of the high school's outcasts to get back at Ms. Popular and her popular friends. However, things don't turn out as they planned, nearly destroying Jodi's relationship with her best friend but also her new romance.
The Outskirts is rated PG-13 for crude content, suggestive content, language and some teen partying. It has a runtime of 1 hour and 35 minutes.
Cast of The Outskirts Teen Comedy Movie
Victoria Justice as Jodi
Eden Sher as Mindy
Ashley Rickards as Virginia
Claudia Lee as Whitney
Katie Chang as Claire
Peyton List as Mackenzie
Avan Jogia as Dave
William Peltz as Colin
Jazmyn Richardson as Sugar
Frank Whaley as Herb
Ted McGinley as Principal Whitmore
Harry Katzman as Louis
Nick Bailey as Rick
The Outskirts (2015) Movie Trivia:
This post contains affiliate links. 
The Outskirts 2015 is the 3rd movie that Victoria Justice and Avan Jogia have starred in together. Previously, they also worked together on Victorious and Spectacular, a Nickelodeon television movie.
This isn't the first movie that Eden Sher plays a character that is somewhat nerdy. She also played the role of Sue Heck in TV's The Middle.
Another connection that Eden Sher has with the movie is that her co-star Charlie McDermott in The Middle also shares a birthday with her co-star from The Outskirts, Peyton List.
Don't miss out The Outskirts (2015) comedy movie. Get The Outskirts Movie tickets TODAY.