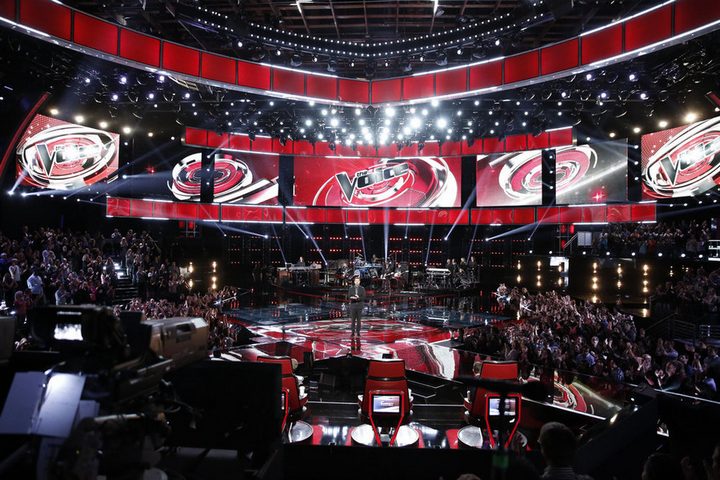 This week The Voice Season 9 Playoffs is a 3-night event. Monday night featured contestants from Team Adam and Team Gwen performed, Tuesday night contestants from Team Blake and Team Pharrell performed and Wednesday night, the Top 12 will be announced. Also, each coach will bring back one of their past singers who had been eliminated. . Read our recap of the 3 nights and get caught on the highlights.
The Voice Season 9 Playoffs Part 1, Part 2 and Winner Announcements: Recap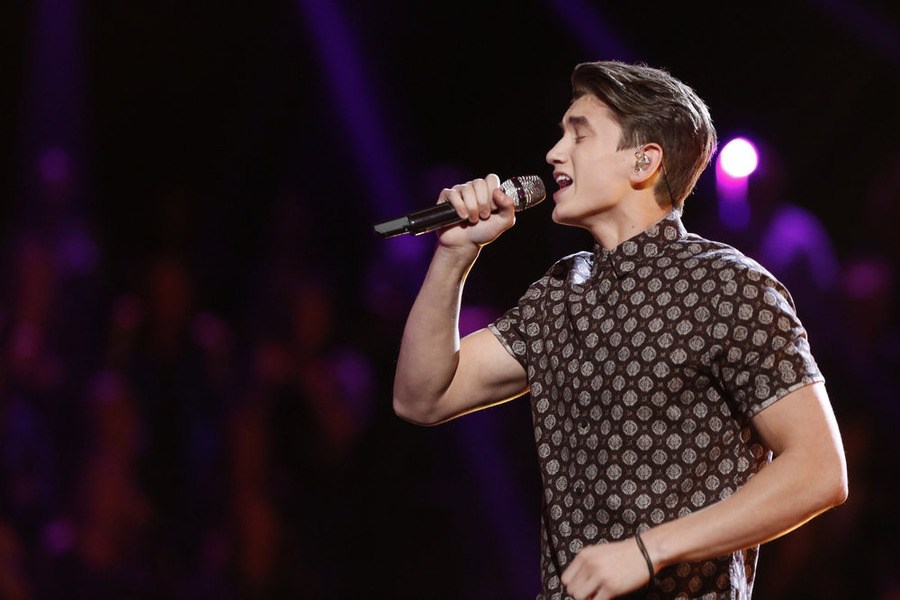 Let's start with Monday night at The Voice Season 9 Playoffs
Blaine- Team Adam- Never Tear Us Apart by INXS
Blaine and his girlfriend were married over the weekend. Congrats to the newlyweds! Blaine does a great job with this song, but it isn't what he needs to be a winner in this competition. This song is way too much like karaoke.
Regina- Team Gwen- Hello by Adele
Regina was thrilled when Adele's new song was given to her. I am not thrilled about this performance of hers. It sounds like she is screaming sort of or more like shouting the song. Not to mention that she is having issues with her breath control.
Keith- Team Adam- To Be With You by Mr. Big
Keith has done quite a bit like the front a music group and being part of a boy band. Keith is playing the guitar and does really well. I am glad that he chose this song because it was a good song for him. His voice sounds amazing and he is hitting every note right on target. He is confident on stage and his stage presence was amazing.
Shelby- Team Adam- You're No Good by Linda Ronstadt
Shelby talks about how much her confidence has grown since she has been on the show. She has a great voice and is singing this song so beautifully. I love her tone and her range in this performance. I did notice at one point though that she loses her breath during the chorus. But, overall it was a great performance.
Korin- Team Gwen- Adia by Sarah McLachlan
Korin looks beautiful, wearing a scarlet dress. She has amazing tone but I did notice some tuning issues. But, I was waiting for her to hit some high notes and she never did really. I think that the song arrangement could have been much better than it was too.
Ellie- Team Gwen- Ex's and Oh's by Ellie King
Ellie is the one that Gwen brought back tonight. Ellie is surprised to learn that one of her songs got loads of downloads. I love Ellie's blue hair tonight. This is a great song choice for Ellie. It certainly brings out the rocker side of her.
Jeffrey- Team Gwen- Say You Love Me by Jessie Ware
Jeffrey is real, really good. His voice is so soulful, beautiful to full of emotions. He doesn't hold back in his performance, giving it all he has. I think he has a really good shot of winning this competition.
Braiden- Team Gwen- Everything I Own by Bread
Braiden got the opportunity to sing with Blues Traveller recently in Las Vegas. Braiden seems a tad nervous to me during his performance. He doesn't seem to connect emotionally to what he is singing. His voices keeps fading in and out throughout the song too. He does start to do better towards the end of the song but overall he just didn't do well. I have to say that he is a cute 15-year old kid though.
Amy- Team Adam- The Way You Look Tonight by Frank Sinatra
Amy loves Maroon 5, so much so that she actually stole her brother's maroon 5 album when she was 13 years old. During her performance, she started out sitting on a stole. I was hoping she wouldn't be sitting there the whole time and she didn't. She looks beautiful in a long, black dress. Her performance didn't get any better though. It was just tired, dull and lethargic. There was also some tuning issues too.
Viktor- Team Gwen- All Around the World by Lisa Stansfield
Viktor has a great voice. His voice is full of soul and his falsetto is simply amazing. However, at this point in the show, everyone needs those moments that are off the charts. And, unfortunately, Viktor doesn't have any of those moments here.
Chance- Team Adam- Barton Hollow by Civil Wars
Chance is the one that Adam brings back tonight. I am glad that he is back since he is such a great singer. However, with that said, he is very young at just age 15. While he sings very well and has potential, I don't think he is at the point just yet where he can win here. I do like Chance though.
Jordan- Team Adam- Halo by Beyonce
Jordan's grandfather owned a coal mine. Interesting! Jordan has a nice voice, but this performance has several pitch issues, but he does hit the big notes in the song. I like Jordan, but I don't think he is winning material. The audience seems to love him.
Now, on to Tuesday night: The Voice Season 9 Playoffs
Tonight, Team Blake and Team Pharrell are up!
Darius- Team Pharrell- Love Lockdown by Kayne West
At the age of 12, Darius' father builds him a music studio in the family home. I love his voice and I love how he took this song and made it his own. The audience loves him too, giving him a standing ovation. Even the judges loved him.
Ivonne- Team Blake- One of Us by Joan Osborne
Ivonne is very shy but you can't tell that when she sings. Blake says that singing is her superpower. Ivonne was homecoming queen. I am kind of on the fence about her though. She sings well and hits the high notes but I just think she has so much more than what she is delivering here.
Morgan- Team Blake- Lips of an Angel- Hinder
Morgan gave Blake a CD that she made when she was 9. Morgan does an amazing job here. She not only turned this rock song into a country song but she made it a female country song. She has amazing stage presence. She has that southern, country voice when she sings. I think she definitely has what it takes to make it to the finals.
Evan- Team Pharrell- Overjoyed by Stevie Wonder
I have to say, no one can hit the high notes like he can. He has such a soulful tone in his voice. I am not that impressed with his stage presence though. But wow this kid can sing. He is a pure natural. Also, not crazy about the tight black pants either. He is just too young for that, too much too soon.
Madi- Team Pharrell- Songbird by Fleetwood Mac
Okay, what is up with the weird hat and guitar? Just not feeling her performance. I think some performers do well playing an instrument while performing, but it seems we get lots in the guitar with Madi.
Celeste- Team Pharrell- Something in the Water by Carrie Underwood
Celeste is the one that Pharrell has brought back. Celeste has a beautiful voice, but I can see what she was eliminated in the first place.
Zach- Team Blake- Brand New Girlfriend by Steve Holy
OMG! I love him, I love his voice. He has such amazing stage presence. His voice is so deep. He is definitely a title contender.
Riley- Team Pharrell- Should've Been Us by Tori Kelly
Riley is a huge star on YouTube. She is young and while she is really good, I think she has a couple of years to go before she's great. She does have great stage performance and she knows how to involve the audience in her performance.
Nadjah- Team Blake- Upside Down by Diana Ross
Nadjah has such a soulful voice. She does a great job working the audience and her stage presence is off the charts. Her voice is so beautiful and she has so much talent. She definitely has potential but not sure if she will make it to the Top 12.
Emily- Team Blake- In the Garden
Blake sang for her 17th birthday and presented her with a cake. She starts the song sitting down and eventually gets up. For 17-years old, her voice is beautiful, so mature. She doesn't sing really big notes, though. But, she is definitely the whole package.
Mark- Team Pharrell- What Do You Mean by Justin Bieber
Mark starts out by playing the piano but doesn't play it throughout the whole song. I am not really feeling Mark's performance here. I just don't really like his voice. He has very little stage presence and the stage's lights are way too bright.
Barrett- Team Blake- I Drive Your Truck by Lee Brice
I love his voice. Barrett definitely has that country voice. He puts so much emotion and feeling into the performance. I really like Barrett. He gives it his all and is totally amazing.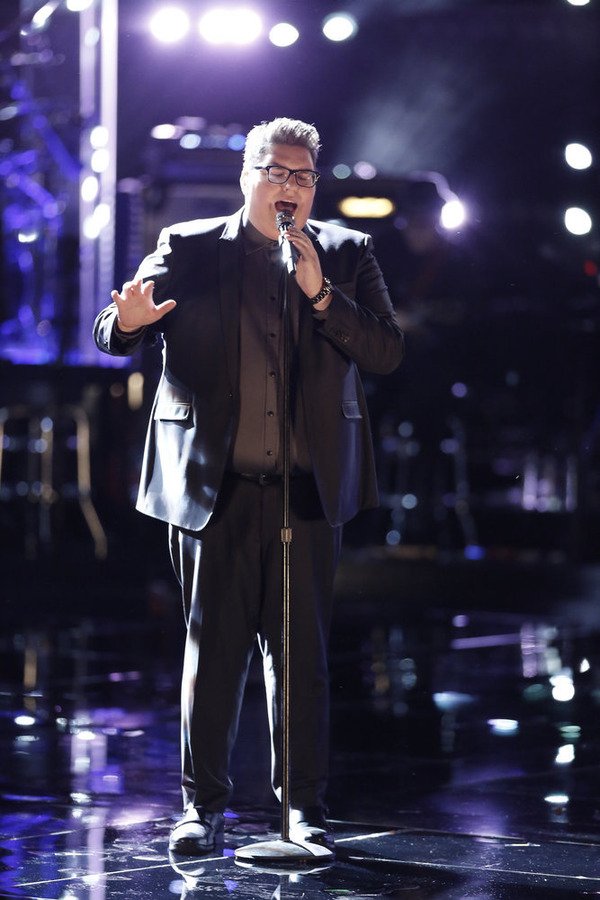 Wednesday night is the announcement of the Top 12: The Voice Season 9 Playoffs
So, how the voting works is that America votes for two contestants on each team and the coaches have one vote. Since each team has six singers, three will go home.
Team Gwen takes the stage to sing Ooo Child by The Five Stairsteps. The performance was mediocre, with shaky vocals. For Team Gwen, America saves Jeffrey and Braiden and Gwen saves Korin.
Team Blake takes the stage to perform Stand by Rascal Flatts. Great performance by them. For Team Blake, America saves Barrett and Zach while Blake saves Emily.
Team Pharrell takes the stage to sing Everybody Hurts by REM. They did amazing. For Team Pharrell, America saves Madi and Evan and Pharrell saves Mark.
Team Adam takes the stage to perform Diamonds by Johnnyswim. Very solid performance by all. For Team Adam, America saves Jordan and Shelby while Adam saves Amy.
The Top 12 of  The Voice Season 9
Jeffery – Team Gwen
Braiden – Team Gwen
Korin – Team Gwen
Barrett – Team Blake
Zach – Team Blake
Emily– Team Blake
Madi– Team Pharrell
Evan– Team Pharrell
Mark– Team Pharrell
Jordin– Team Adam
Shelby– Team Adam
Amy– Team Adam
Eliminated:
Ellie- Team Gwen
Regina- Team Gwen
Viktor- Team Gwen
Morgan- Team Blake
Ivonne- Team Blake
Nadjah- Team Blake
Celeste- Team Pharrell
Darius- Team Pharrell
Riley- Team Pharrell
Blaine- Team Adam
Keith- Team Adam
Chance- Team Adam
Did you watch one of these nights? Who was your favorite performer during The Voice Season 9 playoff round? Tell me.