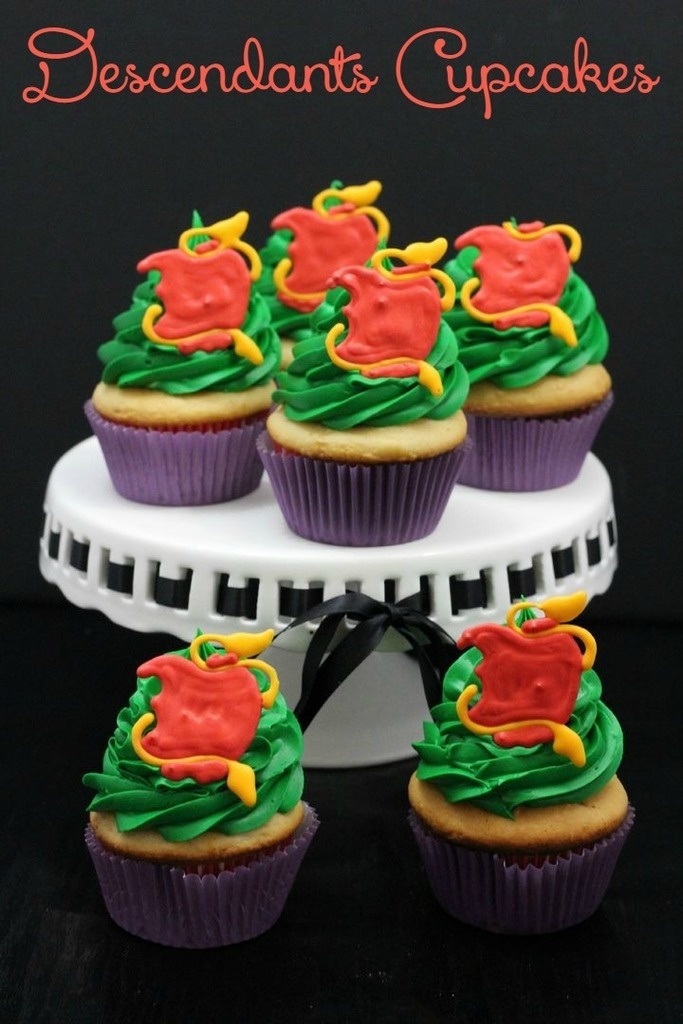 When it comes to these Descendants-Inspired Cupcakes, giving in to your wicked side never tasted so good! These cupcakes will be a great hit for your upcoming Christmas party or sleepover party. You can make them ahead of time or just gather the ingredients and bake them with your besties. It's fun eating cupcakes and it's even exciting baking them with your friends. You can even impress your mom and family with these cupcakes or use them for your next bake sale. Let's get started, shall we?
Descendants inspired cupcake recipe
Vanilla Cupcake Recipes
Cupcake Ingredients:
1 1/2  cup all-purpose flour
1 tsp baking powder
1/8 tsp baking soda
1/4 tsp salt
1 C sugar
1/2 cup unsalted butter, softened
1 large egg
2 large egg whites
1/2 tsp vanilla extract
1/3 C buttermilk
Cupcake Directions: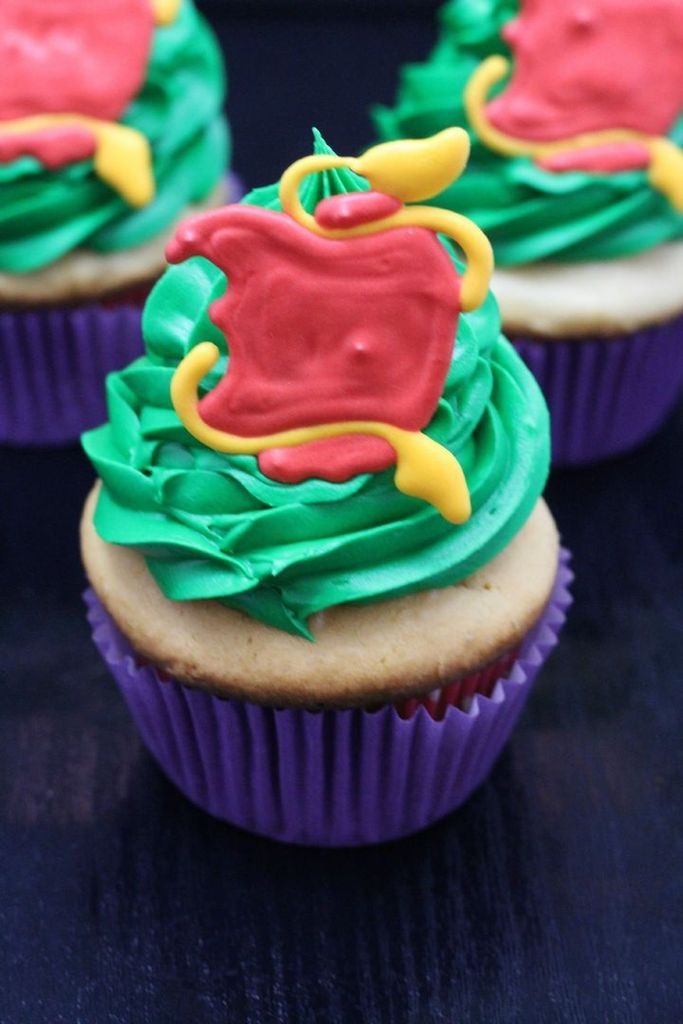 Preheat oven to 350 degrees. Line cupcake pan with paper liners.
Sift flour, baking powder, baking soda and salt in a medium bowl. Sit aside.
Using  an electric stand mixer whip the butter and sugar until pale and fluffy in the mixing bowl.
Add in an egg, then the egg whites one at a time.  Add the vanilla with the second egg white.
Using a liquid measuring cup measure the buttermilk.
Start to mix 1/3 of the flour mixture alternating with 1/2 of the buttermilk. Mix after each addition only until just combined.
After all ingredients are blended scoop the batter into the paper lined cupcake pan until each tin is 3/4's filled.
Bake at 350 degrees for 20-25 minutes or until an inserted toothpick comes out clean.
Allow cupcakes to cool in cupcake pan for 10 minutes.
Remove cupcakes from pan and place each on a wire rack until completely cooled.
Frosting Recipe
Frosting Ingredients:
1 C soft unsalted butter
4 + C powder sugar
4 TBSP heavy whipping cream
Green gel food coloring
Frosting Directions: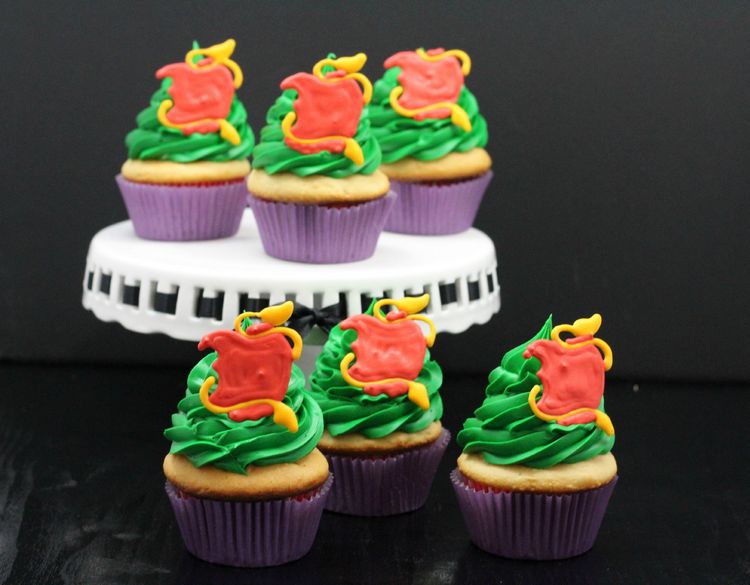 Cream the butter and powder sugar until it looks light and creamy.
If it doesn't cream add several drops of the heavy whipping cream until it creams.
Add several drops of orange gel food coloring.  Mix well to blend the color.
Test to see if the frosting can form and hold a stiff peak by taking a spoonful of frosting and turning the spoon upside down. If the frosting stays on the spoon it is ready if not then….
Add more powder sugar 1/2 C at a time…. mix well.
If ready scoop the frosting into a pastry bag with a large tip.
Twist the open end of the pastry bag to push the frosting to the tip.
Start by frosting on the outside edge of the cupcake working to the center of the cupcake.
Royal Icing Recipe:
Icing Ingredients:
2 egg whites
1 C powder sugar
1/2 tsp cream of tartar
Red, yellow & white  gel food coloring
Icing Directions:
Combine all ingredients in a mixing bowl mixing on medium speed for 4 minutes. (except your food coloring)
If icing is  not stiff enough add 1/4 C powder sugar.
Divide the icing into thirds.  The first bowl with a  third of the icing add several drops of red gel food coloring.  Mix well.
In the second bowl with a third of the icing add several drops of yellow gel food coloring.  Mix well.  In the third bowl of icing no coloring will be added this icing will remain white.
Disney Descendants Logo:
Locate a picture of the Disney Descendants Logo on Google.  Print the picture with several small  Descendants Logo color.
Tape this picture with small numerous logos of it on it to a cookie sheet.
Tape wax paper (covering the copies of  the logo) to the cookie sheet . Follow the color and features as printed on the paper.
Using a small pastry bag fill with the red royal icing and a #2 tip.  Start by outlining the apple first. Fill in the image with the apple icing.  Allow this to dry for 30-60 seconds.
Using a small pastry bag fill with the white royal icing and a #2 tip.  Start by outlining the apple bite first. Fill in the bite mark with a thick white line of  icing.  Allow this to dry for 30-60 seconds.
Using a small pastry bag fill with the golden yellow royal icing and a #2 tip.  Start by outlining both snakes first. Fill in both snakes  with golden yellow icing.
Allow to dry for 5-10 hours.
Ensure that the logo is  dry, gently touch one of them with your finger if it allows you to push in on the icing allow it to dry more. If  the logo is dry then it will have a hard feeling not allowing you to push in on it.
Cut the wax paper holding the completed logo  into squares surrounding the completed cupcakedecoration.
Once  the logo is dry, carefully peel the wax paper off of their backs.
Place on the frosted cupcake.
Isn't this Descendants-Inspired Cupcakes recipe beautiful. I know it requires some time to bake and decorate, that's why I recommend doing in groups. You can split the tasks and it will be a fun way to spend time with your besties. Once finished, don't forget to watch one of the movies we recommend.
Are you planning to see Disney's Descendant's? Who is your favorite character?