This post on fun summer camp activities for kids contains affiliate links.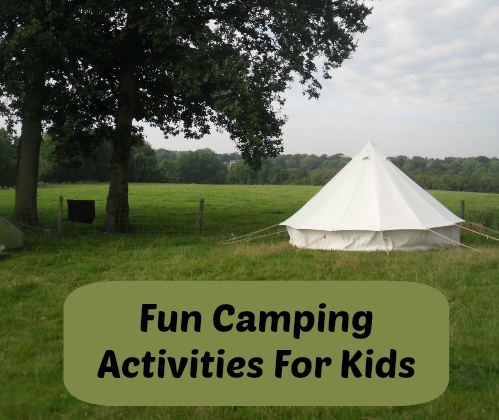 Summer is a great time for packing those bags and heading out for some fun activities that allow you to spend quality time together! One of the most popular family activities is camping. It's not only inexpensive, but the lack of technology really helps families spend time bonding. Plus, it teaches kids about nature and basic survival techniques. Of course, the downside to the lack of technology is that kids can get bored more easily. Engaging them in fun summer camp activities for kids can help beat that boredom and keep them excited!
3 Fun Summer Camp Activities for Kids To Keep Them Engaged
Treasure Hunt
This remains one of the most popular camp activities for kids because it will keep them active. It is also a fantastic way to build those critical thinking skills! You can plan ahead and bring some items for kids to hunt if you want to. Or you can take advantage of all that nature has to offer! Have one adult tour the terrain around your camp site and create a map to a treasure based on clues. Use animal tracks, interest rocks and anything else that stands out as a potential land mark. If you're using treasures from home, hide the treasure box where the X marks the spot! The treasure could also be a bush full of delicious berries, a really pretty flower or anything else you can think of!
Creativity Camp Activities for Kids
After lunch, you can allow the kids to settle down and focus on their creativity. You can focus on drawing, painting and other activities that can allow them to showcase their imagination and inner creativity. You can come up with painting competition and various learning activities where kids get the opportunity to explore their inner self and explore various options. You can even come up with some interesting learning activities where you teach something interesting to the kids that they would like to know.
Obstacle Race
Fighting challenges in various obstacle races can really pep up the kids and therefore it is recommended that you go for such races during evening times. These races are physically demanding and therefore it can make your kids feel tired which is a good thing towards the end of the day so that they you can pick them up whenever you want. Tired kids will also have their meals on time and offer them the right kind of sleep that they need to end their day. Always carry some equipment that you will need for obstacle races and you will offer some real excitement and fun to the kids.
These are just a few camp activities for kids that will help keep them excited about your trip. Can you think of any other fun things to do while camping? We'd love to hear what your family does to make it extra special and exciting!