Keep hearing about the new tv show Poker Face and wondering what it's all about? The show has become just as famous for its star's killer wardrobe as its pacy plotlines. We've got everything you need to know below, including the exact pairs of sunglasses you need to achieve Charlie Cale's look yourself!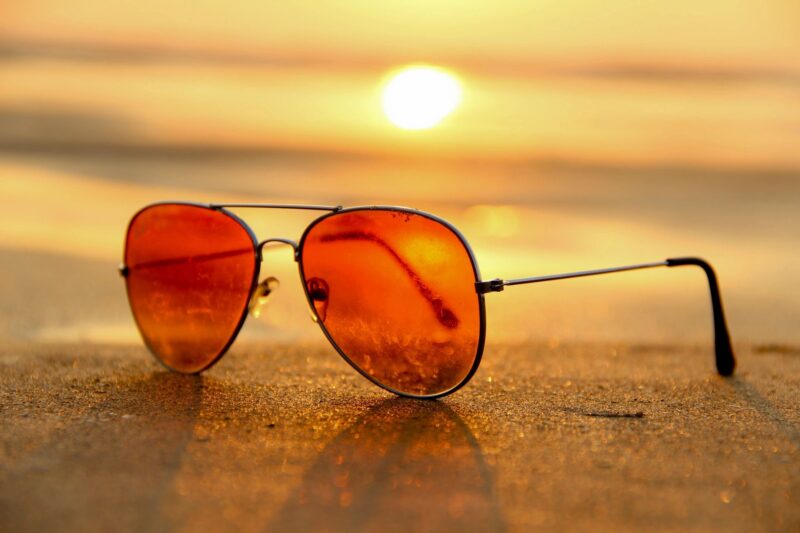 Poker Face: The Basics
Poker Face debuted early in 2023, and its ten episodes met with widespread critical and viewer acclaim; its popularity has meant that the show has already been commissioned for a second series. Natasha Lyonne stars as the main character, Charlie Cale, an on-the-run casino worker who becomes entangled in the deaths of several strangers.
We quickly learn that Cale was such an asset to the casino as she has an uncanny and unerring ability to detect lies and sniff out the truth. As she travels across America, fleeing her former boss, she uses these skills to solve various homicides, with a case concluded every episode.
Get Charlie Cale's Style
Embroidered shirts, tie-dye garments, vintage band t-shirts, cut-off denim shorts, and baseball caps are key elements of the trademark Charlie Cale style. The hairstyle is important, too: think 80s brushed-out perm; the bigger, the better! Ditch the chemicals and achieve this style naturally by putting rollers into still-damp hair after giving your locks a quick spritz of hairspray or styling spray, and leave them in for a few hours. After this time, remove the rollers, turn your head upside down, and give your hair a quick blast with a hairdryer for an easy volume boost.
YSL Model SL309
If you want to get Charlie Cale's look, opt for this model of shades from Yves Saint Laurent. They feature the signature metal aviator-shape frame in gold with a distinctive double bridge and exude serious timeless cool. They're available in light gold or rose gold.
Due to the mix of curves and angles in this type of sunglasses, they complement most face shapes. For the most flattering effect, the curve of the outer lens should follow that of the wearer's cheek.
Ray-Ban Vagabond 58
If you're a fan of both the show and Cale's vibrant vintage style, then the shades she wears in several scenes in Episode Nine of Season One may have caught your attention. If you're wondering where to snag a pair just like it, we can help! The shades in question are a pair of Ray-Ban Vagabond 58s. High-quality, durable, and available in black or green, these are the sort of shades that can be worn comfortably all day, and that'll never go out of fashion.
Due to this model's round shape, they are likely to look best on those with angular or oval-shaped faces.
Flip-Up Polarized Lenses
Charlie Cale has also sported a nifty pair of polarized flip-up lenses on the show, worn clipped onto a pair of regular spectacles. These lenses are becoming increasingly popular and are a great way to turn your favorite pair of glasses into an effective set of shades. They're convenient, lightweight, and cost-effective ways to protect your eyes and, as Cale demonstrates, can look pretty good, too.
How to Get the Charlie Cale Look on a Budget
For those of us who don't quite have the budget to splash out on a brand-new pair of vintage-look YSL or Ray-Ban shades, there are budget-friendly alternatives to get the Charlie Cale look.
Many high street and online retailers have collections that feature similar styles – sometimes almost identical – for a fraction of the cost. Or, for a super sustainable option, scour online auction sites, thrift, and vintage stores for an authentic pair of old-school shades like the ones worn on the show.
How to Choose the Best Sunglasses
Taking into account your face shape is the most important factor in finding the sunglasses that'll suit you best. In general, you should opt for a frame shape that contrasts with your face shape: so someone with a round face will look great in a pair of sunglasses incorporating angular frames. There's one exception to this rule: those lucky folk with oval faces can usually wear any style of shade they like!
It's also important to consider your skin tone when choosing a frame color. Those with cool skin tones would do best opting for frames in purple, pink, blue, green, or silver, while people with warm skin tones look fabulous wearing frames in yellow, gold, orange, red, and brown. Nude frames will suit most skin tones – as will, obviously, transparent frames.
The Final Word: Getting the Poker Face Look
Getting Charlie Cale's trademark look from the show may be easier than you think! The sunglasses form the foundation of the style: choose a pair similar to either of the two vintage styles Cale wears in the show: each is versatile enough to wear with a wide range of looks, both contemporary and retro. And then simply sit back, and wait for the next slew of vintage threads and accessories that'll become must-haves when Season Two of the show airs in January 2024!