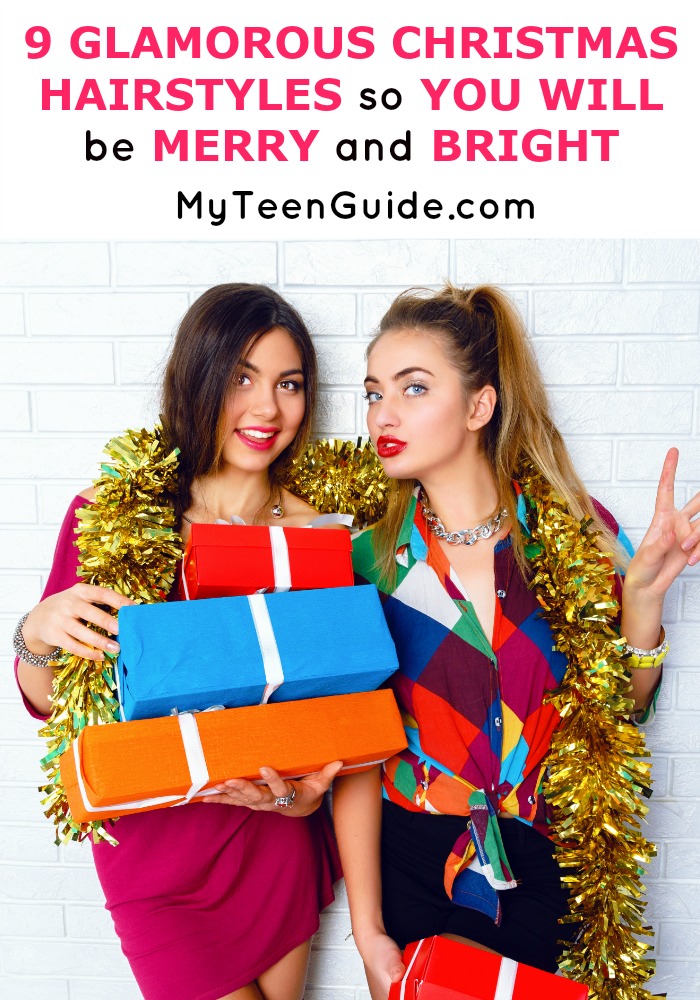 Christmas time is the perfect opportunity to try out some new hairstyles. Whether you're going to the winter formal and need elegant hairstyles, a family dinner, a Christmas party or just about anything in between; we've got you covered. Check out these fun and exciting styles for the perfect holiday look!
9 Glamorous Christmas Hairstyles So You Will Be Merry And Bright
1. Low Twist Bun – This a cute look for your family dinners. Throw on a knit, some cute jeans, boots and you're ready to go! This can be such a romantic hairstyle too!
https://www.instagram.com/p/_hUK7GwERX/?tagged=christmashair
2. Hair Bow – This super cute look is perfect for that winter school dance or a Christmas party. Pair with a relaxed, flowy dress and tights and a chic holiday makeup look.
https://www.instagram.com/p/_oKAfrrutx/?tagged=christmashairbow
Related: 9 Ways To Up Your New Year's Eve Makeup Game
3. Wrap Around – This is a great style for any Christmas party. It's dressy and casual, all in one! Ideally, it would pair well with a nice dress or skirt and blouse.
https://www.instagram.com/p/BKSf0VChECs/?tagged=fancyhair
4. Top Knot – This look is so versatile and is perfect for every season. Throw on some high waisted jeans, a cute shirt and flats. If you want that effortless look – this one is for you!
https://www.instagram.com/p/BKd-u46BG1F/?tagged=curls
5. Braids – Braids are super great for dressing up or dressing down! Try french braids or a regular one and play with the different sizes. Switch it up and have fun!
https://www.instagram.com/p/_wXlYQv_6Y/?tagged=christmashairstyle
6. Fish Tail – The fish tail is another take on a braid. They're a little more challenging to master but are absolutely adorable. They're perfect for looking cute while keeping the hair out of your face. This may just be the perfect hairstyle for the family Christmas tree hunt.
https://www.instagram.com/p/_r7eLFG1KQ/?tagged=christmashairstyle
7. Accessorize – Try accessorizing your hairstyles with ribbons, clips, headbands and barrettes for the ultimate Christmas look. You can dress it up or dress it down. Explore and have a blast!
https://www.instagram.com/p/_UAqglwPdQ/?tagged=christmashairstyle
8. Bun – Buns are one of the most reliable, quick and easy 'go-to' looks. They always look cute. Throw on any pair of pants and a dressy shirt, and you're set! Or take this look in a more cozy direction with an oversized, bulky sweater. Regardless of the fashion, the hairstyle is adorable!
https://www.instagram.com/p/BKTWbH7Ao99/?tagged=ballerinabun
9. Curls! – If you have curly hair, embrace it! Rock your natural locks this holiday season and give your hair a break from harsh chemicals and styling tools. Flaunt your beautiful hair exactly how it is!
https://www.instagram.com/p/BKdykBLBJ3z/?tagged=straighthair
There are so many hairstyles to try but the holidays are the perfect time to experiment with your look and style! Have fun and try something new. What's your favorite holiday or Christmas hairstyle? Let us know in the comments below. We really love hearing from you!