Looking for fun kawaii coloring books to help you destress after a long day at school?
We've got you covered!
These are definitely the cutest anime & manga coloring books around!
Check them out!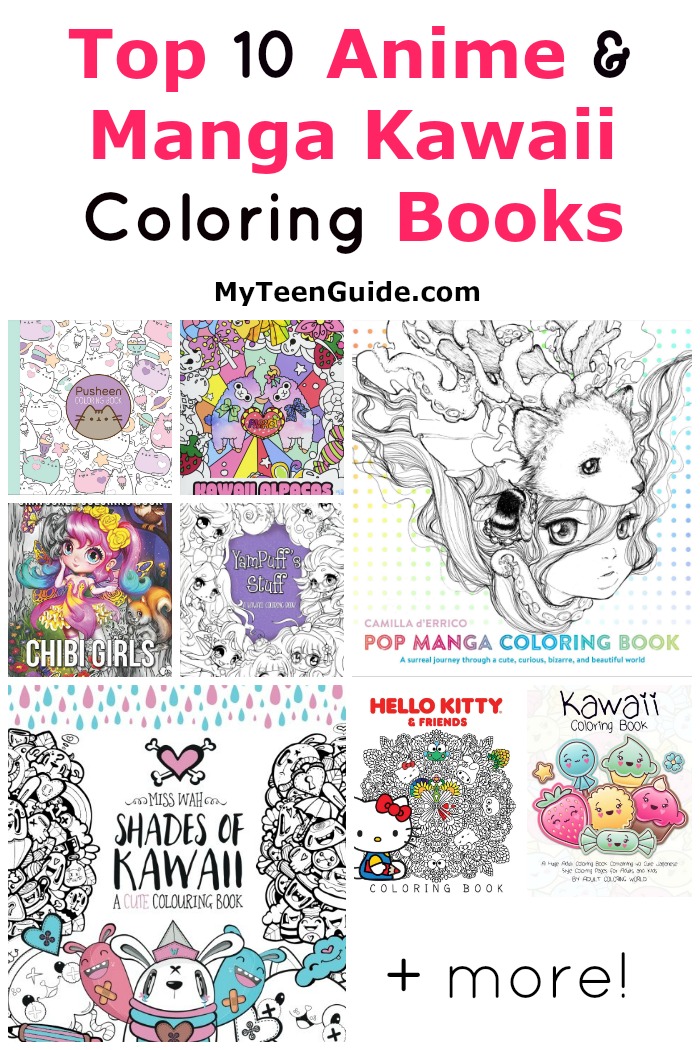 First, though, let's talk about what "kawaii" means!
What is Kawaii?
Affiliate links included below. If you make a purchase through these links, we'll earn a small commission at no extra charge to you.
https://www.instagram.com/p/BmMpFL3nb8m/?tagged=hellokitty
The word "kawaii" means "cute" in Japanese, but it's more than that! In fact, it's an entire culture of cuteness! While Kawaii is a relatively recent trend in the states, it's existed as part of the culture for generations in Japan.
In fact, many of the items that you'll find for $5, $10 and up in trendy stores now are things that I bought in the 100 Yen store (the Dollar Store, basically) years ago! Of course, $10 is still cheaper than a flight to Tokyo, right?
A couple more fun facts about kawaii:
The trend originated as a "cute handwriting" movement when Japanese school girls started writing with mechanical pencils. They'd create little pictures inside large looping letters!
Sanrio originally created Hello Kitty as part of the Kawaii movement. You can't even turn around in a 100 Yen store without running into some sort of Hello Kitty merch!
Speaking of Sanrio, there is an entire theme park dedicated to their 50+ cute characters.
Kawaii is traditionally a girl thing, but there are boys involved in the culture. They love transforming themselves into Kawaii women!
If you're looking for more fun facts, check out Cool Japan
 by Abby Jensen.


Now that we know a bit more about what kawaii means, let's check out some fun anime and manga kawaii coloring books!
Related: Top 10 Best Anime on Amazon Prime
Anime & Manga Kawaii Coloring Books
This kawaii coloring book features 40 different cute designs to color. Features include:
Single-sided coloring pages to prevent bleed-through
Variety of images from simple to complicated
The only thing more adorable than regular alpacas are kawaii alpacas! This book features:
58 large pages
Print on one side
Coloring tips and color test pages
Everyone's favorite kawaii cat (well, aside from Hello, Kitty) is now ready for you to color! This book includes:
96 pages
Designs ranging from super simple to super detailed!
Also available in a spiral-bound coloring book
Looking for a fun chibis coloring book? This highly rated book includes:
25 unique images
2 copies of each image in case you make a mistake.
Free digital edition, so you can print out the images as many times as you want.
This cute coloring book by Miss Wah features:
22 original designs by the famous artist
Single pages to cut out and frame
Medium-difficulty designs, meaning they aren't overly simple yet not so detailed that you need a magnifying glass!
D'Errico is one of the biggest names in anime and manga, and now you can color her designs yourself! This book features:
80 pages of her stunning artwork, ready for you to color
Designs ranging from cute fantasy scenes to cool steampunk anime scenes
The only downside: it's printed on both sides
Feed your appetite for cute food  with this fun kawaii coloring book. Features include:
30 different designs
Single sided pages
Coloring difficulty ranges from beginner to intermediate.
Another cute chibis-style kawaii coloring book, this revised edition features:
48 chibi illustrations on large pages
Single-sided printing
Mermaids, cute girls, mini chibis, and more
There are a few Hello Kitty adult coloring books, but this one is the highest-rated and most detailed! Features include:
47 full-page designs printed on one side
Mini "extras" printed on the other side
Heavy-stock paper and a white area that acts as a "frame" so you don't lose part of the design when you pull out the pages
If you know the tokidoki lifestyle brand, you also know that they use some of the cutest characters on their apparel. This kawaii coloring book is inspired by those characters. It features:
 the most popular tokidoki characters—like Unicorno and Donutella
32 one-sided pages to color
designs ranging from super simple to slightly more complex
These are just some of my favorite kawaii coloring books! It's hard to choose the best one, but I am kind of in love with that alpacas book! Ooh, or maybe the cute food!
How about you? What are your favorite kawaii coloring books? Tell me below!