Craving more sci-fi adventure movies like Ready Player One? 
We've got you covered!
Check out these 10 movies you need to watch immediately!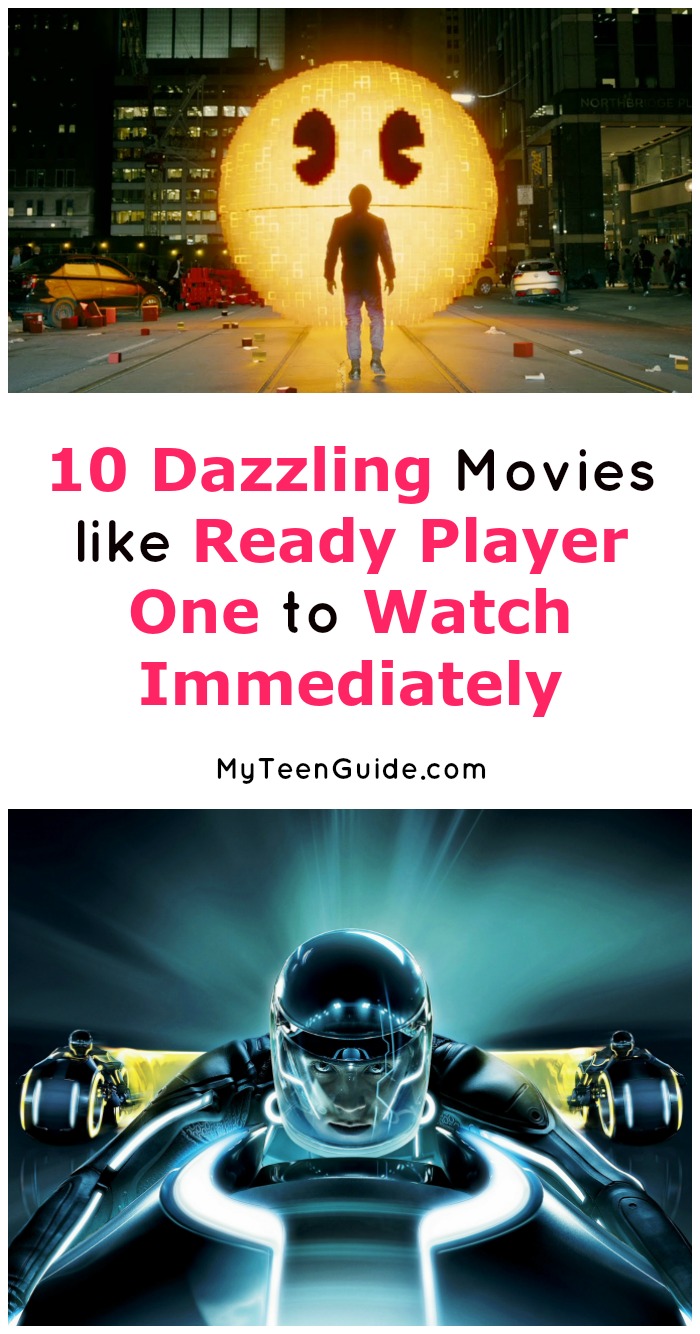 The latest project from famous director Steven Spielberg, Ready Player One, is a sci-fi adventure set in a dystopian future where people spend more time playing a virtual reality game than they do in their real lives.
This concept is not new, but Spielberg provides a fresh look on this topic in a visually astounding manner that will keep you glued to your screen.
So, for all of you that will end up loving Ready Player One, here are some similar movies you should also enjoy.
https://www.youtube.com/watch?v=ixWL1BWi44U&t=10s
10 Dazzling Movies like Ready Player One to Watch
Affiliate links included below. If you make a purchase through these links, we earn a small commission at no extra charge to you.
1. Matrix (1999)
In contrast to the Ready Player One, people in Matrix

didn't actually accept life in a computer simulation. Well, except for Cypher, cause, you know, the steak just tastes so freaking delicious and ignorance is bliss.
If you somehow haven't seen the Matrix, now is the best time to do it. Unfortunately, no one can be told what the Matrix is. You have to see it for yourself.
You take the blue pill, the story ends, you wake up in your bed and believe whatever you want to believe. You take the red pill, you stay in Wonderland, and I show you how deep the rabbit hole goes.
2. TRON (1982)
If you liked the virtual world in Ready Player One, you will surely love the digital world of TRON

.
When a hacker gets sucked into the digital world, he must fight, gladiator-style, in order to survive until he finds a way to escape with a help from one brave security program. Don't forget to check out the sequel, TRON: Legacy, because it is even more breathtaking visually.
3. A.I. Artificial Intelligence (2001)
While humans try to escape into the world of virtual reality, robots with artificial intelligence always strive to become "real".
This is another movie from Spielberg and probably one of his most popular sci-fi movies, in addition to E.T. the Extra-Terrestrial

and Close Encounters of the Third Kind

. Filled with emotions, this movie will keep you on the edge of tears all the way to the end.
4. Inception (2010)
While you might wonder why Inception

is included in this list about movies like Ready Player One when the film takes place in dreams and not in virtual reality, let me ask you this – aren't dreams also a type of virtual reality, created by our brains?
Especially if there's a chance that you might end up stuck in your dreams. Besides, it is a great movie made by one of the best directors of today, Christopher Nolan. And it has Leonardo Di Caprio and Tom Hardy. And Michael Cane. I rest my case.
Don't miss these other Movies Like Inception That Will Totally Melt Your Mind!
5. The Running Man (1987)
Even though I am not the biggest fan of Arnold Schwarzenegger and his movies (Terminator

trilogy excluded), this movie is one of my favorite sci-fi actions. After all, it was based on a novel written by Stephen King.
Set in a dystopian future (sounds familiar?), this movie depicts a bleak future and judicial system where convicted criminals are forced to fight for their lives against professional assassins in a game-show television series. Despite the rather predictable and cheesy ending, it is a truly enjoyable movie.
6. Sucker Punch (2011)
When a young girl becomes institutionalized by her corrupt and abusive stepfather, she and other girls start retreating to their own alternative reality, trying to cope with the pain that way and envisioning a plan for escape.
The alternate world they create is similar to virtual reality because it is beautiful and limited only by their imagination.
7. The Last Starfighter (1984)
This timeless classic tells a story of a boy who was so good at The Last Starfighter

video game, that he ended up recruited to become a real straighter, fighting in an interstellar war. Instead of virtual reality in Ready Player One where one boy becomes an unlikely hero thanks to his gaming skills, Alex goes on to space to defend his world.
8. eXistenZ (1999)
Any movie coming from the mind of David Cronenberg deserves a chance, even if you are not a fan of the horror genre. Actually, eXistenZ

mixes horror and sci-fi and creates an amazingly chilling atmosphere that keeps you on the edge of the seat.
The movie follows a game designer running from assassins as she testes her latest virtual reality game.
9. Pixels (2015)
I have decided to end my list with a couple of comedies. First up, Pixels

. This movie received a lot of criticism both from critics and fans, but I found it funny. It depicts the world in which aliens confuse videos of arcade games sent from Earth as a declaration of war and decide to attack using characters from said games.
How is it similar to Ready Player One, you might ask? Well, it is a throwback to 20th century pop culture and games, just like the latest Spielberg's movie.
10. Scott Pilgrim vs. the World (2010)
This is probably the ultimate geek movie. Just like the Ready Player One, where the main character plays a game in virtual reality, Scott Pilgrim also plays virtual reality games in a classic arcade manner. Well, kind of. You have to see it to understand.
His goal is to beat seven exes of his new girlfriend and win her heart. This movie completely achieved what it set out to do – feel like a video game and be funny.
I hope that you have found something interesting on my list of movies like Ready Player One that will tide you over until the movie hits theaters at the end of March!
Do you have any favorite movies like Ready Player One? Share below!