Throwing an epic bash can be crazy overwhelming, especially if you wait until the last minute. Follow our teen birthday party planning checklist and everything will go much smoother! Don't forget to print the ink-friendly PDF version for later!

Planning a teen birthday party should begin about 6-8 weeks before the day of the party. That way, you will have sufficient time to put together the guest list, send out the party invitations and plan the menu. Read on for our party planning checklist to help you throw an epic bash!
Click here for the printer-friendly PDF version!
Ultimate Teen Birthday Party Planning Checklist
6-8 Weeks Before Party Day
Create a party budget
Select the party date and start (arrival) time
Choose a party theme
Create a party guest list
Choose and purchase the party invitations
Choose and purchase the party supplies
Choose and purchase the party tableware
Choose and purchase the party favors
Creating a budget should be the very first thing you do! It's easy to go overboard and spend way more than you think you will. If you have a hard time sticking to a budget, try this trick: withdraw the money from your account and pay cash for everything. Buying stuff online? Get yourself a gift card with the cash. Go with a Visa or MasterCard gift card that you can use anywhere.

If you shop for all the decorations, supplies, favors, and other non-food stuff now, you'll have a better idea of how much you have left for the menu. Save money by buying just a few fabulous decorations to go with your theme, then using the colors from those decorations to buy tableware. For example, if you're throwing a Glow in the Dark Party, buy neon-colored tableware. Throwing a Mermaid party? Opt for sea green and blue.
3-4 Weeks Before Party Day
Plan the party menu
Create a party shopping list, based on your menu
Mail out the party invitations
Plan the party activities and games
As you plan your menu, think about your theme. While you don't have to base every single food and drink around that theme, you'll want at least a few treats to tie it all together. Think outside the box! For example, if you're planning a Sweet 16, you could make 16 different types of mini appetizers. They're relatively inexpensive and a lot easier to make than you might think!

You don't have to go overboard. Here's a plan that takes minutes to pull together: Make three different types of grilled vegetable appetizers, top crackers with 4 toppings (cheese, meats, or creamy toppings), set out 4 different dips, and grab a box of mixed appetizers from your grocery store's freezer section for the rest.
2-3 Weeks Before Party Day
Create a party timeline
Update RSVP's on the party guest list, as they come in
Take inventory of tables and chairs you'll need for the party
Arrange to borrow or rent tables and chairs, if needed
Order the birthday cake
When you're creating your party timeline, make sure to leave "buffer zones" before and after each activity, as well as at the start and ending of your event. You want to give all of your guests time to arrive and mingle before you begin your party games. Think between 20-30 minutes, not so long that people get bored, but not so short that you have to scramble to add late-comers to your scavenger hunt teams. Speaking of scavenger hunts, check out this video for some great ideas:
Want to save money on the cake? Skip the expensive themed cakes and print out a picture that works with your theme. Many grocery store bakeries can create an edible paper-like sheet that you can lay over the cake before serving. I've done this numerous times in the past, and it works like a charm.  Don't worry, once you lay the sheet, it doesn't have a papery taste or texture. You can also skip the cake entirely and just opt for cupcakes!
1 Week Before Party Day
Purchase any non-perishable party foods and beverages
Purchase birthday cake candles, if you need them
Contact any party guests who have not RSVP'd
Choose the party music
Prepare any party foods that can be safely frozen
Make any DIY party decorations
If you're going the DIY route for the majority of your decorations, make sure you factored the cost of supplies into your budget. Sometimes DIY decor ends up costing more than just buying something from a store. Look to your Dollar Store for as many things as possible. Here's a great video with cheap and easy dollar store decor tips:
2 Days Before Party Day
Heavily clean the party area
Put together the party favor bags
Clean out the refrigerator to make ample space for the party food
Purchase any perishable party foods and beverages
Test out any camera equipment to ensure it is in working order
Ensure the camera equipment has batteries that are fully charged
Pick up any party items that you may be borrowing, like tables and chairs
Cleaning is definitely my least-favorite part of party planning! Get around it by renting a venue (check with your local VFW and American Legion, I rented a place for a huge party for about $150 from my local VFW). Think about it this way: the money you save on cleaning supplies can go towards the rental! I kid you not, I spend close to $200 on cleaning supplies alone before a party at my house!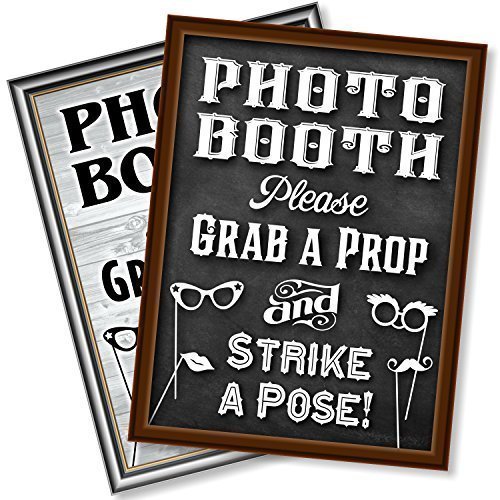 Along with checking your camera gear, you might want to start setting up your photo booth if you plan to have one! At the very least, grab the props and put them all in one spot so they're ready to go on party day.
1 Day Before Party Day
Spot-clean the party area
Clean the bathrooms
Prepare any party foods that will safely stay good until tomorrow
Child-proof the party area, if you are having younger party guests
Set out the party favor bags
Even if you're not having younger guests at your party, you'll want to make sure you remove any family heirlooms or breakables from the party area. It's all fun and games until great-grandma's antique vase gets broken!
Party Day
Pick up the birthday cake
Purchase several bags of ice for the cooler
Decorate the party area
Prepare any party foods that are perishable
Set up the party activities and games
Make sure the bathrooms have enough toilet paper, hand soap and towels
Dump some ice in the cooler, then leave a smaller bag open inside the cooler for people to scoop out ice for their cups. For the bathrooms, make sure to leave a few rolls of toilet paper in a basket or some other accessible location. People can be a little shy about asking for more TP, so it's easier to just leave it out where they can see it.
Follow this teen birthday party planning checklist and your bash will go off without a hitch! Remember, the most important thing is to just have fun!
Do you have any tips to add to this party planning checklist? Share below!