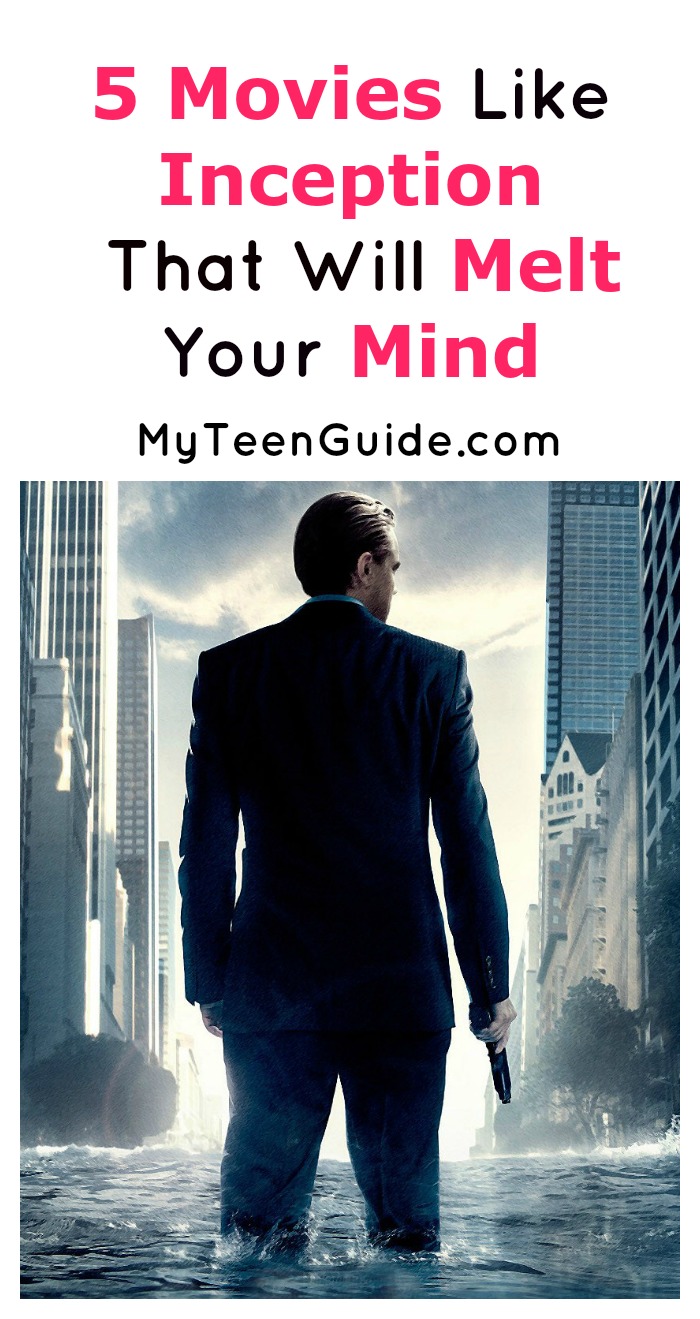 When I'm in the mood for a really good thinker, I turn to movies like Inception that leave me feeling like someone just put my brain in the microwave on high for a little too long! I'll be honest, most of the time I'm usually looking for a light comedy or even a spine-tingling horror, but there are nights where I'm feeling philosophical and want something that really makes me reconsider my entire reality. These 5 movies like Inception totally do the trick!
Movies Like Inception That Will Make You Think
Inception is a 2010 sci-fi heist thriller film, starring Leonardo DiCaprio, who plays the role of Dominick Cobb, a thief who steals corporate secrets by infiltrating the subconscious and is given the opportunity to have his criminal history wiped from his record as long as he plants an idea into a CEO.
Here are some movies like Inceptions.
Source Code
Source Code is a 2011 sci-fi thriller movie starring Jake Gyllenhaal as United States Army Pilot Captain Colter Stevens. The movie also stars Michelle Monaghan as Christina Warren and Vera Farmiga as Captain Colleen Goodwin. Source Code is about Captain Colter Stevens, who wakes up one morning only to discover he is someone else, part of a government experiment program. He soon discovers that he only has 8 minutes to locate a bomber aboard a commuter train.
The Machinist-
The Machinist is a 2004 psychological thriller movie starring Christian Bale as Trevor Reznik. The movie also stars Jennifer Jason Leigh as Stevie, John Sharian as Ivan and Michael Ironside as Miller. The Machinist is about Trevor Reznik, an industrial worker with severe insomnia and intense psychological issues, who starts to question his own sanity.
The Prestige-
The Prestige is a 2006 movie that combines mystery, drama and thriller and is adapted from the 1995 book of the same name by Christopher Priest. The movie stars Hugh Jackman as Robert Angier and Christian Bale as Alfred Borden. The Prestige is about Robert Angier and Alfred Borden, two stage magicians in London, who are obsessed with competing with one another.
Memento-
Memento is a 2000 psychological thriller film that is based on the short story, Memento Mori, that appeared in the March 2001 issue of Esquire Magazine, written by Jonathan Nolan. The movie stars Guy Pearce as Leonard, as well as Carrier Anne Moss as Natalie and Joe Pantoliano as Teddy. Memento is the story of Leonard, who suffers from anterograde amnesia, as he tries to find the person responsible for the murder of his wife.
Transcendence-
Transcendence is a 2014 sci-fi film starring Johnny Depp as Doctor Will Caster. Transcendence is the story of Doctor Will Caster, a scientist who is researching artificial intelligence and finds that his consciousness is uploaded into an artificial intelligence program, with dangerous implications.
Have you seen any other good thinker movies like Inception? Tell us your favorites!