We've found the best 11 Scooby Doo Costumes For Kids & Adults to get you ready for your Halloween parties this year!  Everyone loves Scooby Doo in our house, and nothing is more fun than dressing up and heading out with our favorite great Dane in tow as a Scooby Doo character for Halloween.   Not only are these costumes fun and easy to throw together – they will leave you feeling like you've traveled to the Mystery Machine for a fun ghostly adventure!
11 SCOOBY DOO COSTUMES FOR KIDS & ADULTS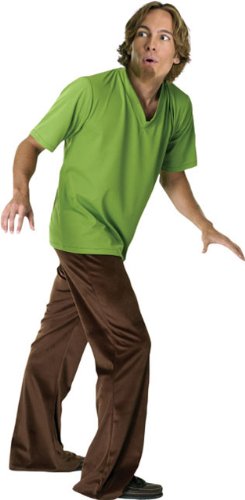 Adult Shaggy:  Throw on a wig with this classic casual hip Shaggy ensemble.  Perfect for the easy going and laid back friend in your group.  This costume is one size fits all, but will typically fit up to an average size large mens fashion.
Kids Shaggy:  The kids Shaggy costume comes complete with wig and gotee for those youngsters who just aren't old enough to grow their own!

Adult Fred:  Every group has the jock or preppie one.  That person can go as Freddie this year, and have all the gals swooning. Comes with wig, shirt, pant and scarf.
Kids Fred:  Kids Fred costume is complete with wig.  All you need to add are some snazzy shoes and a stellar smile!

Scooby-Doo Daphne Girls Costume
This great costume comes with dress, scarf, wig, and boot toppers.  Perfect for the little diva!
Adult Daphne:  Daphne may act goofy, but she is smarter than she looks.  Impress this year with this fun and cute Daphne costume.  Sizing varies and may want to measure for length of skirt to make sure appropriate for your needs.

Scooby-Doo Velma Girls Costume
  We all love smarty pants Velma and this costume will let your brainiac go out in style!  Complete with wig, glasses, shirt and skirt!
Adult Velma
Nerds are always the cutest!  Especially with those glasses and knee socks.  This Velma costume comes with wig, shirt, skirt and glasses.  Shoes & socks not include.

Super Deluxe Scooby-Doo Kids Costume
Perfect for the little guy on your list, this kids Scooby costume zips up and keeps them safe and warm while out trick or treating.  Sizes vary upon stock.
Adult Scooby Doo
Complete adult costume comes with jumpsuit and attachable head piece.  Only thing you need to add is a box of Scooby Snacks!

Bunting Scooby-Doo Baby Costume
The whole family gets to be in on this fun costume event.  Check out this simple one piece baby Scooby Doo costume with head piece!
Fun Scooby Doo Costume Hoodie:  For the kid who doesn't want to dress up, but still wants to join in the fun – don't miss out on this cool kids Scooby Doo Hoodie!
The whole family can go out in style this year with these fun Scooby Doo Costumes for kids and adults.  Make sure to watch kids with any wigs, scarfs, masks and other pieces for choking hazards, and always follow Halloween Safety Tips for trick or treating safety.
Don't miss out on our other great Halloween Costume Posts!