Looking for thrillers that will have you on the edge of your seat? Check out 12 of the most gripping suspense movies on Netflix to add to your watch list!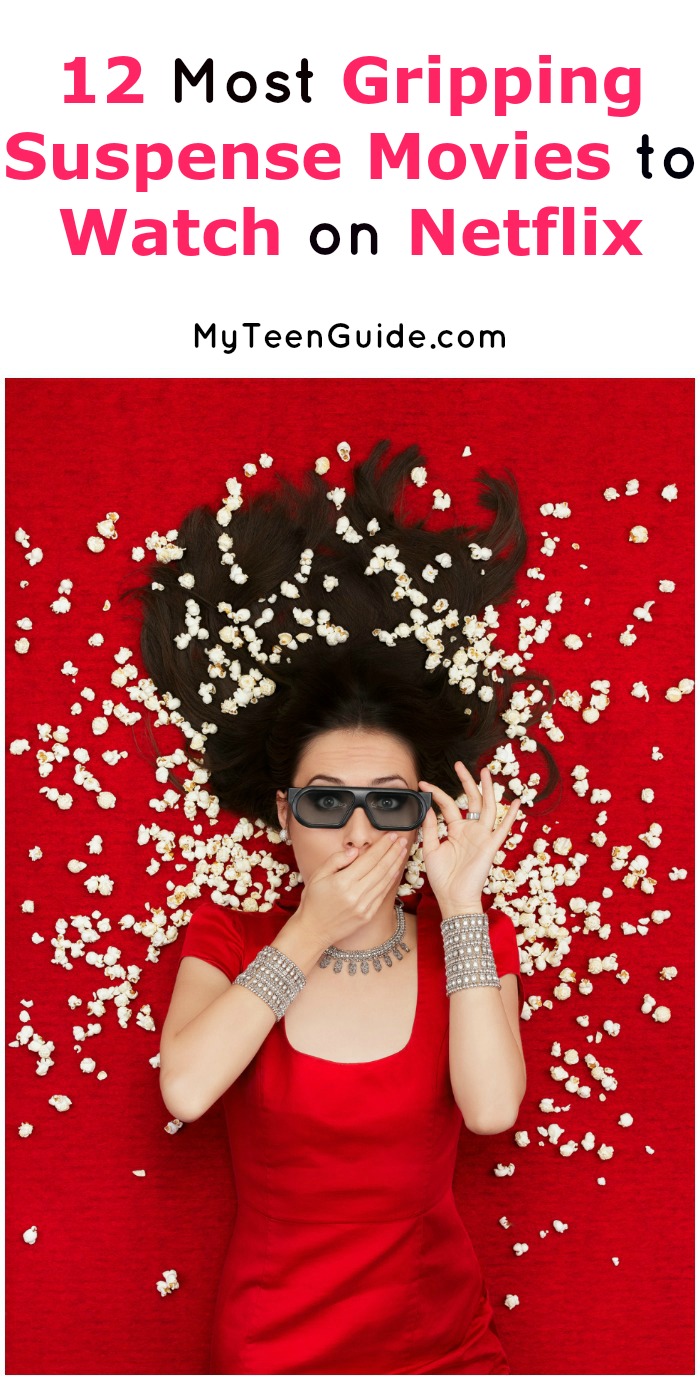 Suspense movies are designed to elicit certain emotions from viewers, such as anticipation, excitement and surprise. These movies are made to keep you right on the edge of your seat, biting your nails and wondering what's going to happen next. They make your heart beat a little faster, make you want to grab the person next to you and say "what are they doing?!?"  The following movies will do just that.
Most Gripping Suspense Movies on Netflix
Affiliate links included below.
1. The Manchurian Candidate
The Manchurian Candidate is a 2004 sci-fi, political thriller movie that is based on the 1959 book, of the same name, by Richard Condon. It is also a remake of the 1962 movie. In the midst of the Gulf War, two Army soldiers- Bennett Marco and Raymond Shaw- are kidnapped and brainwashed. The movie stars Denzel Washington and Live Schreiber.
2. No Country for Old Men
No Country for Old Men is a 2007 thriller movie that features neo-noir and neo-western. It is based on the 2005 book, of the same name, by Cormac McCarthy. Llewelyn Moss is a Vietnam veteran, who is on the run with two million dollars that he found from a bad drug deal. He is being hunted by Anton Chigurh, a hitman and Ed Bell, a local sheriff. The movie stars Josh Brolin, Javier Bardem and Tommy Lee Jones.
2. Knowing
Knowing is a 2009 sci-fi thriller movie. John Koestler, an MIT Astrophysics professor, notices something mysterious about a paper with scribbled numbers on it. The movie stars Nicolas Cage. While it didn't get great reviews by critics, I actually thought it was a pretty fantastic suspense movie!
4. Unthinkable
Unthinkable is a 2010 psychological thriller movie. Henry Humphries, a black-ops interrogator and Helen Brody, an FBI agent, interrogate Yusuf Mohammed, a terrorist suspect. The movie stars Samuel L. Jackson, Carrie-Anne Moss and Michael Sheen.
5. The Awakening
The Awakening
is a 2011 horror movie. Florence Cathcart is a writer who exposes supernatural hoaxes, investigates the case of a ghost child at a boys' boarding school. The movie stars Rebecca Hall.
6. The Rite
The Rite is a 2011 supernatural, horror, thriller movie that is based on the 2009 book- The Rite: The Making of a Modern Exorcist- by Matt Baglio. It features the real-life story of Father Gary Thomas, as he trained in Rome to be an exorcist. The movie stars Colin O'Donoghue and Anthony Hopkins.
7. Crave
Crave is a 2013 drama thriller movie. Aiden is a crime scene photographer, who enters a dark and deadly fantasy world. The movie stars Josh Lawson.
8. The Host
The Host is a 2013 romantic, sci-fi, thriller movie that is based on the 2008 book, of the same name, by Stephenie Meyer. Melanie Stryder is kidnapped by Souls, a group of parasitic aliens. The movie stars Saoirse Ronan.
9. Blue Ruin
Blue Ruin
is a 2014 thriller movie. Dwight Evans returns home to seek revenge on the man who killed his parents. The movie stars Macon Blair.
10. Hush
Hush is a 2016 horror movie. Madison Young, a writer who is deaf and cannot speak, is terrorized by a masked man. The movie stars Kate Siegel and John Gallagher. It's one of the creepiest suspense movies on Netflix!
11. The Disappointments Room
The Disappointments Room
is a 2016 psychological horror movie. Dana and David Barrow and their young son, Lucas, move into their new home, which features a hidden room with dark and evil secrets. The movie stars Kate Beckinsale, Mel Raido and Duncan Joiner.
12. Viral
Viral
is a 2016 sci-fi horror movie. Stacey Drakeford and her sister, Emma, are quarantined in their home after a virus outbreak hits their small town. The movie stars Analeigh Tipton and Sofia Black-D'Elia.
Have you seen any of these gripping suspense movies on Netflix? What others would you recommend? Share below!