Looking for the creepiest Annabelle: Creation movie quotes? Check out these 7 lines from the flick that will absolutely give you chills!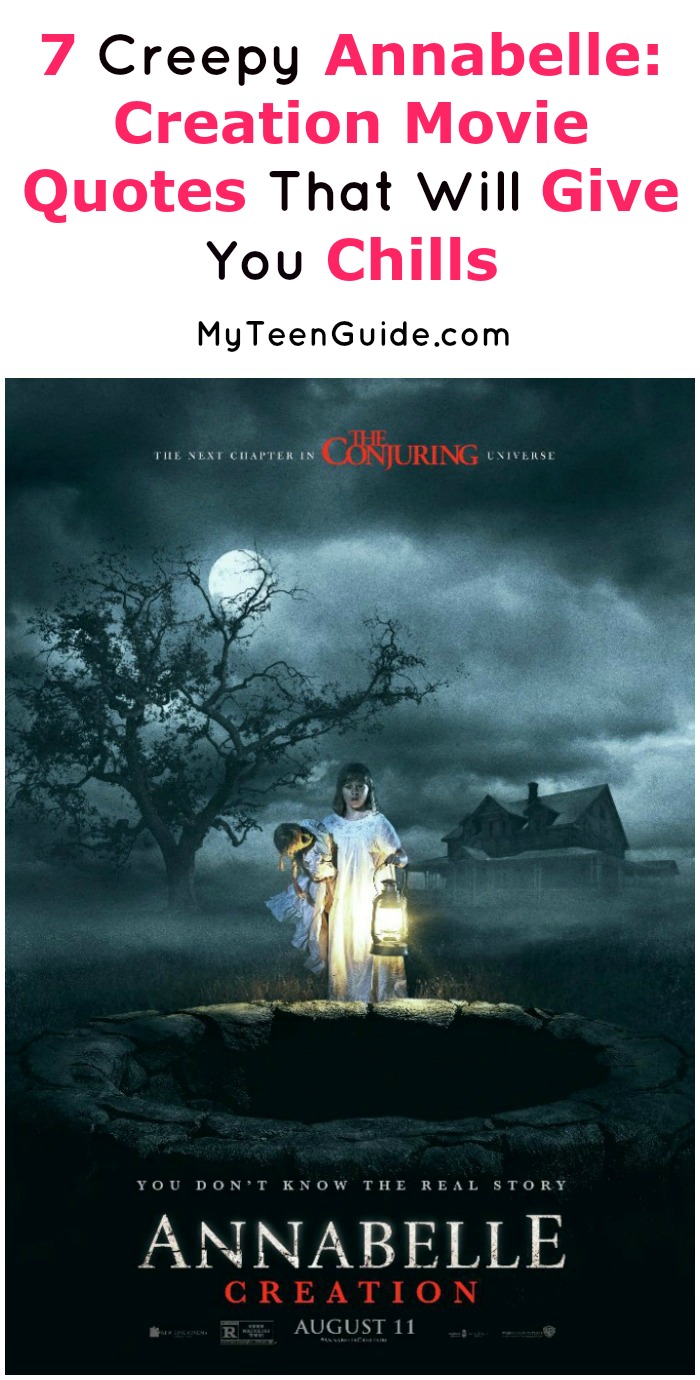 Annabelle: Creation is an upcoming supernatural horror movie that will hit theaters on August 11, 2017. It is the prequel to the 2014 movie- Annabelle and is the 4th movie in The Conjuring/Annabelle film franchise: 2013* The Conjuring, 2016- The Conjuring 2 and 2014- Annabelle. Check out the trailer, then read on for some creepy movie quotes from Annabelle: Creation.
Annabelle: Creation Movie Quotes
This post contains affiliate links. Thanks for your support!
1- Conversation between Janice, Nancy and Samuel Mullins:
Janice- "This is our new orphanage?"
Nancy- "It's as big as a castle."
Samuel- "Feel free to use the house as you see fit. Mrs. Mullins and I stay down here. Your rooms are upstairs."
Samuel Mullins, played by actor Anthony LaPaglia, and his wife, Esther, take in several girls from a shut down orphanage. Janice, played by actress Talitha Bateman and Nancy, played by actress Philippa Coulthard, are two of the orphanage girls.
https://www.instagram.com/p/BWiv9FvA0IM/?taken-by=annabellemovie
2- Conversation between Janice and Annabelle, after Janice hears music playing, opens the bedroom doors and sees a small girl:
Janice- "You're Mullin's daughter, aren't you?"
Annabelle- "Will you help me?"
Janice- "What do you need?"
Annabelle- "Your soul!"
Annabelle is played by actress Samara Lee.
3- Conversation between Linda and Samuel Mullins:
Linda- "Janice says she's seen your daughter."
Samuel- "My daughter has been dead for a long time."
Linda, played by actress Lulu Wilson is another orphanage girl who lives with the Mullins.
4- Esther Mullins, in a voiceover from the movie trailer, talking about their daughter, Bee, who was killed when she was hit by a car, 20 years earlier:
Esther- "She was taken from us at an early age. We prayed to see our beloved girl again. The contact started small, but then it wanted permission to move into a doll so that it could be with us forever. We said yes."
Esther Mullins is played by actress Miranda Otto.
5- Janice, talking to Sister Charlotte:
Janice- "Sister, you always say that even though we can't see God, we can feel his presence.
In this house, I feel a different kind of presence. An evil one. It's coming after me. Because I'm the weakest."
https://www.instagram.com/p/BWjLae-gEGl/?taken-by=annabellemovie
6- Conversation between Sister Charlotte and Janice:
Charlotte- "Are you okay?"
Janice- "I'm fine." (with an evil look on her face)
Sister Charlotte, played by actress Stephanie Sigman, is a nun that was also taken in by Samuel and Esther Mullins.
7- Movie trailer text at the end of the trailer:
Text- "This August, nothing can prepare you for the next chapter in the Conjuring Universe."
https://www.instagram.com/p/BWdK5PnAouW/?taken-by=annabellemovie
Annabelle: Creation sounds like it's going to be utterly terrifying. I've always found dolls like Annabelle completely creepy. If you're planning to see this one in theaters, stop by Fandango and grab your tickets before you go!
Have you heard any other Annabelle: Creation movie quotes? Share below!