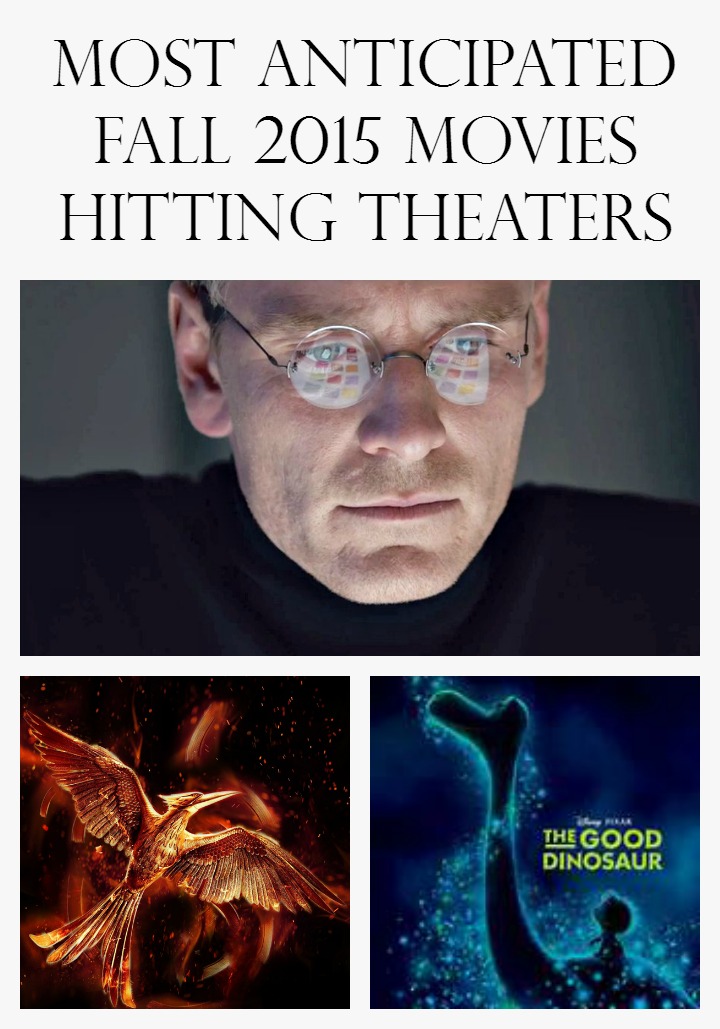 While summer seems to be the month that all the blockbuster movies hit theaters, the fall season usually has some great ones. The fall of 2015 isn't going to disappoint either because there are some hit movies that people can't wait to see in theaters. Here are the most anticipated fall movies hitting theaters 2015.
Most Anticipated Fall Movies Hitting Theaters 2015
Steve Jobs
Steve Jobs is a 2015 biographical drama movie that is based on the real life of Steve Jobs, co-founder of Apple Inc. The movie stars Michael Fassbender, Kate Winslet, Seth Rogen and Jeff Daniels. It is set to hit theaters on 10/23/2015. The movie revolves around the life of Steve Jobs, taking movie viewers behind the scenes, looking at his trials and triumphs. Did his love of technology and his passion to revolutionize it, ultimately affect his health and family life?
The Hunger Games
The Hunger Games: Mockingjay Part 2 is a 2015 science fiction war movie based on the last book in The Hunger Games trilogy, Mockingjay. It is also the 4th and final movie in The Hunger Games movie series and the sequel to the 2014 movie The Hunger Games: Mockingjay Part 1. This movie is set to be released in theaters on 11/20/2015. The movie stars Jennifer Lawrence, Josh Hutcherson, Liam Hemsworth, Woody Harrelson, Julianne Moore, Elizabeth Banks, Jeffrey Wright, Donald Sutherland, Stanley Tucci and Philip Seymour Hoffman. In the final showdown against President Snow, Katniss and her closest friends take on a mission, risking their lives, to liberate Panem's citizens.
The Good Dinosaur
The Good Dinosaur is a 2015 3D computer-animated comedy adventure movie that is set to hit movie theaters on 11/25/2015. The movie has an all-star voice cast that includes Raymond Ochoa, Jack Bright, Frances McDormand, Jeffrey Wright, Marcus Scribner, Sam Elliott, Anna Paquin, A.J. Buckley and Steve Zahn. This movie is a journey into the world of dinosaurs and focuses on Arlo, an Apatosaurus that befriends an unlikely human. Through his journey, Arlo also learns how to take on his fears and discovers his true capabilities.
These three most anticipated fall movies hitting theaters in 2015 are all very different, aren't they? I, for one, am totally dying to see Mockingjay Part 2! Good Dinosaur, on the other hand, would be perfect for seeing with younger siblings, while Steve Jobs is such a neat movie for inspiring you to follow your dreams.
Which of these most anticipated fall movies 2015 are on the top of your must-see list? Tell us in the comments!