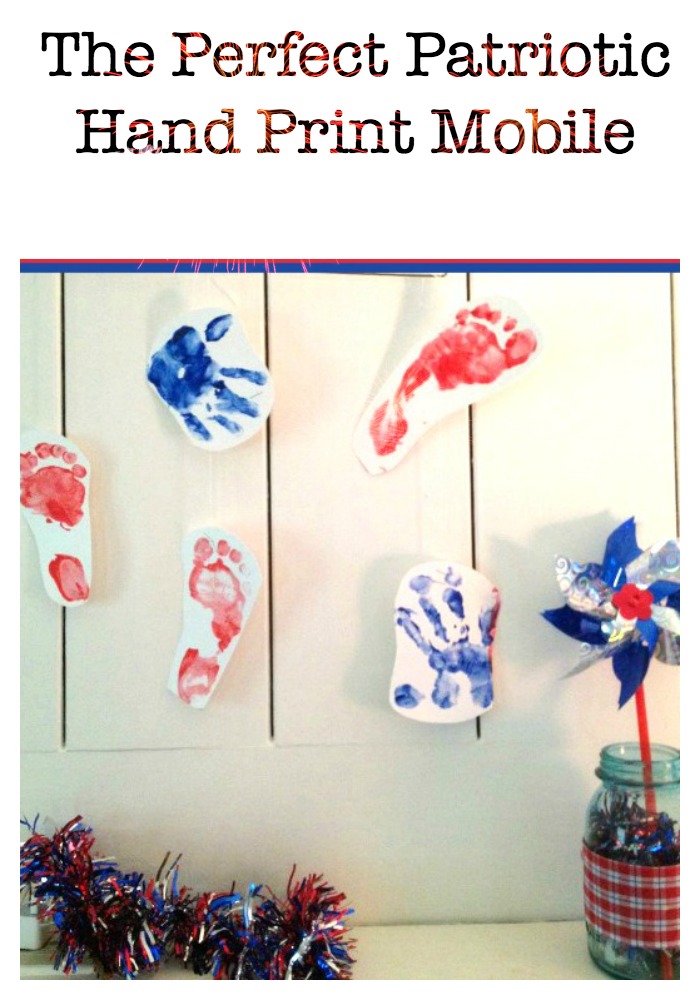 It's time for another fun 4th of July craft for kids! Kids love getting hands on with crafts, don't they? This is the perfect activity to help children ring in the 4th of July that is truly "hands on!"
If you have just a few supplies and a couple of kids willing to lend a hand, you can whip up this Perfect Patriotic Hand Print Mobile in no time flat. Such a mobile will not only get them into the patriotic spirit, but it will get everyone who walks into your home into the spirit as well. Interested in making this fun 4th of July craft for kids yourself? Take a peek below at how in less than an hour you and your kids can create the Perfect Patriotic Hand Print mobile.
This 4th of July craft for kids is tad messy, so it is ideal to do outside where you can be near a water hose for easy clean up. If you have to do it inside, you can always do it over a plastic tablecloth and in the kitchen where you are near a water source. Trust me; you will see why this is important!
Make this fun Patriotic Hand Print Mobile 4th of July Craft for Kids
All of these supplies were able to be found at the local dollar store. Supplies such as the hanger and paintbrush you may already have on hand, but if not you will be able to find those there too.
Directions:
Lay out your tablecloth.
Take your paints and cover your child's hands (or even feet!) with the paint. The paintbrush helps make this easier and allows the paint to cover evenly. Just be warned, this part makes kids giggle like crazy!
Helping your child, have them press their hands and feet onto the white paper. Press firmly.
Repeat this least 6-7 time, and as many as 12 times.
Allow the prints dry.
Take your scissors and cut out each print.
Poke a small hole in each one using your scissor point.
String your ribbon or yarn through the hole, using various lengths for variety.
Attach each ribbon or yarn to the hanger.
Your mobile 4th of July craft for kids is all ready to be displayed! Hang it high where your patriotic hand and feet prints will be able to dance in the air, letting everyone know the 4th of July is coming!
Some optional additions can be adding a little sparkle with glitter, covering your hanger by wrapping it with ribbon, or hanging additional accents from the hanger. Be creative and put your own spin on this any way you wish.
Gather the kids and give this easy 4th of July craft for kids a try! They will love that it is fun and messy, and you will love that it is patriotic and frugal. Enjoy!
Looking for another great 4th of July craft for kids? Check out our paper tube rockets!