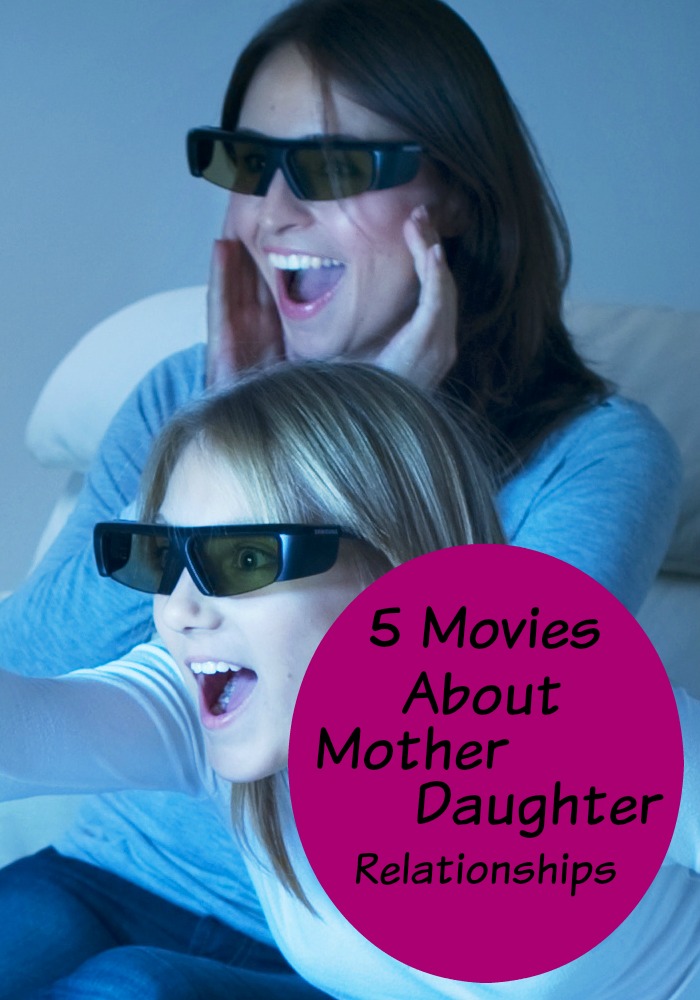 There are so many different levels to a mother-daughter relationship, and the movies do a good job of depicting many of them!  From the good, the bad and the ugly, there is a movie out there for you to watch with your mom.  From moms who may have never really wanted their daughter, to stepmoms just trying to find their place in their stepdaughters life, here are some movies you can watch with your mom about the different relationships moms and daughters have.
5 Movies About Mother-Daughter Relationships
Carrie:
This mother-daughter relationship might not be the best kind!  Any mother who intends to kill her daughter the minute she is born is a little questionable in my mind!  She decides to keep her (apparently).  While showering after gym class, Carrie unfortunately and unexpectedly gets her first period, only she thinks she is bleeding to death.  A bunch of mean girls at school start to taunt her.  At home, her mother locks her in her 'prayer closet' and throws a Bible at her.  Begging to be let out, Carrie notices a crack in the door in the form of a cross, and it starts to bleed.  Did she do that?  You can choose which one to watch, the 1976 original or 2013 remake.
Related: The Best Mother-Daughter Movies to Watch
Brave:
Merida is one of Disney's first princess who isn't your typical princess.  The redhead is a skilled archer (not a typical sport for a princess!)  Still a Scottish princess, she is to be matched with the best suitor that her parents find fit for her.  All Merida wants to do (like any of us) choose things for ourselves, cut our own path in life.  In trying to do this, Merida meets a witch, but her wish isn't granted quite as she would like.  Thankfully her mom (and dad) love and trust her enough to let her change the long-standing traditions of the kingdom.  
Matilda:
A book by Roald Dahl turned into a movie.  The child prodigy is born to parents who don't care about her let alone how smart she is.  She forms a bond with her teacher, who sees just how special she is.  Matilda loves going to school and seeing her teacher, Miss Honey.  Matilda discovers she has telekinetic powers, and thankfully Miss Honey is not scared off but helps her to hone her skills.  A different take on a mother-daughter relationship movie, as Miss Honey eventually is allowed to adopt Matilda as her own.  Finally, a loving home for her to thrive in!
Stepmom:
Jackie and Luke are divorced and their two kids, Anna, and Ben, are having trouble with the change in addition to the new addition in their dad's life, his live-in girlfriend Isabel (Julia Roberts).  Anna doesn't want anything to do with her and Ben, well, he adores her, but he is a handful.  As if divorce and a new girlfriend weren't enough, their mom is terminally ill.  Will they ever be able to accept Isabel in their lives?
LOL:
Your mom didn't grow up with all the social media access there is now.  It is hard for her!  You might think she is a bit overprotective, and so does Lola (Miley Cyrus).  Trying to navigate the ups and downs of being a teen in a world so connected with social media and a couple of overprotective parents.  You might want to watch this one with your mom so you can have a slight understanding of how she feels trying to parent a teen in today's world!

Did you find your relationship with your mom in any of these movies?  I hope it isn't Carrie!  Whatever movie you choose, spending some QT with mom is what it's about.  Pop the popcorn, kill the lights and settle in for a good movie.  
What are some of your favorite movies about mother-daughter relationships?  Share your faves below in the comments!