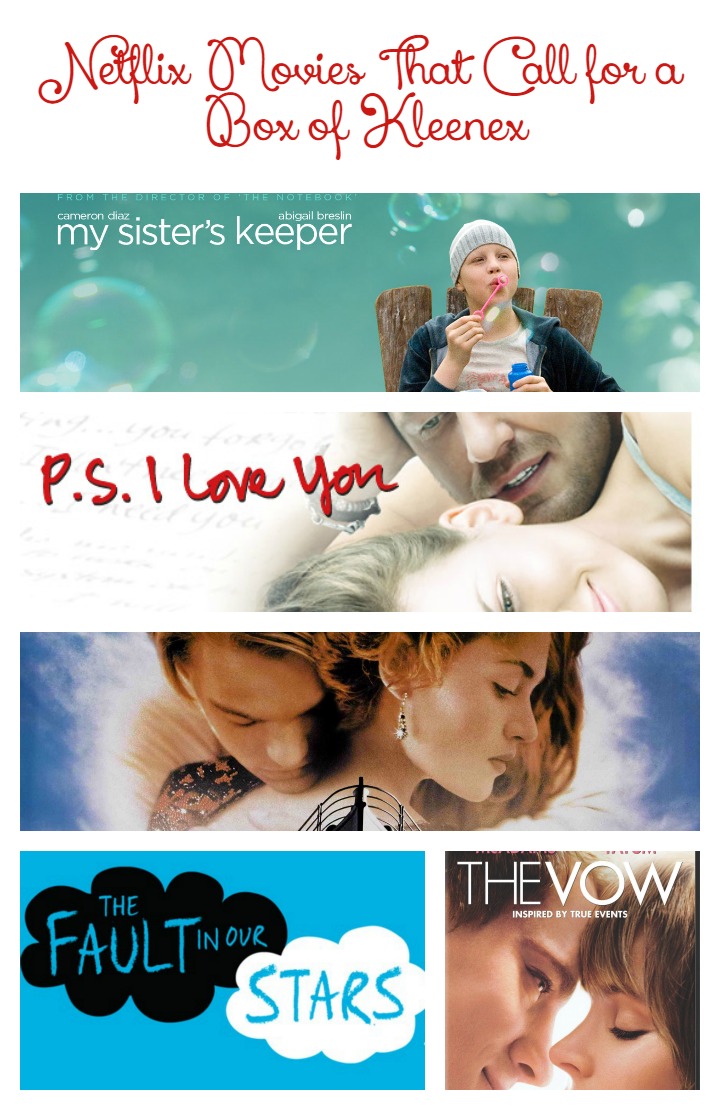 Sometimes we just need to have a good cry with our girls, it's completely normal. Netflix currently has some awesome films, perfect for some time with your girls. A good love story gets us every time so be sure to check out our favourites in the list below. These 5 Netflix movies call for a box of Kleenex, your besties, chocolate and ice cream.
Related: Drama Movies On Netflix
5 Netflix Movies That Call for a Box of Kleenex
1) Titanic –
This one's a classic and it never gets old. Kate Winslet and Leonardo DiCaprio are incredible in this film. This film highlighted both Winslet and DiCaprio at the beginning of their careers. This movie is guaranteed to give you all the feels. Someone pass the chocolate…
https://www.youtube.com/watch?v=zCy5WQ9S4c0
2) The Fault In Our Stars –
John Green is our hero! Green is such an incredibly talented writer and many of his novels are now hitting the big screen. The young love story of Hazel and Augustus is guaranteed to make your heart melt. This film will have you laughing, smiling, tearing up and sobbing like a baby. Shailene Woodley and Ansel Elgort really bring Hazel and Augutus to life in this magical film. I've personally seen it many times, and it will give you major feels.
3) My Sister's Keeper –
Cameron Diaz along with the rest of the cast is absolutely brilliant in this movie. This film showcases the love of a family and the impact that a terminal illness has on a family. This film will take you through emotional highs and low but is definitely a tearjerker.
4) The Vow –
Channing Tatum and Canada's sweetheart Rachel McAdams come together for a great romantic movie. This film showcases the true meaning of love. Tatum's character, Leo fights to overcome many obstacles in this film to be with the love of his life.
5) PS I Love You –
This is one of my ultimate favourites. Hilary Swank and Gerard Butler create pure magic on the screen. This story is timeless and gets me every time. It follows one woman's journey to find meaning, love and rebuild her life after the sudden death of her husband. This one is a must watch! (Over and over again)
These 5 Netflix movies are guaranteed to give you all the feels and are perfect for a good cry with your girls. So grab the tissues, chocolate, ice cream and call your friends now!
What is your favourite Netflix movie on the list? Are there any movies you would add to our list? Let us know in the comments below!