These Easy Back To School Hair Styles For Teens are perfect for giving yourself a fun new look for this school year.
Not only are these styles super cute, but they aren't hard to duplicate.
You know that that means?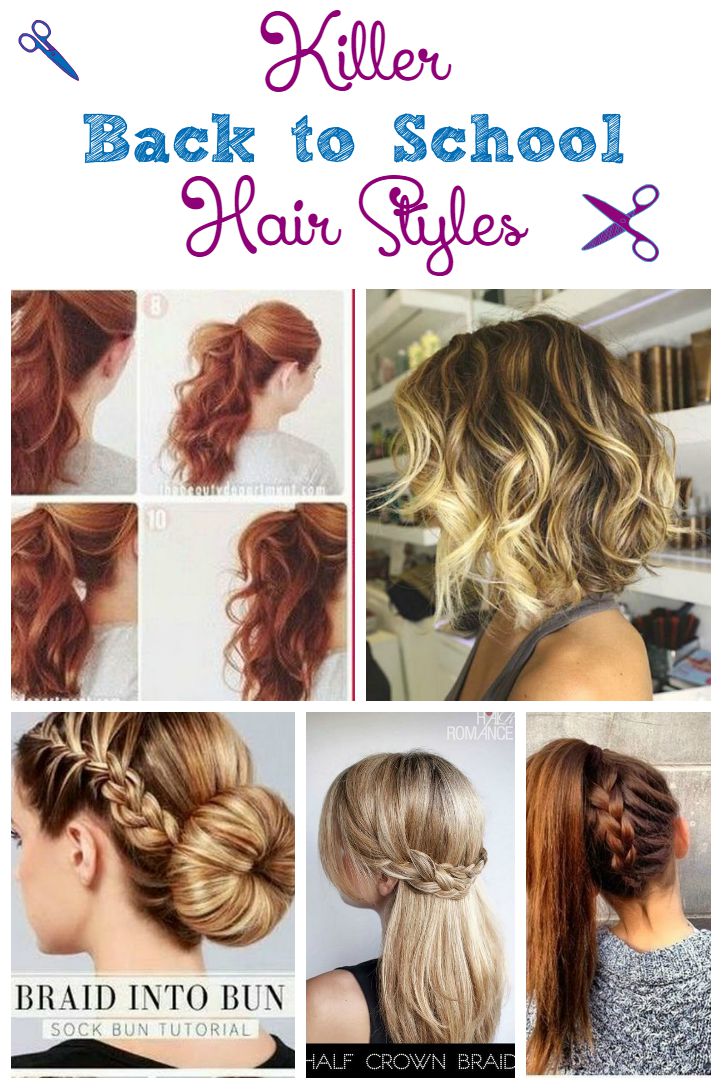 Extra time to sleep in!
Considering recent studies are blaming high schools' early start times on a slew of problems caused by lack of sleep, that's pretty good news!
Related: Super Fab Back to School Outfits You NEED Now
Easy Back To School Hair Styles
Affiliate links included below. If you make a purchase through these links, we earn a small commission at no extra charge to you.
I tried to include styles for all hair types and lengths so everyone can find something super cute to do with their hair for the first day of school.
1. Vintage Retro Hair Style
How much do you love this Easy Vintage Retro Look? The video tutorial above is super easy to follow.
This is perfect for someone with medium to short hair, and seriously takes no time to accomplish.  Retro styles are hot every season, but especially perfect for back to school.
Add an adorable retro headband and you're good to go! Here's one that I love that comes in a 2-pack with a red and black headband:
2. Beachy Hair
Summer may be over, but Simple Beach Waves never go out of style!  This look is perfect for short or medium length styles.
It is easy to accomplish and a super cute look that anyone can pull off. Straight, wavy or curly hair can all work for this easy back to school hair style for teens.
While I recommend a beach hair spray
, you can totally get the look my combining a bit of sea salt
and spring water into a spray bottle and spraying it on your locks. Just go easy with the sea salt. You want "spent the day in the salty air" waves, not "drowned my head in the Dead Sea" hair!
Of course, you can just head to the beach for one last great day of fun and get this look without any styling products, too!
3. French Braid with a New Twist!
I am just in love with the Upside Down French Braid! This is a cool funky look that is super easy to accomplish. It gives your basic ponytail a boost, and can be pulled together in under 5 minutes.
Check out this video tutorial for how to do it yourself. You can easily adapt the bun part to make it curly!
While this one is ideal for longer hair, it can work with medium and short styles.
I love it because it's not just pretty, but it really helps keep your hair off your neck. Most of our schools around here aren't air-conditioned and it's still super hot on the first day of school!
4.  Half Crown Braid
Half Crown Braid:  This is kind of the half up half down style that is perfect for fall!
You create two braids with only a portion of your hair then pin them around your crown to create a cute and simple style that takes only a few minutes and looks totally pulled together.
FYI, there are a ton of "french braid tools" out there, but the simple Conair Topsy Tail
seems to have the best overall reviews. I usually just have my friend help me!
Related: 5 Best Nail art Designs on Pinterest for Back to School
5. Bun Braid
How much do you love this Braid Into Bun?  This is a favorite because it looks so sleek, but it super duper easy. The best part? It doesn't have to be perfect! If you have a few strands sticking out, it still looks adorable!
Two side braids and a bit of work can quickly create this braid into bun option that is great for daily wear. Another plus: when you take the braids out, you'll have gorgeous waves!
6.  Perfect Pony Tail
If you want something super simple, The Perfect Pony Tail is, well, perfect!
This one involves a bit of curling, but makes a simple ponytail really pop and look amazing.  Separating your hair to add more volume also makes your hair really rock this style!
I recommend this curling iron set. I love it because it comes with a bunch of different wand styles.
These are some of the best easy back to school hair styles for teens that I found.  They are cute, simple and of course they look amazing.
Some styles can be done best with slightly dirty hair, so skip a day between washes for your hair to hold volume or curl a bit better.
Grab the styling tools
, some great heat protection spray
and have fun experimenting to make your hair look amazing for the first day back in classes with your friends.
Which of these adorable easy back to school hair styles do you totally love? Talk to us in the comments below!