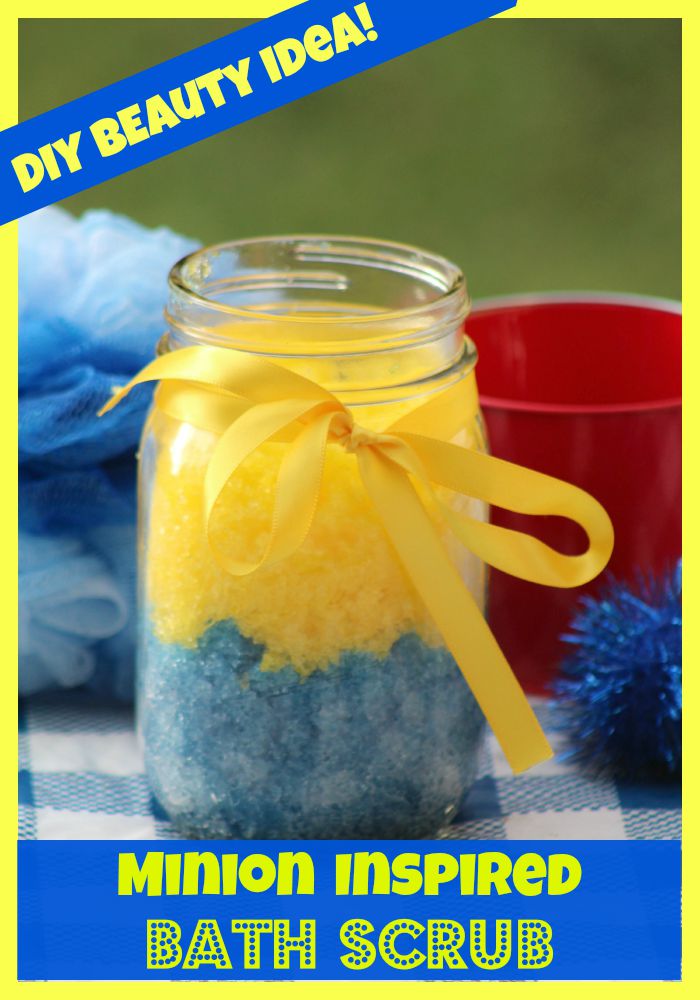 BaNANahhhhhh! Banana! I don't know about you, but I am crazy about these little yellow guys lately (the Minions). Everywhere I look there is a yellow goggle wearing, overall wearing cuddly friend. Can someone puh-leeze send me my very own Bob? Bob and his teddy bear are just too freaking adorbs.
Easy, Fun DIY "Minion Scrub"
I have been reading a lot lately about how amazing coconut oil can be for your skin. With all the summer fun, it is totally obvi that my skin could use a bit of a boost. Sometimes after I come home from an afternoon at the pool or in the sun, my skin feels just a bit too reptilian for my liking.
I have no plans of becoming that fish lip monster with the gills from the movie, so instead I threw together a totally fab Minion Inspired Scrub you simply must try! There are only a few ingredients in this scrub and your skin will feel soooo soft afterward you use it. This scrub also looks so cute and colorful. You could easily give one to your friend for her birthday or just to cheer her up.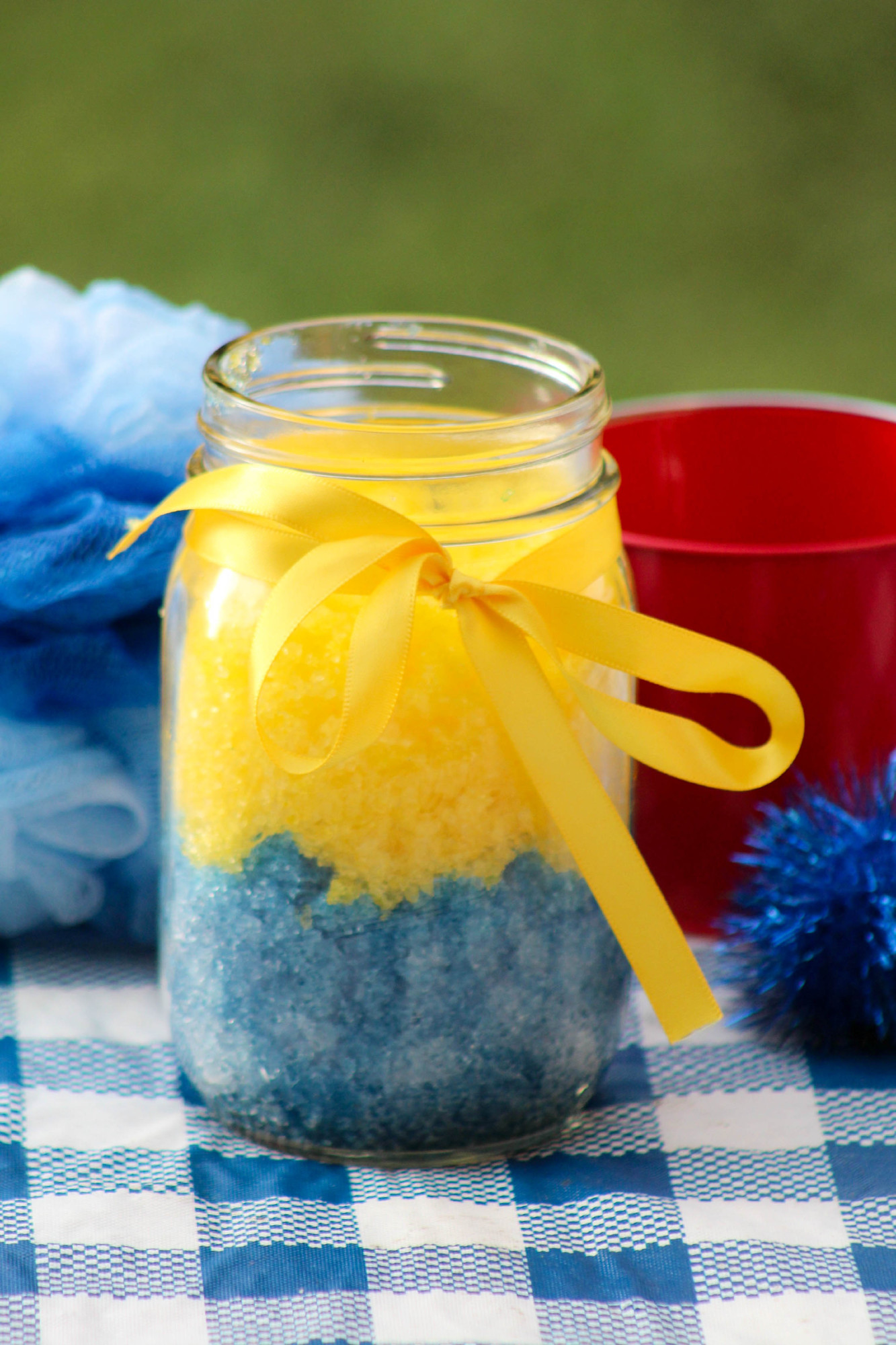 Ingredients:
2 C Epsom salt
1 C coconut oil
Yellow and blue food coloring (Gel food coloring gives a brighter color, but any kind can work.)
Lemon essential oil
Directions:
Combine the (affiliate link) Epsom salt and coconut oil.  Stir until mixed thoroughly, and then add 5+ drops of Lemon essential oil. Use your nose as a guide. Essential oils can be strong, so go easy until you give it a sniff test.
Divide the Epsom salt and oil combination into 2 bowls. In the first bowl add several drops of yellow food coloring. Mix the yellow gel food coloring with the Epsom salt mixture until the color is thoroughly blended and it is your desired color. It usually takes between 5-20 drops depending on your food coloring.
In the second bowl add several drops of blue gel food coloring. Repeat and mix the blue food coloring with the Epsom salt mixture until the color is thoroughly blended. Expect this also to take between 5-20 drops of food coloring.
Choose a clear container or jar with a lid.  A Mason jar would look outstanding, but any clear jar would look fab. You want to see colorful salts!
Layer your prepared scrub with the blue on the bottom topping it off with the yellow.
Tie a yellow ribbon around the top of your bath scrub jar. Tah-dah! Amazing Minion inspired scrub! Yassss, use it every day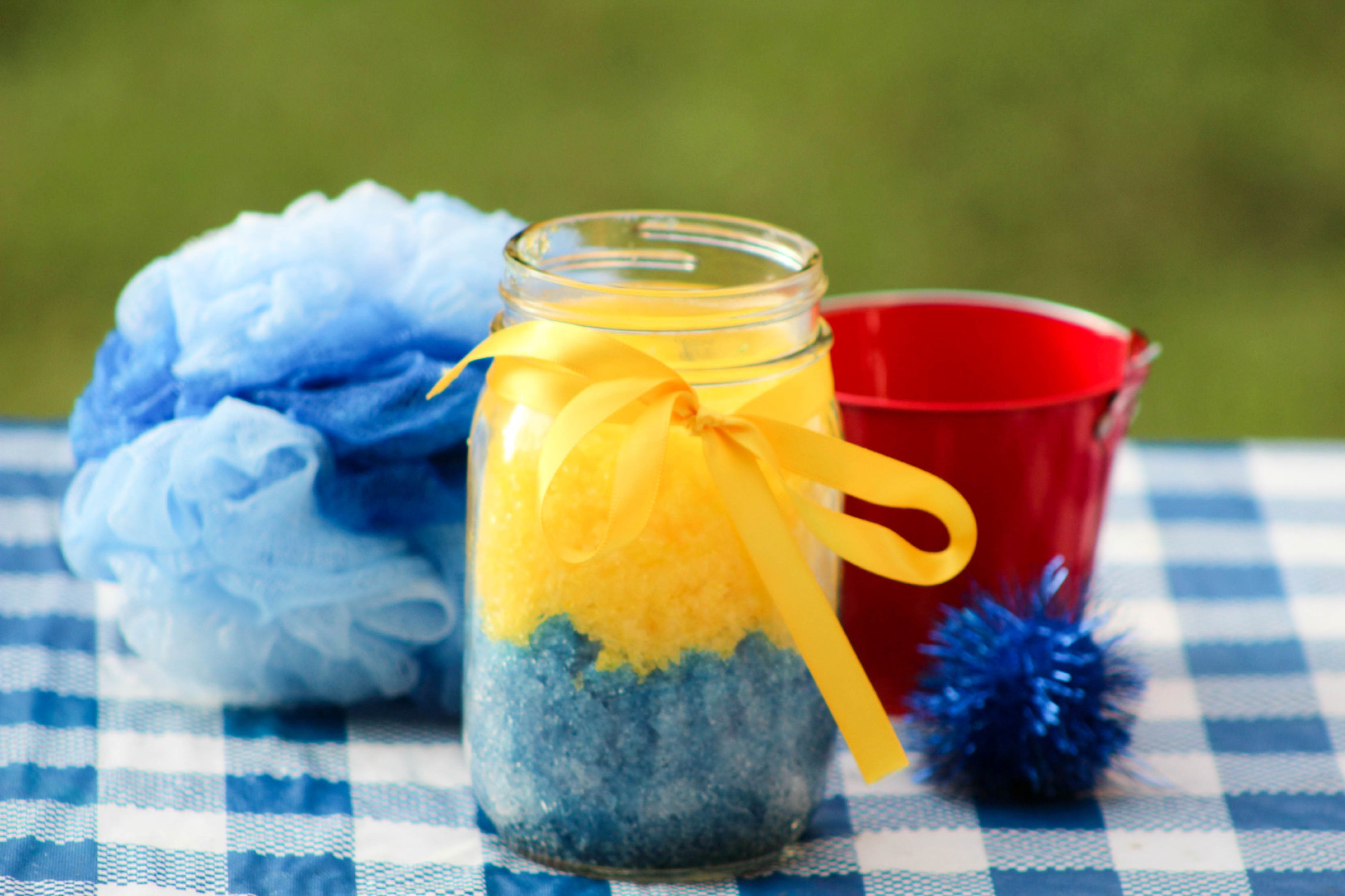 You will want to keep this near the bath so you do not have to slosh wet feet across the bathroom to use it. It can be helpful to keep the water from the shower or bath out of the scrub, as it can cause your scrub to expire faster. As with any homemade beauty product, keep your eyes open for any signs your scrub may have gone bad. This typically only happens with this scrub when you accidentally get water in it from the shower.
Do you adore the new movie? I totally had all the feels with this movie. When those little guys are sad, I am so sad for them. When they are happy I want to dance with them! I will be dancing (carefully!) in the shower with my silky smooth legs thanks to my Minion Inspired scrub.
Readers, who would you make this Minion Inspired Beauty Scrub for?