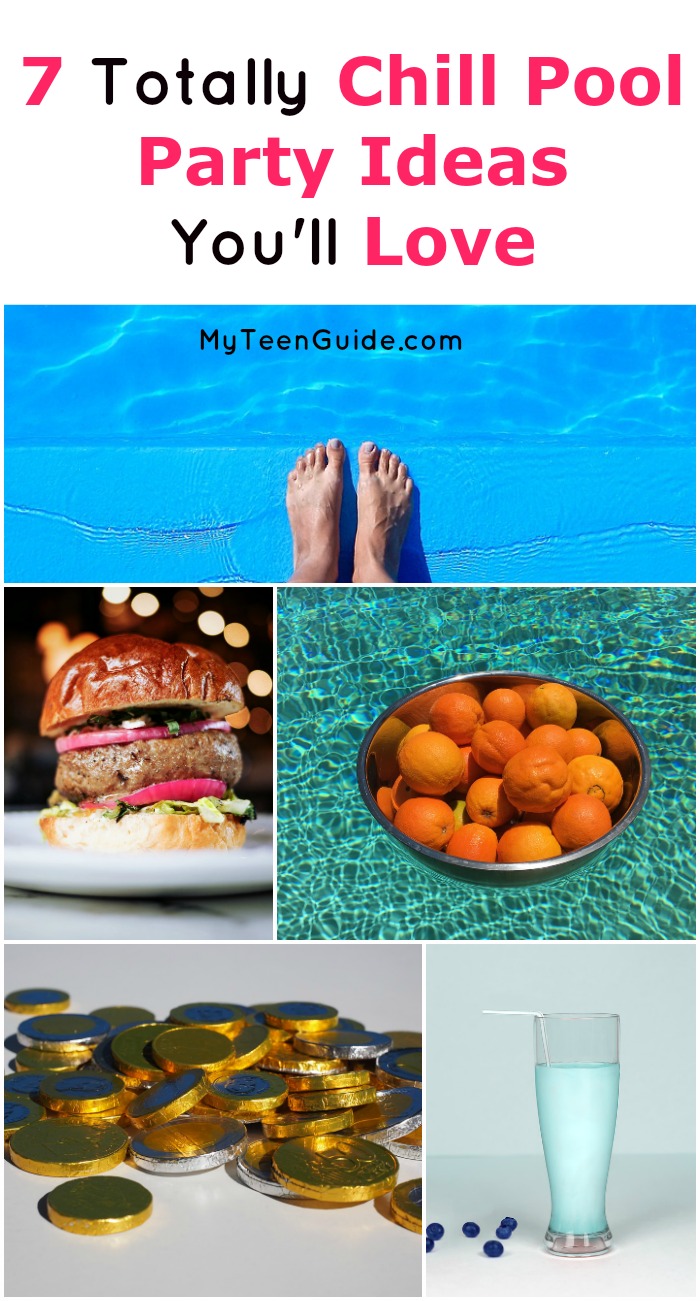 Is anyone else crazy excited for the first pool party of the season? I can't think of anything that screams "summer" better than chilling out in the water on a scorching hot day with a few of my BFFs, can you? It feels like it took forever for the weather to heat up enough this year! It's funny because we had some crazy hot days in the middle of winter, of all times, when I thought "I SO wish my pool was open!" Now that it's June, it's finally starting to warm up! I'm ready to call everyone up and get them over to my place for an amazing pool party and barbecue! You too? Awesome, let's party together with these fab ideas to take our bash to the next level!
Totally Chill Pool Party Ideas You'll Love
Affiliate links included below.
Food ideas
No party is complete without food. Here are some menu ideas for your party.
1- Snack bar. There is no better way to get the energy you need to swim other than from snacks! Offer guests a candy bar with water-themed snacks, such as:
2- Sliders. Sliders are ideal for a pool party, and the options are endless! You can offer hotdog sliders, hamburger sliders, sandwich sliders, tomato and mozzarella sliders, and so many more!
3- Pool water to drink! Real pool water tastes horrible, but mixing lemonade and blue Hawaiian punch creates a tasty drink. Serve with ice, cups, and striped-straws!
4- Plenty of fruit. Fruit and summer just go together. Pineapple, melons, and cold grapes will keep your guests hydrated and cool! Fruit is also perfect for those with a sweet tooth.
Games
Consider having these games at your summer pool party for ultimate fun! Here's a hint: stock up on pool noodles! You can do like a million things with them, including these games.
5- Pool side bowling
This works just like normal bowling, but with a fun outdoor twist!
What you'll need:
Setting up:
Create a bowling lane out of the yoga mat and the pool noodles. Lay the mat on a flat surface near the pool and line the mat with the noodles.
Set up the bottles in the shape of normal bowling pins.
Use the bowling ball to knock them over!
6-. Ring noodle toss
Ring noodle toss is just like normal ring toss!
What you'll need:
pool noodles
scissors
glue
Setting up:
Cut pool noodles into small pieces. Place them in the grass so that they are vertical.
Create rings out of the other pool noodles by gluing the ends together
See who has the best aim!
Extras
7- Create a lounge area! Too much swimming and sun is sure to make your guests tired. Create an outdoor lounge using an inflatable kiddie pool, pillows, and towels! This is a fun way to relax during the day.
What are your favorite ways to take your pool party to whole new levels? Share below!