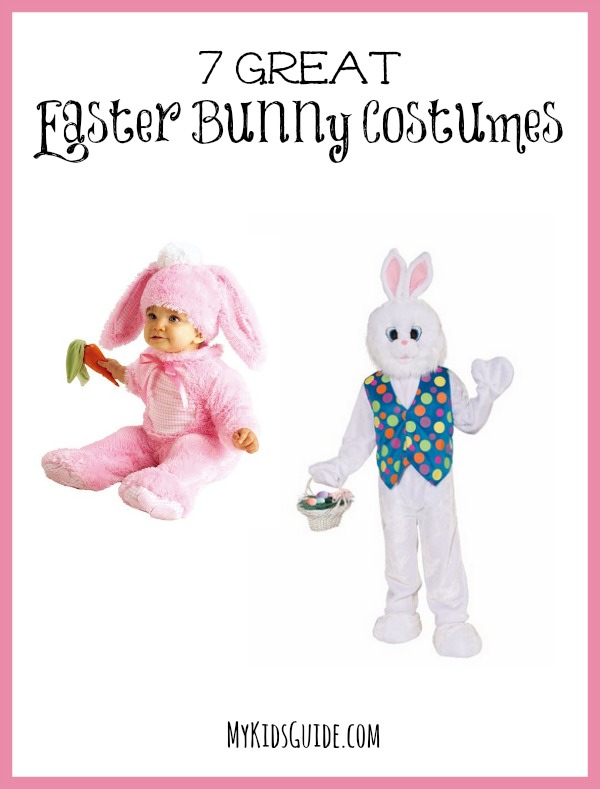 This year you can surprise your kids with the Easter bunny with one of these 7 Great Easter Bunny Costumes.  Not only are they going to be perfect for you to dress up and surprise your kids, there are some cute kids costumes to ear for parties and events.  Celebrate Easter with the kids squeals of delight seeing a real Easter Bunny at their house!
7 GREAT EASTER BUNNY COSTUMES
Affiliate links included below.
Adult Easter Bunny Costume With Yellow Vest:  This festive costume includes a cute yellow vest to make sure your bunny looks the part!  Great for wearing to egg hunt events, to surprise your kids with on Easter morning or to pose for pictures as a photography prop.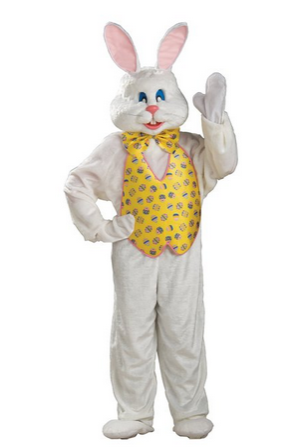 Classic Solid White Adult Bunny Costume:  This is a simple choice that allows you to customize your bunny yourself.  Add a vest, jacket, bow tie or nothing at all to this costume to create a fun bunny everyone will love.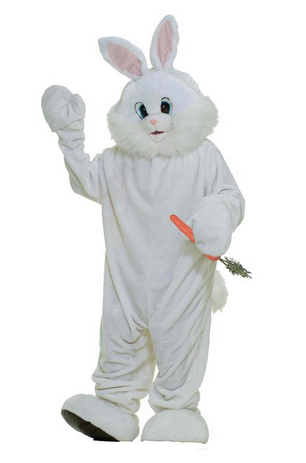 Adult Easter Bunny Costume With Blue Polka Dot Vest:  This costume is another fun spin on the classic Easter bunny costume.  Classy blue vest with fun bright colored polka dots make it a fun to wear.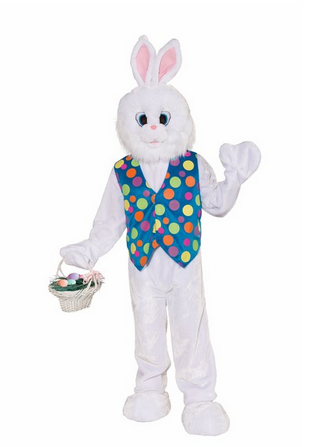 Classic Easter Bunny With Pink Belly: This bunny costume reminds you of the classic stuffed bunny you may have received as a child.  Soft fluffy bunny with a pink belly and ears is great for kids who love the idea of the Easter bunny bringing them a basket filled with treats.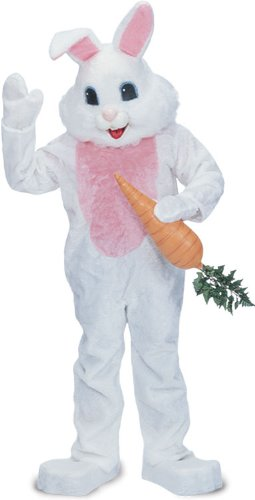 Kids Easter Bunny Costume:  If your kids want to dress up, then this pint sized costume is perfect for them.  The open face makes it safe and fun as a perfect costume for their Easter parties and events.

Kids Easter Bunny Vest:  For the fun of being a bunny without being constricted in a full costume this kids vest is a great option.  Super easy to pair with a white shirt and pants for a fun dress up event for your kids.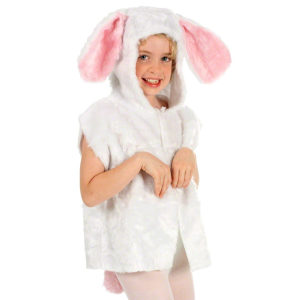 Baby Easter Bunny Costume:  Dress up your baby or toddler in this adorable costume to pose for pictures on their first few Easters!  Great for those special memorial picture events, or just to have fun!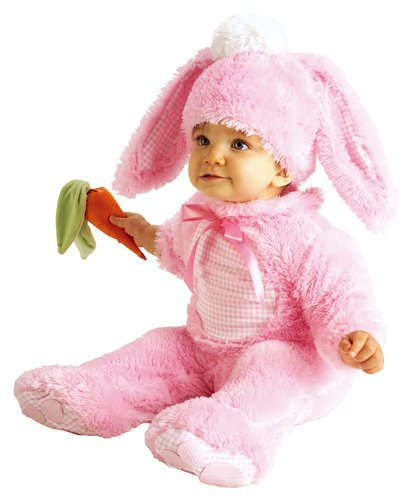 Easter is such a fun celebration and this year you can make it even more special with one of these great Easter bunny costumes.  Whether you are throwing a large Easter egg hunt at church, in your community or just with your family at home dressing up can bring about a ton of smiles from everyone!
Which of these cute Easter Bunny costumes do you love the most? Tell us in the comments!