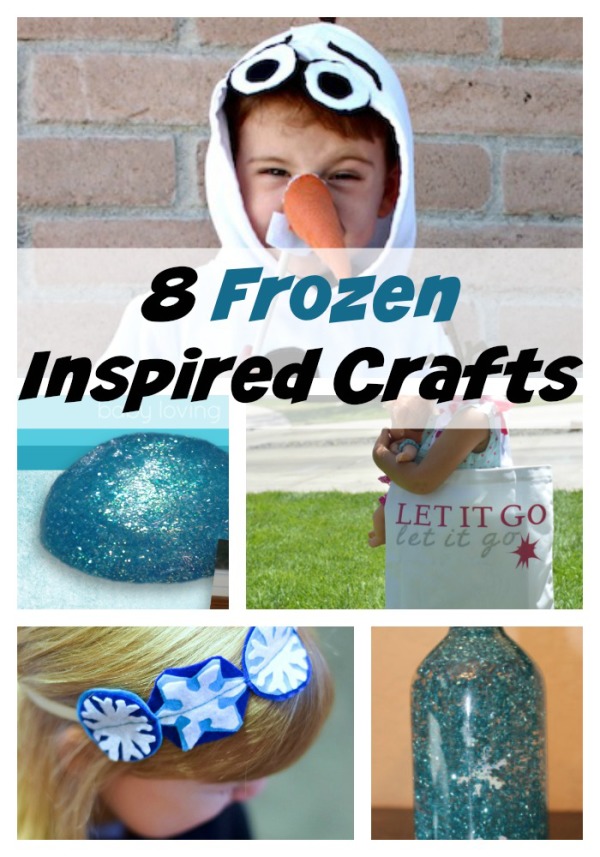 Just about every day, no matter where you are, you can hear something referring to the newest princesses on the block, Anna and Elsa. Frozen took over the heart of kids everywhere. Since these Frozen crafts for kids became so popular, here are some more fun Frozen crafts for kids.
8 More Fun Frozen Crafts for Kids
Kids love playing with ooey gooey slime and Baby Loving Mama knows how to add in a fun Frozen twist when she shares a Frozen Flubber Craft Tutorial.
Whether you are looking for a Frozen Olaf Gift Bag or a Our Thrift Ideas' Frozen Tote, kids love bags. These would be fun for any kid to carry around their favorite Frozen characters or to give as a gift.
What kid does not love snow globes? Something beautiful and sparkly that they are allowed to shake as often as they want. Why not make Frozen Inspired Snow Globes from Antimom Blog. The kids get to have fun making them and shaking them.
Our Homemade Life shares a great Snowflake Felt Headband that is just adorable for both moms and daughters!
If Olaf makes your kids happy, they'll love playing around the house in their very own DIY Olaf Costume or make this Disney Frozen Olaf Craft from Desert Chica!
Olaf the Marshmallow Man from Pam's Party and Practical Tips might be just what kids need on a cold snowy afternoon that might be a bit too chilly for outside play time.
Which of these Frozen crafts for kids are you looking forward to making with your children? Tell us in the comments!