Looking for general sports themed birthday party ideas?
Or maybe you have a specific sport in mind that you want to celebrate?
Either way, we've got you covered!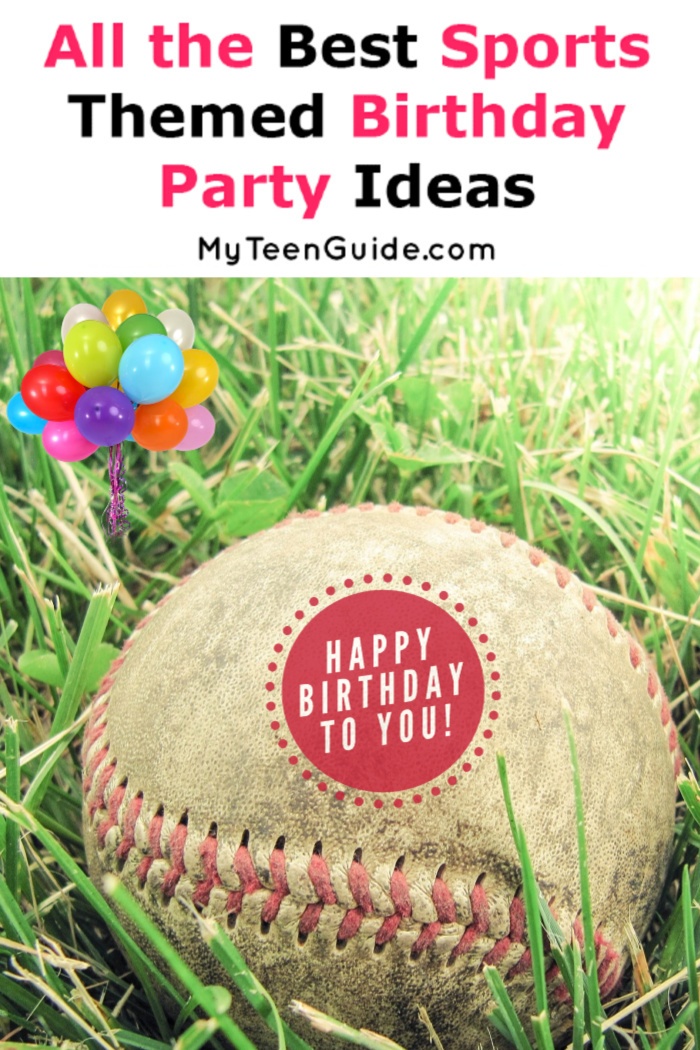 From invitations and decorations to the best party food ideas, we've got you completely covered!
Read on to find out how to plan the ultimate birthday party for your sports fan!
Sports Themed Birthday Party Ideas
This post contains affiliate links. If you make a purchase through these links, we earn a small commission at no extra charge to you.
https://www.instagram.com/p/BorsKdGBV1x/?tagged=baseballparty
When I started doing research and such for this article, I wasn't sure how I wanted to approach it. I mean, there are so many different types of sports out there. If I were to cover every sport, it would be a book instead of a blog post!
So, I decided that I would cover sports in general for the main part of the article. Then, I would add birthday party resources for North America's 4 major professional sports- Baseball, Basketball, Football and Hockey- at the end of the post.
So, whether you are thinking of having a general sports party for your birthday, or you want a specific sport for your birthday party theme, you'll have ideas!
INVITATIONS
https://www.instagram.com/p/BfwPhfyBBvu/?tagged=sportspartytheme
The first step to planning any birthday party is to let people know about your party. And the best way to do that is to send out invitations!
I also love the idea in the Instagram picture above! Granted, it's for a 1st Birthday party, but you can adapt it for any age. Just make up fun event tickets on your favorite photo editing software (try Canva or PicMonkey!), and fill in the details for your bash!
DECORATIONS
https://www.instagram.com/p/BBaWZqliX7a/?tagged=sportspartytheme
To give your party area a sports-like atmosphere, you're going to need some decorations, right? These decoration options are available on Amazon.
Another idea: use the colors of your favorite team for inspiration! For example, if you love the Philadelphia Eagles, grab some midnight green, silver, and charcoal colored balloons, table clothes, and so on.
TABLEWARE
https://www.instagram.com/p/Belud_Mla-s/?tagged=sportspartytheme
To make your food and drink tables look awesome and cool, some sporty tableware is in order, don't you think? Both items below can be found on Amazon.
Sports Theme Party Kit– This kit comes with enough party table supplies for up to 32 party guests, including (40) napkins, (36) paper cups, (36) paper plates, (32) blue utensils set, (1) letter banner, (1) blue plastic table cover and (1) table centerpiece.
Classic Sports Birthday Party Deluxe Tableware– This kit comes with (16) paper plates, (16) luncheon napkins, (16) paper cups, (1) plastic table cover and (24) birthday cake candles.
Party City has team-specific tableware for quite a few sports, including a Los Angeles Dodgers kit, Philadelphia Eagles, Seattle Seahawks, and many others!
FOOD & DRINK
When it comes to food and drink ideas for your birthday party, think about foods that are commonly available at sports stadium.
1. Hot dogs
https://www.instagram.com/p/BoneZPdBMBJ/?tagged=hotdogbar
Hot dogs are a must-have food item at your party. You can totally go crazy when it comes to toppings! Need some ideas for the ultimate hot dog bar? Here you go:
2. Burgers
https://www.instagram.com/p/BorMKR2AK1u/?tagged=burgerbuffet
Like hot dogs, you can go crazy with toppings. Here are a few ideas for your burger buffet:
Avocado
Bacon
BBQ Sauce
Cheese
Dill Pickles
Fried Egg
Grilled Pineapple
Guacamole
Jalapenos
Ketchup
Lettuce
Mayonnaise
Mushrooms
Mustard
Olives
Onion
Onion Rings
Roasted Red Peppers
Tomatoes
3. Chicken Tenders
https://www.instagram.com/p/BokFxNfAqkJ/?tagged=chickentenders
Make sure you include plenty of different dipping sauce! My favorites are:
4. Chili
https://www.instagram.com/p/BojnW6tnqcq/?tagged=chili
Chili is a great sports themed birthday party food because it can be eaten alone or used as a topping. If you're planning to use it as a main course, make a couple different types, including a vegetarian option.
I would also go with a mild chili, then add a selection of hot sauces around the table so people can spice it up to their liking. Don't forget the cheese and sour cream!
5. Corn Dogs
Corn dogs are one of my favorite stadium-inspired foods! I personally prefer the chicken-based ones, so it may be a good idea to include a mix. You can buy a huge box of them at Walmart, or make your own. Check out Up Town Jungle .
6. Fried Pickles
.

I'll admit, fried pickles really aren't my thing, but I know they're a huge hit with my friends! Check out the video above for how to make them!
7. Loaded Baked Potatoes
https://www.instagram.com/p/BlrBToVnGGz/?tagged=bakedpotatobar
I love the idea of setting out a baked potato bar so guests can load them up however they like. If you're also doing a hot dog or burger bar, you'll have most of the necessary ingredients already on the table. Just add some sour cream and shredded cheese if you don't already have them out.
8. Nachos
https://www.instagram.com/p/BRd3Gq-hdbd/?tagged=nachobar
Again, set this up buffet style, with naked chips at the center, then all the usual toppings in individual bowls so your guests can customize their own nachos. Make sure you include:
Gooey cheese (Velveeta works great)
Jalapenos
Salsa
Different degrees of hot sauce
9. Pizza
You really can never go wrong with pizza! I recommend sticking to the basics: cheese and pepperoni. You can set out other toppings for those who like a little more variety.
If you want to make your own, check out the recipe video above. Honestly, though, I find it's cheaper to just order in bulk from my local pizzeria. By the time you buy the dough, cheese, and sauce, you've spent close to what a large pie costs, anyway. Check out ilimoww.com.
10. Soft Pretzels
Make your own ahead of time, or visit a local pretzel place (we have Auntie Annes as well as a local place called Callie's Pretzel Factory) and buy in bulk the day of the party.
11. Snacks
You may want to set up a snack bar with individual packages of goodies like:
Animal Crackers
Cotton Candy (check out the cool video above for how to make your own!)
Cracker Jacks
Roasted Peanuts
Sunflower Seeds
12. Drinks
You may want to serve drinks in sports cups, like these Sports Cup Assortment with Straws
. So, what are some drink ideas for your party? What about Gatorade or Powerade, lemonade or root beer!
ACTIVITES & GAMES
Activities and games should be the heart of your birthday party. Why, you ask? Because sports are all about games, of course!
PARTY FAVORS
https://www.instagram.com/p/BVMyTgiDTxu/?tagged=sportspartyfavors
After your birthday party winds down and your guests are getting ready to go home, send them home with party favors to remember the fun they had! The party favors below can be found on Amazon.
Party Treat Bags- This 36-pack of sports-themed design treat bags, feature images of various sports balls, including baseball, basketball, football and soccer ball.
All Sports Wristbands– This package of 24 wristbands come in 4 colors- green, orange, purple and red, as well as 4 images of sports balls- baseball, basketball, football and soccer ball.
Sports Pencils with Ball Eraser– This 12-pack of #2 wooden pencils with images of sports balls- baseball, basketball, football and soccer ball, along with a coordinating sports ball eraser.
Sports Stress Balls– This set of 24 stress squeeze balls, which measure 2.5 inches in diameter, includes baseball, basketball, football and soccer ball.
INDIVIDUAL SPORTS PARTY RESOURCES:
BASEBALL
BASKETBALL
FOOTBALL
HOCKEY
With all these great sports themed birthday party ideas, you'll definitely have the bash of the year! The only thing left to do is have a great time!
Do you have any favorite sports themed birthday party ideas? Share below!