No significant other to buy chocolates for this February 14th! That's okay!
We'll help you embrace and celebrate the single life with these anti-Valentine's Day party ideas!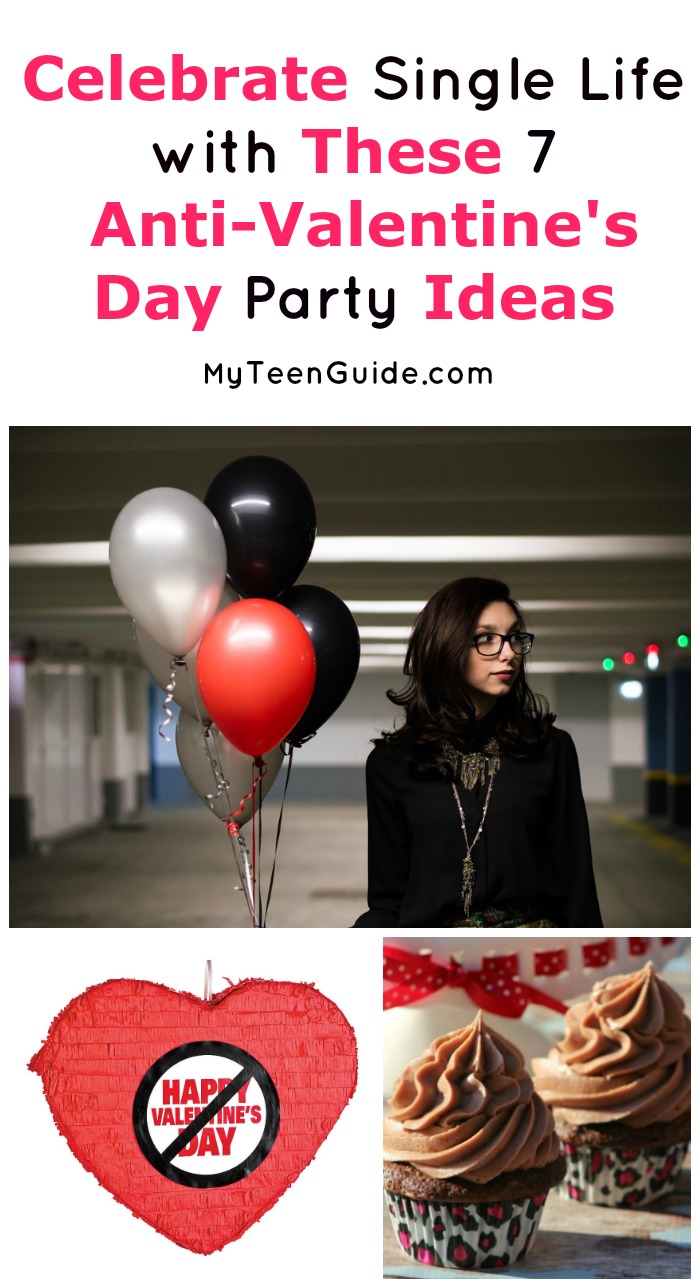 Valentine's Day is rough for those of us who aren't currently attached, especially if you've recently been through a major breakup.
It's hard, watching all the lovers make goo-goo eyes at each other across a candlelit table when you know you're going home to pizza for one.
Instead of wallowing, turn Valentine's Day into a night to celebrate YOU.
Buy yourself a box of chocolates, throw on your party shoes, and invite your other single friends over for an anti-Valentine's Day party.
Here's how!
Anti-Valentine's Day Party Ideas
This post contains affiliate links. We earn a commission if you make a purchase.
1. Invitations
To let everyone know about your Anti-Valentine's Day party, you need to send out some invitations!
Invitations4U features 5 different styles of Anti-Valentine's Day party invitations that you can order.
Zazzle has more than 50 different styles of Anti-Valentine's Day party invitations that you can order. If you're even remotely handy with graphic programs and apps, you can make your own to print out, email, or even attach to texts.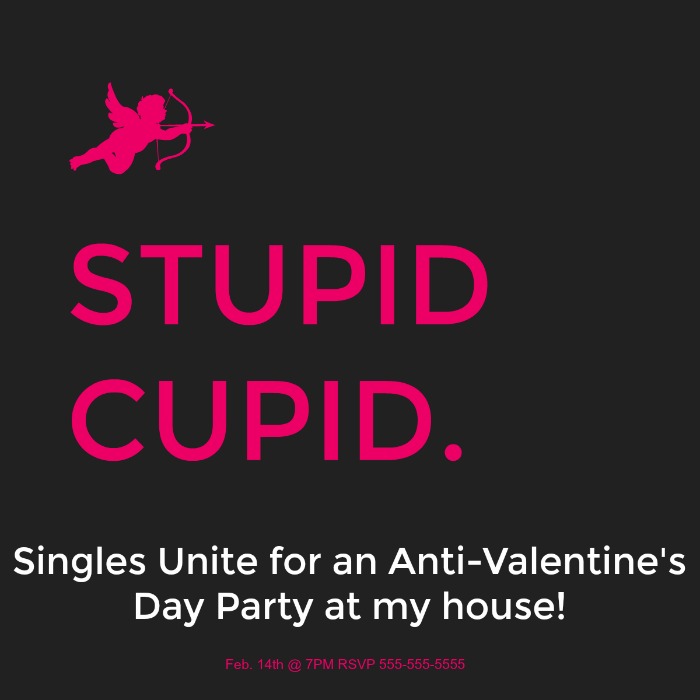 2. Decorations
For your party decorations, start by hanging laminated Anti-Valentine's Day quotes around the party area.
Need a few ideas?
"Love Stinks" by J. Geils Band, "I'm single because I was born that way" by Mae West, "I think, therefore I'm single" by Liz Winston and "Love is a promise delivered already broken" by Steve Martin.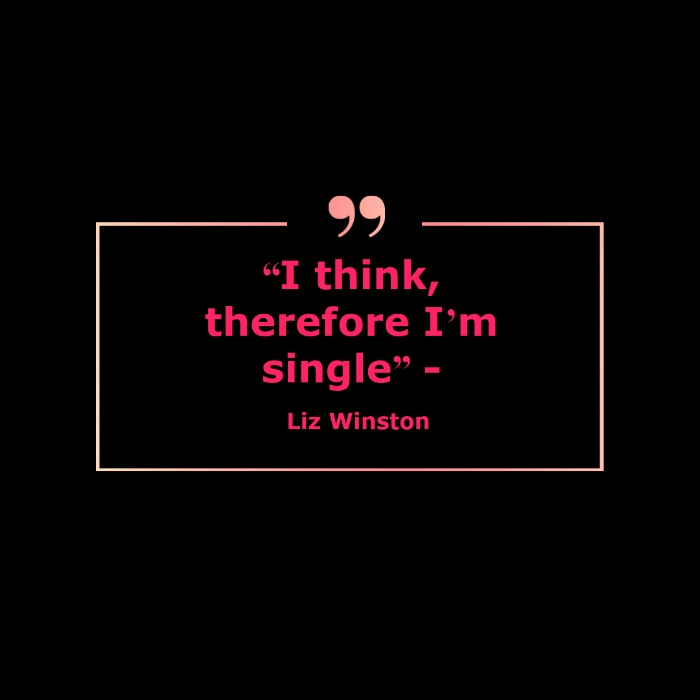 Another decorating idea for your party is to think black, meaning all your party decorations should revolve around the color black.
Party City has lots of party decorations, including Black Crepe Paper Streamer, Black Tissue Paper Fluffy Decorations, Black Stars Swirl Decorations, Black Paper Lanterns, Black Paper Garland and Black Heart Balloons.
Last, you can decorate the party area by hanging some Anti-Valentine's Day decorations.
Etsy has an array of creative ideas, including Stupid Cupid Anti-Valentine's Day Garland, Crushed Broken Hearted Banner, Conversation Hearts Anti-Valentine's Day Banner, Anti-Valentine's Day Wreath and Black Heart Mosaic Design Poster.
3. Table Settings
Keeping with the black color theme for your party, Party City has all the tableware you'll need for your party, including Black Paper Tableware Kit for 50 Guests, which includes 50 Dessert Plates, 50 Lunch Plates, 125 Lunch Napkins, 100 Plastic Cups, 2 Table Covers and 1 Plastic Cutlery Set.
Party City also has Black Premium Tableware, including Black Plastic Square Lunch and Dinner Plates, Black Beverage, Dinner and Lunch Napkins, Black Plastic Cups, Classic Silver and Black Plastic Cutlery and Black Fabric Tablecloths.
4. Food & Drink

Valentine's Day is all about sweets and treats, just make sure yours have a twist! Do It Your Freaking Self has a great recipe for Anti-Valentine's Day Cookies.
If baking isn't your thing, this Etsy shop has homemade Anti-Valentine's Day Cookie.
Not Quite Nigella has a creative recipe for Voodoo Doll Cookies. Tablespoon features a cool recipe for Broken Heart Cookies. Our Black Forest Cupcakes are also perfect for the occasion!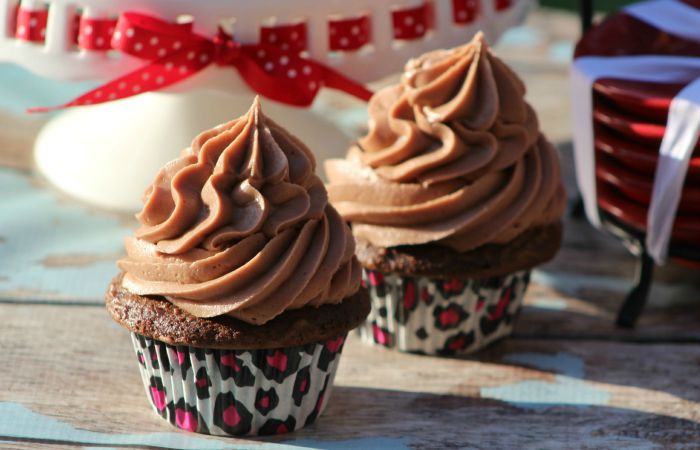 5. Music
No party is complete without music. Of course, your party music should coincide with your party theme. Need some Anti-Valentine's Day song ideas?
Blank Space- Taylor Swift
Boy Problems- Carly Rae Jepsen
Cry Me a River- Justin Timberlake
It's My Life- Bon Jovi
Love Hurts- Nazareth
Love is a Losing Game- Amy Winehouse
Since You've Been Gone- Kelly Clarkson
Single- Natasha Bedingfield
6. Activities
Your Anti-Valentine's Day needs a few activities to keep your guests entertained. One great party activity is a piñata. Amazon has a cute Anti-Valentine's Day Heart piñata.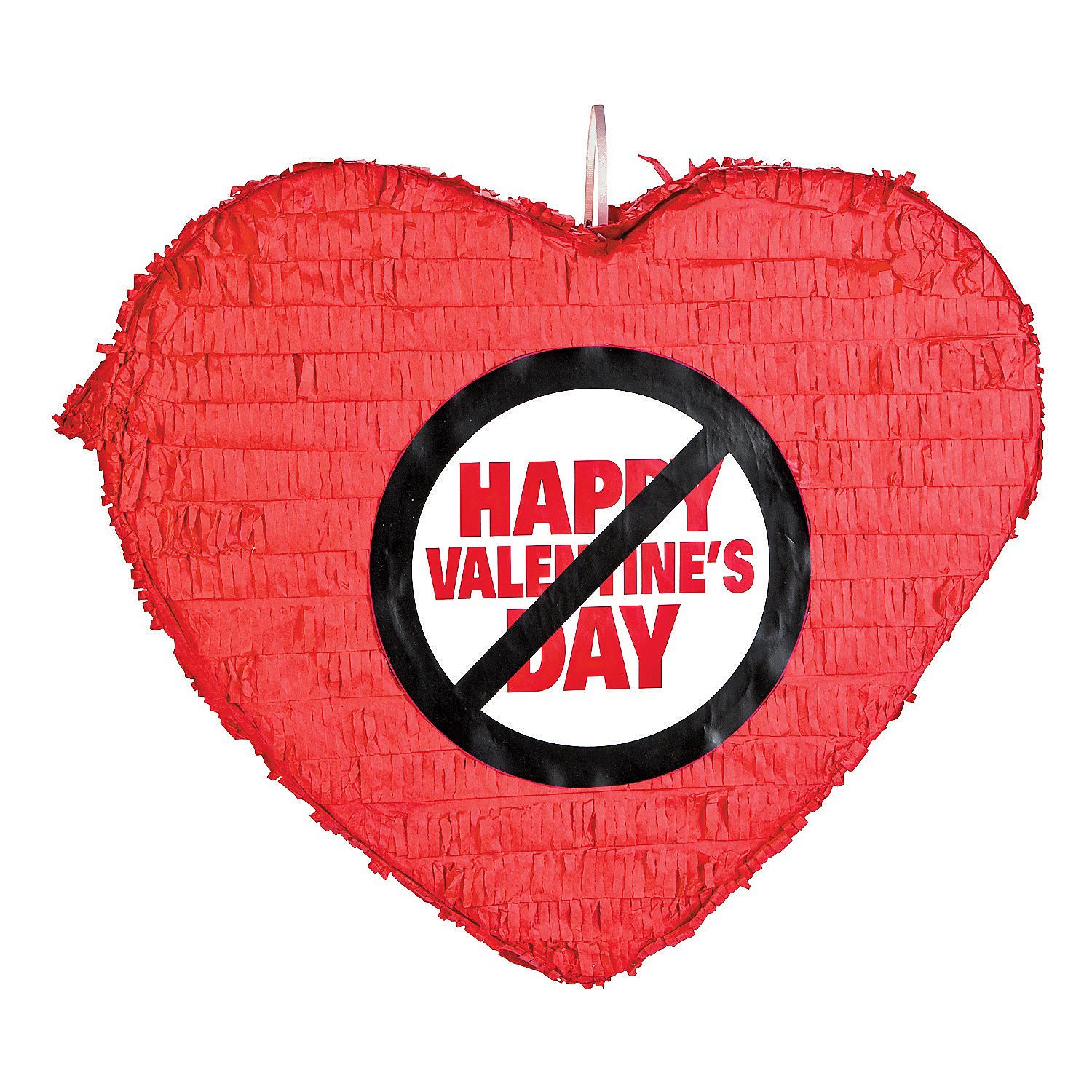 Crafts are another fun way to pass the time during your party. Consider making this hilarious Voodoo Pin Cushion Doll from Wonder How To.
Of course, movies always make the perfect party activity! Here are some great Anti-Valentine's Day movie ideas:
2004- Closer- melodrama
2006- The Break-Up- comedy, drama, romance
2007- Atonement- British, romance, war
2008- Revolutionary Road- romantic drama
2009- 500 Days of Summer- romantic comedy-drama
2010- Blue Valentine- romantic drama
7. Party Favors
Send your party guests home with party favors from your Anti-Valentine's Day Party. Start with these Love Bites Anti-Valentine's Day Party Favor Bags from Party411. Then, check out these Anti-Valentine's Day Sticker Sets from Etsy, these Anti-Valentine's Day Foam Cups from Etsy and these Silk Black Roses from Amazon.
Whatever theme you decide to go with or activities you choose to do, as long as you're having fun together, that's all that counts! You don't need a romantic attachment to have a good time on Valentine's Day!
Have you thrown an anti-Valentine's Day party? Share your tips below!