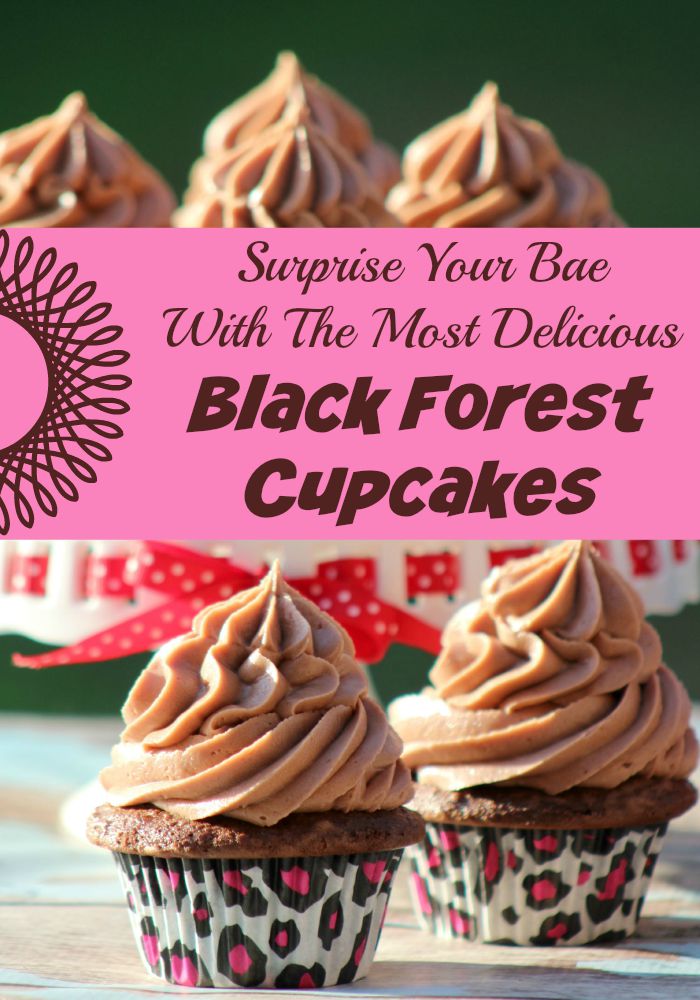 Chocolate, my fav! Nom nom nom, did you see that picture? I could die right here. With school starting up, there is sure to be the perfect opportunity to celebrate with your BEA or your bestie. There are tryouts galore right now and my friends would be totally surprised if I celebrate their victory with these delicious looking cupcakes. These would also be so adorbs for a party or for a weekend tailgate party. My Fridays and Sundays are full of football in the fall and these cupcakes would be a super treat.
Luckily you do not have to outsource to a fancy cupcake bakery. You can make these fab cupcakes right in your own kitchen with just a few ingredients. Here is my fail-proof recipe full of #yumchocolate #yumcherry #delicious!
Related: Make Your Mockingjay Party A Hit with Hunger Games Cupcakes
Most Delicious Black Forest Cupcakes Recipe
Affiliate links included below.
Ingredients To Grab At The Store To Make Cupcakes:
1 3/4 C Flour
2 C Sugar
1 C Cocoa
1 1/2 TSP Baking Soda
1 1/2 TSP Baking Powder
1 TSP Salt
2 Eggs
1 C Whole Milk
1/2 C  Oil
2 TSP Vanilla
1 C Boiling Water
1 Can Cherry Pie Filling
How To Make The Delicious Chocolate Cupcakes:
Preheat oven to 350 degrees.
Mix the dry ingredients together including flour, sugar, cocoa, baking soda, baking powder and salt in a bowl. This is important so everything dissolves well. In a separate bowl mix together the wet ingredients except water including eggs, whole milk, oil, and vanilla. Once blended, mix the wet ingredients into your dry ingredient bowl. With an electric mixer, beat the batter for three minutes on medium. Now you want to slowly add the boiling water a little at a time. The batter should be a little runny but don't worry, it will be delicious.
Scoop the batter into cupcake paper liners and fill 3/4 full. An ice cream scoop is handy for even sized cupcakes.
Bake cupcakes at 350 degrees for 20-25 minutes. You can test with a toothpick in the center to make sure the cupcake is cooked through. When they are cooked, take them out of the oven and let the cupcakes cool completely. No seriously, let them cool. It is even better if they can cool on a wire rack.
When the cupcakes are cool, scoop a small hole in the top center of each cupcake with a spoon. In each cupcake fill the center with cherry pie filling. Your frosting will then hide your cherry filling surprise!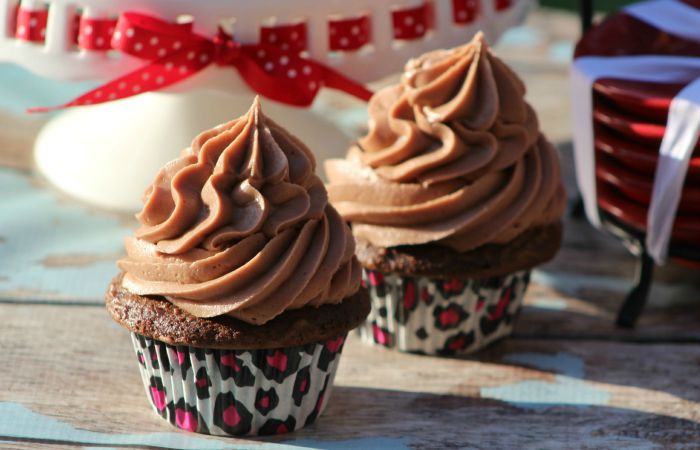 Ingredients To Grab At The Store To Make Frosting
1 C unsalted butter – softened
3/4 C cocoa powder
3 C powder sugar
3/4 C heavy cream (Milk or Half and Half will work in a pinch)
2 TBSP espresso (optional)
How To Make A Delicious Chocolate Frosting:
Beat the softened butter with a mixer until smooth with a mixer. Add cocoa, powder sugar and espresso and continue to mix until creamy.  If it doesn't look creamy then add drops of heavy cream until it becomes creamy. Test by taking a spoonful of frosting and turn the spoon upside down. If the frosting does not hold on the spoon, then mix in more powdered sugar a few spoonful at a time until it holds.
Spoon frosting into a pastry bag with a #13 tip. If you don't have a pastry bag, spoon the frosting into a Ziploc and cut a tiny amount off the corner. Start on the outside and swirl the frosting towards the center.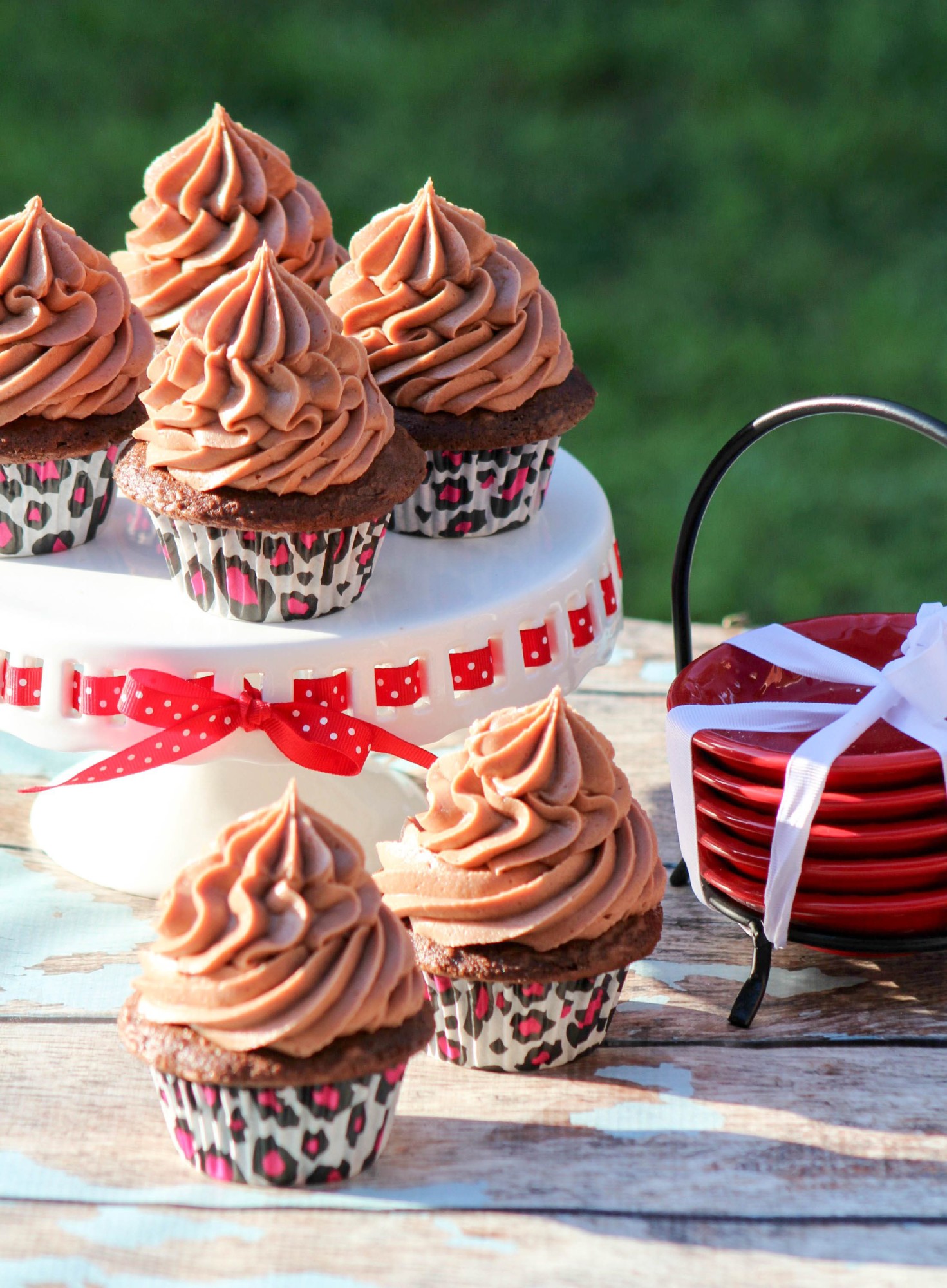 These cupcakes are going to be ah-mazing. You can impress everyone with your on point baking skills. Do not forget to save one for yourself!
Black Forest Cupcakes, love them or leave them? Tell us in the comments!