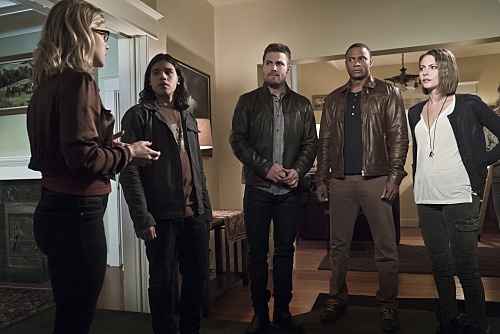 Last night's  Season 4 Episode 8 (Legends of Yesterday) episode of Arrow was part of a two-night crossover event with the TV show The Flash. The Flash was shown on Tuesday and Arrow was shown tonight (Wednesday). Here is a recap of both nights.
 Arrow Season 4 Episode 8- Legends of Yesterday Recap & Highlights
In Tuesday night's episode of The Flash, The Flash a man known as Vandal Savage arrives in Central City, leaving a body count immediately. Upon encountering him, Barry learns that Vandal is there to kill Kendra who Vandal refers to as Shiera. Barry also senses that there is something mystical about Vandal and decides it would be best to seek out the help of Oliver in Star City. Malcolm ends up interrupting a meeting between Team Arrow and Barry. He reveals that Vandal is a four thousand year old immortal. We are then introduced to someone named carter who initially kidnaps Kendra. Once captured Carter then explains that he and Kendra are reincarnations. Kendra is an Egyptian Priestess named Shiera and he is Prince Khufu. He also details that Vandal has attempted to and successfully killed them both hundreds of times over the centuries. Malcolm returns to tell the crew that Vandal is seeking to find a powerful object, The Staff of Horus, which is believed to be located in central city.
Nearing the end Kendra emerges as a winged person and Vandal who is fighting with Flash and Oliver senses it. Vandal acquires the staff and the rest of the crew heads to central city. The episode ends with Oliver at Jitters seeing an ex-girlfriend who has a child around 9 years old, the girlfriend was revealed in a prior season to have been paid by Oliver's mom to lie about losing Oliver's child and move away from the then Sterling city.
In the beginning of tonight's episode we see a memory of Kendra's first life as Priestess Shiera. We learn that Shiera and Khufu are secretly romantically involved. After the memory we see the crew arriving at a farm house outside the city. Oliver explains this is in order to best keep everyone safe. Malcolm once again offers aid and arranges a meeting with Vandal, The Flash and Oliver in order to what he calls negotiate. Vandal offers the demands to turn over Shiera and Khufu within 24 hours or both Star City and Central City would be destroyed. Oliver refuses to accept that which causes Malcolm to threaten Oliver not to get his daughter killed. Oliver and Berry return to the farm and brief the team on the latest development. They are trying to develop gloves that would allow them to be able to use the staff as in a previous battle with Vandal they were unable to touch it.
Meanwhile Oliver tries to follow up to see if the child is his son, which he as first told he is not. Oliver also manages to grab a hair sample of the child. Back at the farm Shiera and Khufu attempt to train to be able to fully use her powers. Oliver then asks Barry to run a DNA sample on the hair, which reveals that the child is indeed Oliver's. He tells Barry to keep quiet about it but just after Felicity notices and obtains the DNA report and immediately recognizes it's Oliver's DNA. Oliver and Felicity have an argument about the results and she tells Oliver she can't be with someone who can't trust her.
Oliver determines it's best to use Shiera and Khufu to set an ambush and use the element of surprise. Oliver doesn't let the rest of his team come along other than him and Flash. They meet up with Vandal and pretend to offer up the duo and end up engaging in combat. The gloves developed fail to work and they're unable to use the staff against Vandal. Vandal ends up with the staff again and kills Oliver and wipes out Central city, including team arrow… until Barry escapes and time travels back.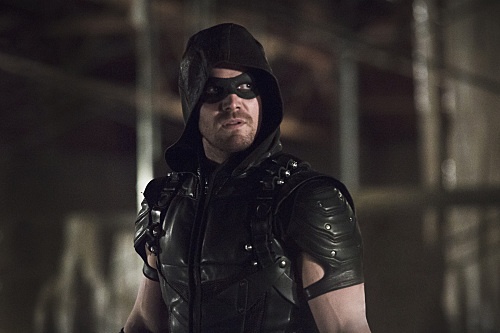 Barry time travels back to the meeting him and Oliver had with Vandal and Malcolm. Barry then reveals to Oliver about time traveling and the consequences of trying to change it. Oliver ignores that and asks Barry to explain everything that went wrong including about break up with Felicity, and finding out he has a child. The team then finds the answer they are looking for, an element from a meteor needed to get the gloves to work properly and kill Vandal. This time Oliver let's all of Team Arrow participate and rather than Khufu trying to get Kendra to reach her potential, Cisco tries. In this timeline attempt at the Ambush the team successfully manages to presumably kill Vandal using the staff.
Oliver is told by Barry it's a good idea for him to stay in his son's life. But he is given the conditions that his son cannot know he is his father, and that nobody else can know. Oliver agrees to the terms and doesn't tell Felicity. In the end of the episode we can see Malcolm collecting the dust of Vandal's body and putting into a jar.
Did you catch  Arrow Season 4 Episode 8? What did you think of the crossover event? Do you watch the Flash? Tell us in the comments!