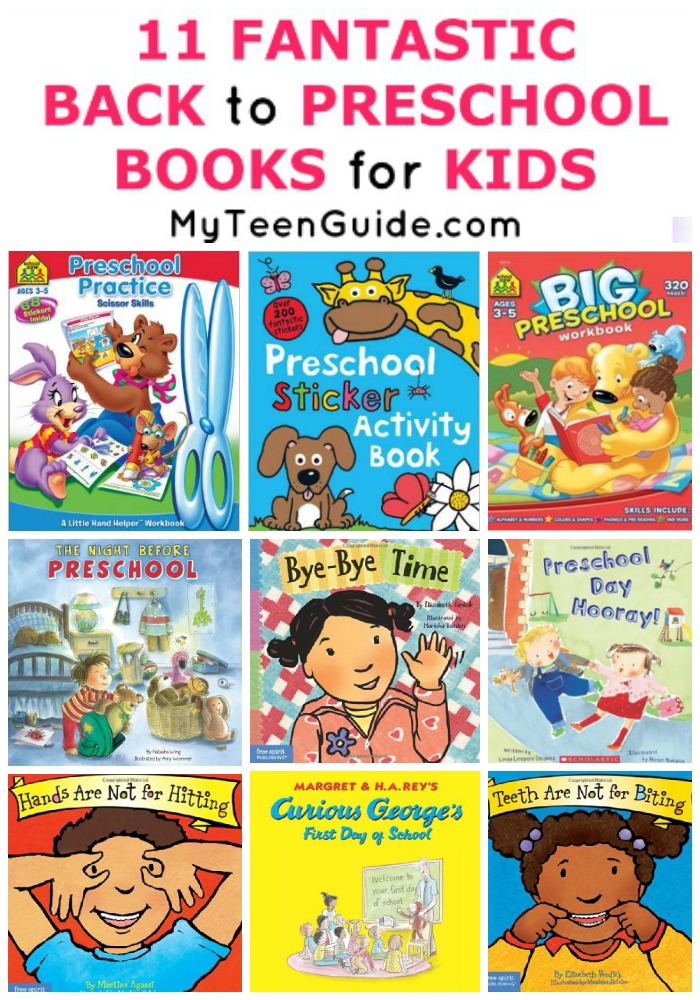 Are your little ones heading back to preschool? I'm not sure who dislikes dropping off the kids at preschool more – kids? Or parents? When my oldest children were little, they attended preschool while I worked outside of the home. We would arrive when the doors open in the morning, and I stayed to play with my children for almost two hours to get them comfortable with me leaving. It never worked. Even after the attempts to distract and sneak away, they would still find my leg and beg me not to leave. It broke my heart.
Books are used for more than entertainment and reading development. They can also discuss important topics in an easier way for children to understand. There are several books for preschoolers that discuss important topics related to preschool shown below. These books discuss separation, behavior, and adjustment to their surroundings. As a bonus, we have also included a few of our favorite workbooks to get your child(ren) ready for school learning.
Are you ready for your kids to head back to preschool?
Back to Preschool Books for Kids
This post contains affiliate links. We recommend only products we love.
It's the night before preschool, and a little boy named Billy is so nervous that he can't fall asleep. The friends he makes the next day at school give him a reason not to sleep the next night, either: he's too excited about going back! The book's simple rhyming text and sweet illustrations will soothe any child's fears about the first day of school.
Preschool for Maisy means a day filled with friends and things to do, from the time she hangs her coat on a special peg to the time she says goodbye. There will be painting and snack time, stories and nap time (and a bathroom break in between). Soon everyone's ready to haul out the instruments and make some noise, then head outside for a turn at the sandbox or slide. In a bright, full-size storybook full of familiar scenes, this child-friendly look at a day in the life of a preschooler is one that newcomers and seasoned pros alike will be happy to share.
What's it's like to spend a day at preschool? Come inside and see!
Every preschooler will relate to this empowering text that is fun to both hear and say.
"Hi to teacher,/Coat on hook./ Run to shelf/ And find a book.// Painty hands and/ Gooey glue./ Tricky puzzles/ I can do!"
In a durable big-kid format (POB with light cardstock pages), with bright and active illustrations that celebrate a happy place where kids learn to love school.
Related: Get Kids Excited About the School Year With Back to School Party Games!
Esmé Raji Codell and Sue Ramá introduce very young children—and their parents and caregivers—to the world of preschool in this cheerful and welcoming book that is guaranteed to make the first day (and every day) a bit less scary and a lot more fun!
Join a happy little boy headed back to preschool, from cheerful hellos in circle time to painting colorful pictures and playing at the water table before snack time. The best part of saying good-bye at the end of the day is that the little boy knows he will come back tomorrow. In her signature style, Anne Rockwell captures a child's preschool day (the bumps and the thrills!) with warmth and reassurance.
Curious George's First Day of School

It's the first day of school, and Curious George has been invited to Mr. Apple's class to be a special helper! George is just the right monkey for the job—until he starts to wreak his usual havoc, that is. Red and yellow paint makes orange, yellow and blue makes green . . . And a mixture of all the paint colors makes a big mess! Curious George and the First Day of School is a story based on H. A. and Margret Rey's popular primate and painted in the original watercolor and charcoal style.
Related: 5 Back to School Reading Games For Kids
A told B and B told C, I'll meet you at the top of the coconut tree. ~ In this lively alphabet rhyme, all the letters of the alphabet race each other up the coconut tree. Will there be enough room? Oh, no – Chicka Chicka Boom! Boom! The well-known authors of Barn Dance and Knots on a Counting Rope have created a rhythmic alphabet chant that rolls along on waves of fun. Lois Ehlert's rainbow of bright, bold, cheerful colors makes the merry parade of letters unforgettable.
It's never too soon for children to learn that violence is never okay, hands can do many good things, and everyone is capable of positive, loving actions. In this bright, inviting, durable board book, simple words and full-color illustrations teach these important concepts in ways even very young children can understand. Created in response to requests from parents, preschool teachers, and childcare providers, this book belongs everywhere young children are. This book includes tips for parents and caregivers.
"Crunch crunch crunch. Teeth are strong and sharp. Crunch crunch crunch. Teeth can help you chew. But teeth are not for biting. Ouch! Biting hurts." Sooner or later, almost all young children will bite someone—a friend, a parent, a sibling. This upbeat, colorful, virtually indestructible book helps prevent biting and teaches positive alternatives.
Being dropped off at childcare or cared for by a babysitter means saying good-bye to Mom or Dad—and for many toddlers, bye-bye is a big deal. This gentle book helps ease the transition with simple rituals: hugs and kisses, a big wave, a deep breath, and the confidence to seek comfort with the new caregiver or other children. Toddlers learn that goodbye isn't forever, it's just for a while.
This Big Preschool Workbook combines popular 32-page School Zone workbooks into one convenient 320-page volume. Child-friendly exercises and full-color illustrations make learning fun. Use Big Workbooks to reinforce or review grade-level skills or prepare for the upcoming school year. This is a great idea for any kid heading back to preschool. Contents include: Same or Different, Mazes, Does It Belong, Uppercase Alphabet, Lowercase Alphabet, Thinking Skills, Preschool Basics, and Preschool Scholar. (Ages: 3-5 | 320 Pages)
Preschool Color & Activity Book

Preschoolers will have hours of fun with this activity-packed book. There are puzzles to complete, pictures to color in, drawing activities, as well as over 200 stickers to place on the book pages. A great way for kids to learn while having fun. (Age Range: 3-5 | Preschool – Kindergarten)
Preschool Practice Scissor Skills

School Zone Little Hand Helper Workbooks provide a fun-filled introduction to important readiness skills. Each workbook is carefully designed and reviewed by teachers to promote your child's early learning success. Cut & Paste offers a variety of exercises that will help your child practice scissor skills and other readiness basics such as story order, counting, matching, and beginning sounds. The interesting activities with clear directions will provide hours of educational fun for your child. Plus, the colorful award stickers will enhance your child's learning adventure. (Ages: 3-5 | 32 Pages and 68 Stickers | Dimensions: 11×8.5in).
These back to preschool books for kids are a fun way to make sure your little one has the skills needed for preschool and beyond. Plus, they're just plain fun to read and work on together! Looking for more fun reads? Check out our list of great books for kids who love puppies!
What are your favorite back to preschool books for kids? Tell me in the comments!
Copyright: Vector Image by StockUnlimited