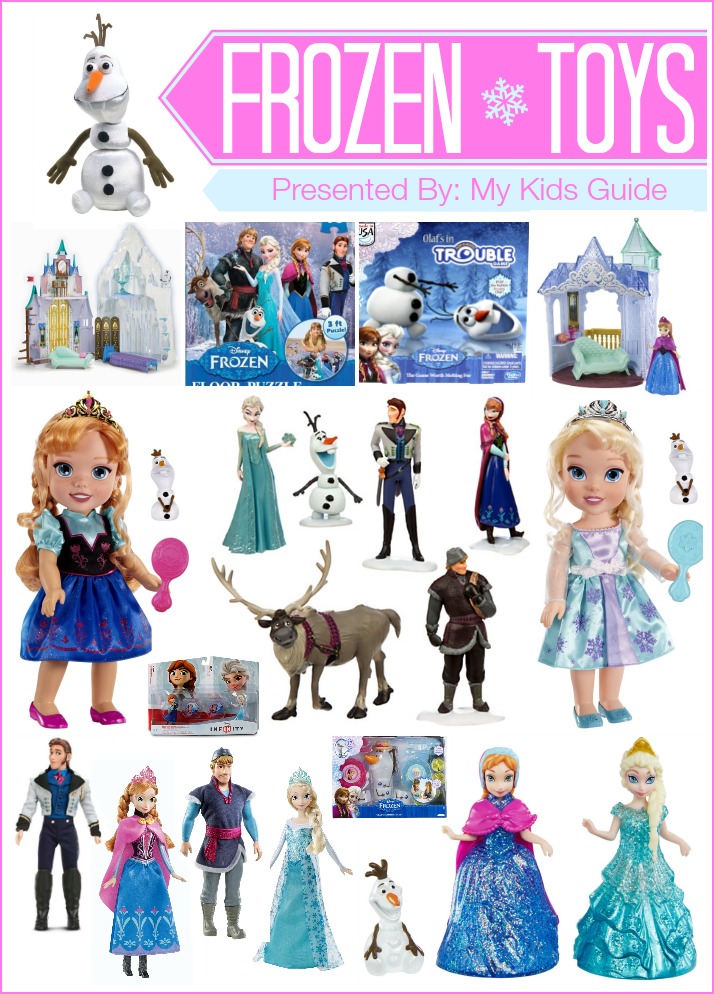 There are so many Disney's Frozen toys available that it is hard to pick which one(s) to get? I say variety is best. Even if your little one has a favorite character, there are so many wonderful characters in this story that you should get more than just one. Grab an Olaf, pick a playset, and….. oh no! Dolls! There are Frozen dolls for every want possible – glittery, gliding, toddler, and…pull apart! (Don't worry, only Olaf pulls apart). I'll be honest, I don't think I could choose. I would probably purchase every one of these Frozen toys for my child because a little Frozen is never enough.
Best Frozen Toys for Kids
This post contains affiliate links. We recommend only what we love.


The cast of Disney's Frozen chill out together with this six-piece Figure Play Set. Anna, Elsa, Hans, Kristoff, along with his loyal reindeer Sven, and Olaf the snowman, are all here to recreate favorite film moments.
Expand your Disney Infinity Toy Box experience with the Frozen Toy Box Pack featuring Disney Infinity Figures for Anna and Elsa. Use the Power Discs to customize your entire Toy Box to the world of Frozen.
Disney Frozen Sparkle Princess Elsa Doll: This Elsa doll, from the new Disney film Frozen, captures the essence of her beloved character in her elegant fashion recognizable from the film. She sparkles in an ethereal gown, with a look both as delicate as a snowflake and as majestic as her own icy powers. A scoop neck strip of white showcases the gorgeous bodice of light blue sparkles accented with a deep blue ribbon sash. The long blue skirt stops just above the floor to provide a peek at her translucent blue heels. A sheer white overcoat detailed with snowflake sparkles completes the sophisticated look, while her flowing blond hair, pulled into a side braid and topped with a translucent, glittery blue tiara is the perfect final touch. Girls will love reenacting the adventures of Elsa from the film or creating new ones for this beautiful and elegant character.
Disney Frozen Castle & Ice Palace Playset: Inspired by the Disney film Frozen, this expandable play set allows girls to re-create the adventures of the film's two lead characters, sisters Anna and Elsa (dolls sold separately), opening to feature two beautiful settings: the impressive manse in Arendelle that Anna calls home and the majestic ice palace Elsa creates high up in the mountains. Anna's half of the playset is the perfect place for the lovable character to call home. Take the airy staircase upstairs where Anna can get ready at her vanity, complete with chair and perfume bottle. Downstairs, Anna can enjoy a tasty treat in her kitchen, which features a stovetop that flips into a tabletop, or she warm up by the "fire" on her cozy chaise complete with pink pillow. Elsa's half features a massive room with a translucent blue "icy" throne, complete with a special spot to rest her scepter. Elsa stays beautiful with a vanity of her own, which doubles as a bed and has a beautiful printed blanket. Flip the playset around to reveal a majestic "snowy" mountain with a slide for the sisters to take a ride. Castle comes with 10+ film-inspired accessories, including an adorable Olaf the snowman figurine, who can also go for a ride down the mountain slide. Dolls sold separately.
Olaf has always dreamed about drinking tea in summer time. Now he can. and you can join him with Olaf's Summer Tea Set. everything you need to have a frost cup of tea. set includes Four stack able tea cups that form Olaf's body, four lemon slices, four plates, four spoons and of course Olaf's head for you teapot complete with a carrot nose.
Bring your favorite Frozen characters to life in an exciting new way! Anna, Elsa and Olaf each feature a simple rolling mechanism that allows girls to glide the characters all around the kingdom of Arendelle – just like in the movie. Anna and Elsa wear clippable, sparkling MagiClip fashions for quick and easy outfit changes. They are joined by Olaf the Snowman, as adorable and silly as ever. Girls will love sliding their Glitter Glider figures over the "snow" in adventures straight from the film. Ages 3 and older.
In Disney's Frozen, Anna is a spirited daydreamer who ends a wintry spell with the help of her sister Elsa, Kristoff, Olaf the snowman, and her own determination. Kids will love re-creating Anna's magical adventures in Arendelle with this delightful doll. Featuring true-to-movie details, Anna wears her signature outfit that fans of the film will instantly recognize.
Beautiful graphics depict your favorite characters from the Disney hit movie, Frozen. Large 46 pc floor puzzle easy to assemble over and over. Box can be used for a handy storage container, until time to build again!
Play out your very own adventures with Elsa from the movie Frozen. Elegant Elsa is dressed in her iconic outfit from the film and has beautiful braided hair, hairbrush and royal tiara. For even more fun, Elsa comes with her adorable and silly friend Olaf.
Pop the bubble to save Olaf in this Disney version of the classic Trouble game! You can play this game as your favorite Frozen character, and your job is to travel around Arendelle to save Olaf. But watch out for the avalanche! Pop all around the board in the Olaf's in Trouble game-it's a game worth melting for! Copyright 2013 Disney. Trouble, Pop-O-Matic and all related characters are trademarks of Hasbro. This is perfect to go along with Frozen party games!
Disney Frozen Small Doll Anna Castle Playset: With three ways to play, this versatile palace is the perfect place for Anna to call home! Her pretty palace comes with 2-in-1 piece count that allows girls to instantly "transform" one room into another to play out her story. Flip Anna's chaise into charming vanity, where she can get royal ready for her sister's coronation ball. For even more castle play turn the play set around to reveal the perfect royal balcony for Anna to stand and overlook her beloved kingdom of Arendelle. Palace comes with adorable Anna doll, dressed in her signature, easy-to-dress MagiClip fashion, and other signature accessories. Ages 3 and up.
Disney Frozen Sparkle Kristoff Doll: This Kristoff fashion doll, from the new Disney film Frozen, captures the essence of the beloved character in his signature fashion from the film. A dashing Kristoff is dressed from head to toe for another adventure on the mountain in his wintry woolens. His loose grey pants and molded bright blue shirt keep him warm and dry, while his fur-trimmed vest adds an extra layer of winter warmth. His cozy accessories include knee-high snow boots, a warm black cap and thick mittens. Girls will love reenacting the adventures of the brave and adventurous Kristoff as seen in the film or creating new ones for this endearing character.
Disney Frozen Exclusive 12 Inch Classic Doll Hans features a deluxe costume and is fully poseable. His blue corduroy jacket is topped with his stylish gray tailcoat and accented with his knee-length boots.
Play out your very own adventures with Anna from the movie Frozen. Adventurous Anna is dressed in her iconic outfit from the film and has adorable braided hair, hairbrush and royal tiara. For even more fun, Anna comes with her adorable and silly friend Olaf.
Olaf will be sure to make you laugh with all of his funny features. Pull him apart and he retracts back together while playing silly sounds. Press Olaf's buttons to hear him speak and tell jokes.
These 15 beautiful Frozen toys should get you started on building your child's collection! If your kids still can't get enough of Olaf, Anna and the gang, check out our cute Frozen craft for kids as well as those Frozen Party Games for kids.
Which of the Frozen toys for kids are your favorites? Tell us in the comments!