This Disney's Frozen craft for kids post contains affiliate links.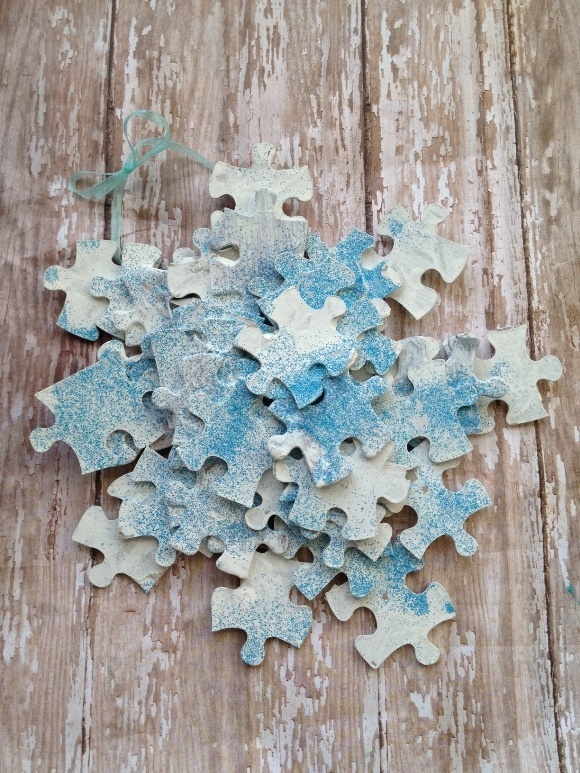 This weekend, Disney released their newest flick Frozen in theaters everywhere. In this film, a sweet character named Anna goes on an icy adventure in search of her sister, who has been trapped in a kingdom where it is always winter. Anna does not go on this journey alone, in fact she is accompanied by a rather whimsical snowman Olaf who offers quite a few laughs. If you have seen this film with your child, or perhaps you plan to, you will want to take a look at this Frozen inspired craft for kids below. This puzzle piece snowflake ornament is so simple to make, and echos all of the frozen fun found in the movie. For more than just Christmas, this holiday decor piece can stay out all winter season long! Take a look below at how you can make your own Frozen inspired puzzle piece snowflake ornament of your own.
Puzzle Piece Snowflake Ornament Frozen Craft for Kids

Supplies needed: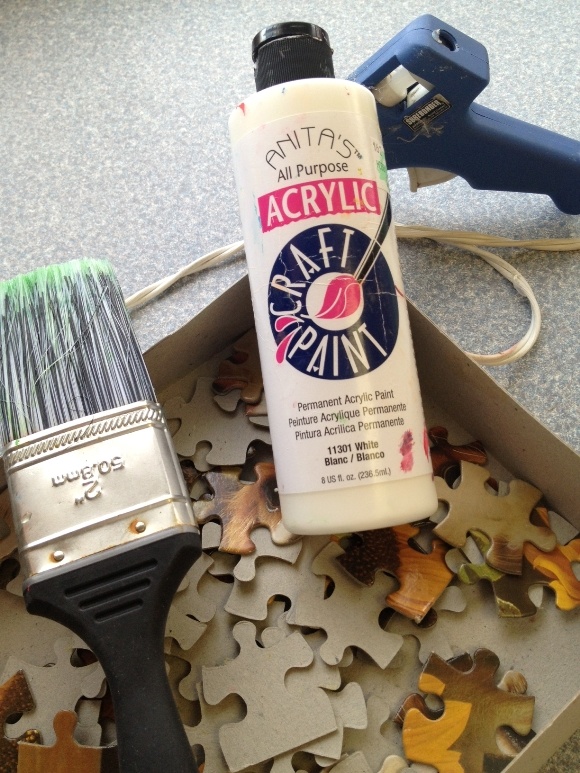 Assorted puzzle pieces
White paint
Paint brush
White or blue glitter
Ribbon for hanging
Hot glue, glue gun
To find puzzle pieces you can either purchase a puzzle from your local dollar store, or see what your thrift store has. Any size pieces work. You need about 20 pieces to complete this Frozen craft for kids, so choose a puzzle that has at least that many pieces in it.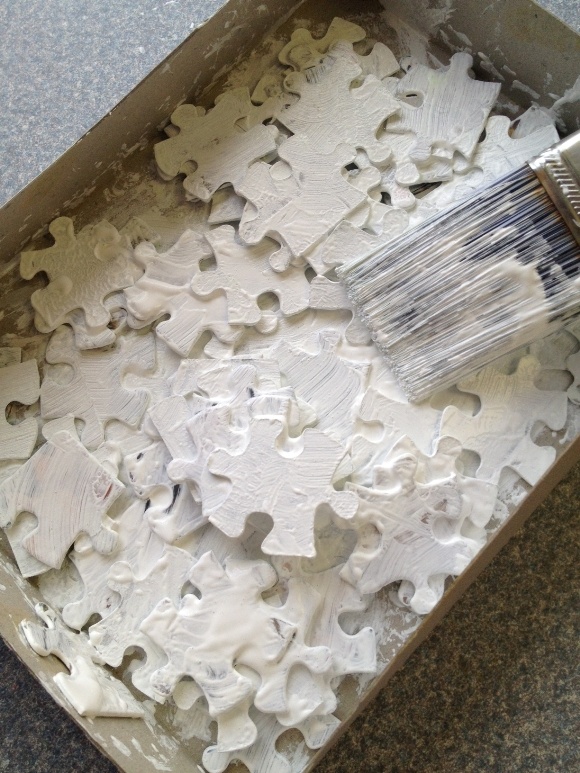 Directions for this Frozen craft for kids:
1. Spread some puzzle pieces out in the box they came in or on some old newspaper.
2. Apply some white paint generously to the pieces making sure to cover them entirely.
3. While the pieces are wet, sprinkle them generously with glitter. We used blue but you can use white if you wish. Allow the piece to dry, which will take about one hour.
4. Glue 3 or 4 pieces together into a small pile in order to create the center base of your snowflake.
5. Continue to add glue to the tips of the puzzle pieces and add on to this base. You want these pieces to branch out and basically create a star or snowflake shape. You can make sure you are doing this by branching out in about 5 various directions.
6. Continue to add on pieces until the snowflake has taken on the design of your choice. Allow a few minutes for all of the glue to dry before trying to move it.
7. Once the pieces are all glued and dried into place, you can attach your ribbon for hanging. We used a simple piece of blue ribbon which we attached to the back of our snowflake with hot glue. Just cut a length, make a bow, and attach it to the back.
Your snowflake can now be hung wherever you wish. It can be hung on a door, in a window, or even from your tree. Wherever you decide to hang it, it is sure to evoke memories of Disney's movie Frozen! If you have left-over puzzle pieces, use them to make our easy Autism-awareness puzzle frame craft for kids.
Gather your kid's and catch Disney's Frozen, then head to the kitchen table and give this puzzle piece snowflake ornament a try. You are sure to have some sweet winter fun and create an ornament you will enjoy for years to come!
What do you think of this Frozen craft for kids? Did you see the movie yet? Don't forget to check our selection of best frozen toys for kids and our Frozen party games for kids
Follow MyKidsGuide's board Frozen crafts and activities for kids on Pinterest.