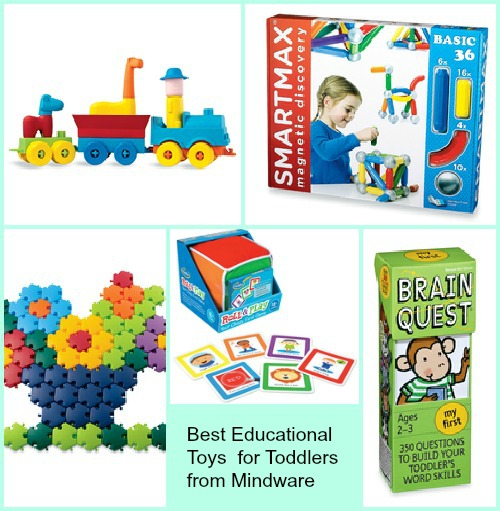 MindWare is an award-winning creator, manufacturer, and distributor of Brainy Toys for Kids of All Ages. Their products range from puzzles, crafts, mazes, games, and brainteasers. Their products have won awards from Parents' Choice, Oppenheim Toy Portfolio, Dr. Toy, iParenting Media, and Mensa Select.
Rainbow Mosaic Pattern Puzzles
This educational toy for toddlers and preschoolers is perfect for small hands. The plastic tiles are just over two inches across and interlock together. Kids can create floor mosaics and will learn about colors, shapes, patterns, matching, and early math concepts. Rainbow Mosaic Pattern Puzzles helps develop motor skills and hand-eye coordination. This educational toy for toddlers (and preschoolers, too) has won the Creative Child Magazine Preferred Choice Award and was named Dr. Toy's Product Worth Your Attention.
SmartMax Basic
Recommended for ages 1 to 6, SmartMax Basic is the recipient of the Major Fun Award. One of the best educational toys for toddlers from MindWare, it has giant magnetic pieces that allow your child to build straight lines and simple shapes. Once they are ready for something more challenging, they can build complex 3D shapes and structures, like towers and animals.
Roll and Play Board Game
Roll & Play
Educational toys for toddlers can include games, too! The Roll & Play is the recipient of the Parents' Choice Recommended Award and was named Dr. Toy Best Picks 2012. Designed specifically for toddlers, all you have to do with roll that giant "dice" and identify which color faces up. Pick a matching color card and perform the simple activity shown, like making a happy face. Educational toys for toddlers like the Roll & Play teaches your child how to take turns and follow instructions.
Softimals Safari Starter Set
Featuring brightly colored animals and vehicles, kids can take the animals and vehicles apart and rebuild them over and over again. Educational toys for toddlers like Softimals teach motor skills and reasoning skills. Parents can rest assured that the sets will last because they have a lifetime guarantee.
Brain Quest Game
BrainQuest is one of the educational toy for toddlers that has the Seal of Approval by the National Parenting Center. These cards have hundreds of questions on one side, with the answers on the other. For ages 2 to 3, My First BrainQuest focuses on building toddlers' word skills, which will not only fill their mind with knowledge, but improve their communication and verbal skills as well.
Buy them: All of these great educational toys for toddlers are available on MindWare!
How To Choose Educational Toys for Toddlers
When choosing educational toys for toddlers, you should look at your child's skill level and buy products that are just a bit above it. Toys that work on multiple skills are ideal and make sure not to forget to select toys that your child will have fun with.
Make sure to participate in playing with your child and their toys. They love the attention and you will be amazed at how much your little one knows.