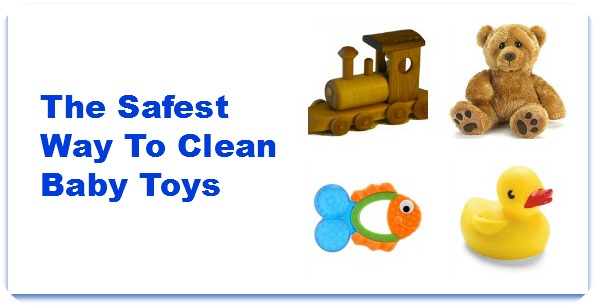 Baby toys can get covered with bacteria and germs pretty quickly, especially since little ones are constantly putting toys that have been laying on the floor in their mouths. It is important to know the safest way to clean baby toys to keep your child from getting sick. Use the following guidelines to clean them properly and keep your child healthy.
Teethers & Other Plastic Baby Toys
Baby toys that are made from plastic, including teethers, can be put in the top rack of your dishwasher with the heated dry option.
If you prefer to hand wash them, you can do so two different ways. The first option is with a mixture of white vinegar, soap, and water. The second way to safely clean plastic toys is by using bleach that has been diluted with water.
Wooden Toys
Parents are opting to purchase wooden toys more often these days, but they are a bit more difficult to clean. The easiest and safest way to clean baby toys made from wood is to use a disinfectant wipe.
Another way to sanitize wooden toys is to scrub them with a sponge that has been soaked in vinegar and water, but you must be careful because you could warp the wood if they get too wet.
Bath Toys
Some parents forget to clean bath toys, even though these are the ones you should be most concerned about. Because they are in a damp environment, the rate of bacteria and mold growth is multiplied. The easiest way to clean bath toys is to fill the tub, sink, or a pail with 3/4 cup of bleach for every gallon of water. Before placing the toys in, make sure you squeeze all the excess water out of them. After they have been soaking for 5 minutes, use a sponge and clean each toy, paying extra attention to creases where germs may be hiding.
Stuffed Animals & Dolls
For your child's stuffed "friends," follow the directions on the tag. Most instructions will tell you to spot clean with mild detergent (you can use baby shampoo, too) and letting them air dry.
Some parents use the dryer so the intense heat will sanitize them, but you must be careful because not all stuffed animals can be put in the dryer depending on the fabric that was used to make them.
Follow the above tips so you know the safest way to clean baby toys. Dirt and bacteria can easily transfer to toys and your child's mouths even in the cleanest homes.