Since we are nearing the end of the summer, it's a good time to look into fall nail art designs.
As someone who recently learned to save money by doing gel nails at home, I have realized that certain colors can represent specific seasons.
Of course, nail colors can be mixed and matched all year round, but you must admit that some colors go better with autumn than others do.
Perhaps you want your nails to be Thanksgiving ready , or even find a unique and special design for Halloween.
Whatever the occasion, we have some ideas to get your nails looking trendy and stylish just in time for the cooler climate.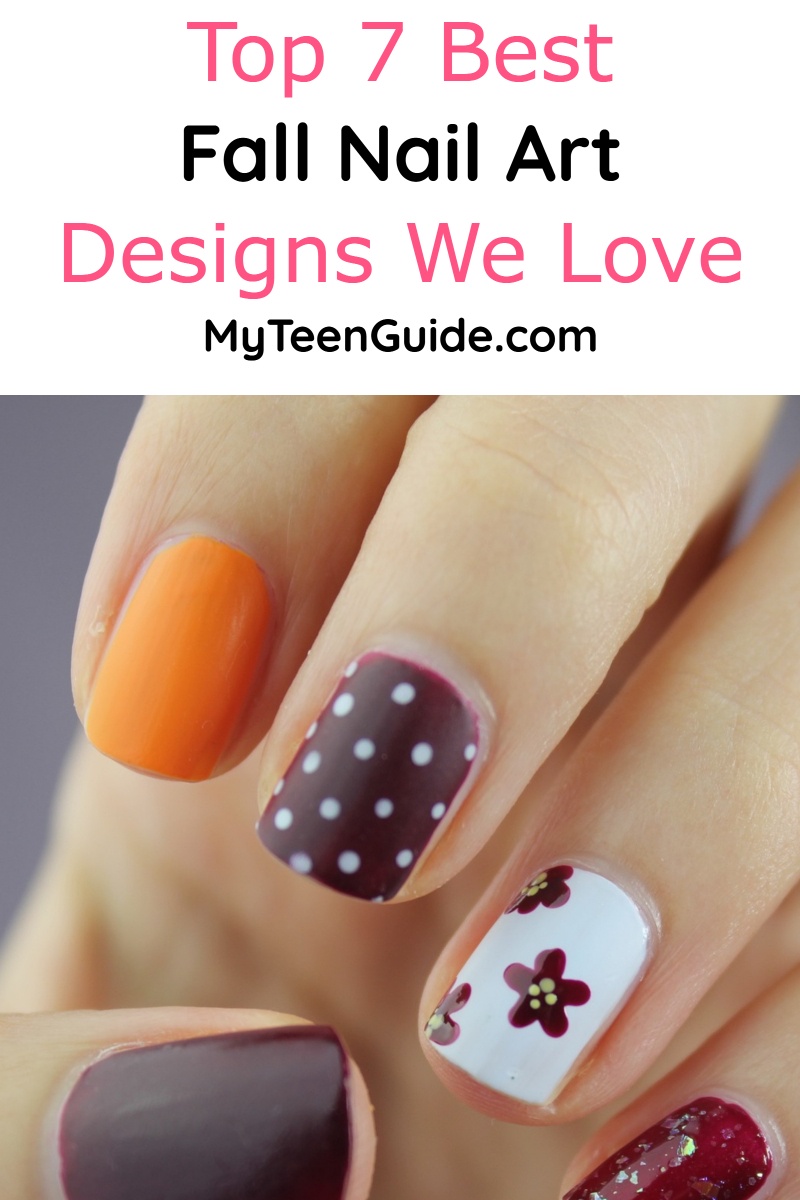 Best Fall Nail Art Designs
1. Simple and Earthy
Maybe you aren't really a creative person, and what you're looking for is a solid and classy color that matches everything.
Being such a person, I have found that earthy colors such as mauve, taupe, shades of nude, and deep reds from burgundy to almost black really match the color of falling leaves.
To give solid colors a bit of personality, you can try to coat them with a shimmer/glitter top layer or a matte one.
2. A Textured Mix
As an indecisive person, there are countless times when I find it difficult to pick just one color or design.
One nail art idea that looks incredibly elegant is a mix of sparkles and colors.
Choose one or two of your favorite fall colors and add a touch of glitter to a few of your nails.
Create an ombre effect (gradient) or coat the entire nail with glitter for extra style and flair.
The ombre really symbolizes the leaves falling from trees or the gradual change in weather.
3. Halloween Nails
We can't get to Thanksgiving before celebrating Halloween. Any kind of festive nail design depends on what imagery it invokes in your mind.
Personally, I'm not a fan of bright neon colors, so you'll notice how all the designs have a neutral and earthy tone to it with the occasional black.
If you are the opposite and love fun and vibrant nails, feel free to switch out the black and nude for your desired colors.
Simple detailing like a spiderweb or maybe a jack-o-lantern will represent Halloween perfectly.
Coffin-shaped nails are immensely popular at the moment, and the longer tips peeking out from under the sleeves of a big warm sweater is perfect for fall!
4. Thanksgiving Nails
As we slip into autumn, Thanksgiving is right around the corner. Think about what Thanksgiving brings to mind.
For me, I get fallen leaves of every warm-colored hue and of course, turkey! A gradient design with leaf details is the perfect epitome of fall nails.
Using nail design brushes, those that usually come with very thin bristles, do your best to style some leaves at the tips of your nails.
To me, the messy design contributes to the irregular pattern of fallen leaves.
For the more talented artists, maybe even add a few turkey feathers to the mix.
5. Bright and Vivid Fall Nails
For some of you flashier ladies out there, you might want to complement a dark fall outfit with extra eye-catching nail designs.
Glitter nails can best express your inner diva. There are lots of DIY bottles of nail glitter you can find – even at the dollar store!
Pick out the colors that best represent you and the fall. Greens, oranges, yellows and multicolor glitter will do the trick.
I also find that bigger pieces of glitter on a few of your nails will add dimension to the smaller glitter.
6. Tri-Tone Nail Art
Halloween also brings tons of candy! I mean, no one ever really chooses trick over treat, right? Another great idea is to mix and match colors.
These candy corn-like nails are quite easy to mimic, just pick out the perfect shades of orange, yellow and white.
Tri-tone nails can be done with any color. If you simply want to embrace the traditional Halloween colors, then by all means create an ombre effect with orange, black and gold!
Brown and other earthy tones also blend well together.
7. Chrome and Gems
Lastly, we have chrome nails and shimmering gems.
Sharp nails are also currently all the rage with tons of Instagrammers sporting this stylish shape.
A perfect way to add an extra splash of pizazz to otherwise boring nails would be chrome or hologram (mirrored) nails.
If chrome is too showy for you, I find that adding a subtle gem or two can also style-up your nails.
When it comes to nail designs, there is only so much space and so many fingers you have to work with.
With such a wide variety of color and design choices, how can anyone settle on just one?
In my opinion, what sets autumn nails apart is the color scheme. Identify your favorite fall colors and mix and match our nail art ideas to find the perfect fall nails for you.
What are your favorite fall nail art designs? Share below!