Get ready to send summer off in style with these fun back to school party ideas for teens! Check out my favorite ideas, from one last grand pool party to smaller sleepovers with your besties!
Plan just one summer sendoff or go wild and host an epic week of parties! Let's check them out!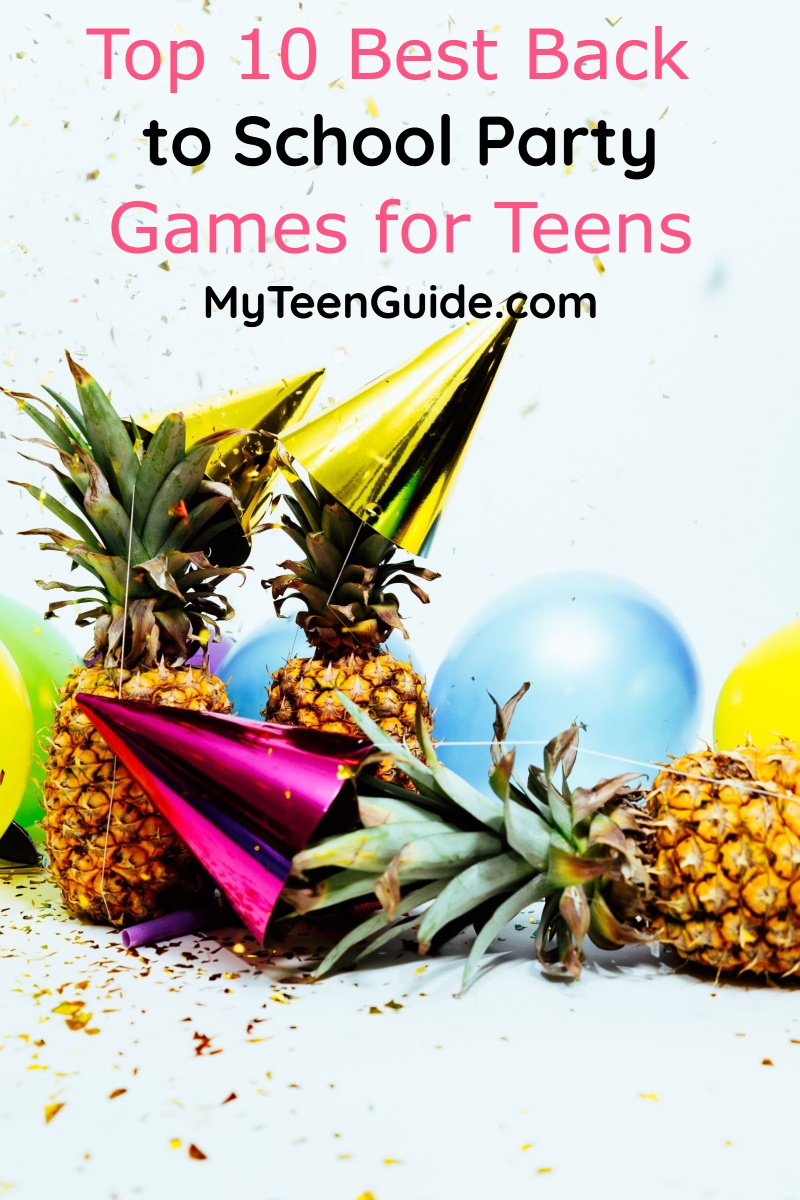 Themed Back to School Party Ideas for Teens
Can you believe that it's already time to start thinking about going back to school? Doesn't it feel like summer just started???
Treat yourself and your friends to one last big blowout party with these fabulous ideas!
This post contains affiliate links. If you make a purchase through these links, we earn a small commission at no extra charge to you. 
1. Epic End-of-Summer Pool Party
What's summer without a pool party, right? Say "so long" to everyone's favorite season with one last splash!
If you don't have a pool in your backyard, call your local community pool or YMCA to ask about renting it for the day.
Food to serve at your pool party
You have a couple of great options for pool party food! Keep it simple by grilling BBQ fare, or give the whole party a beach vibe with these yummy ideas:
Check out these 7 fun pool party ideas for other supplies to grab & games to play.
---
2. Clothing Swap Party
Back to school clothes shopping can get super expensive! Before you break out your debit card, though, do a little shopping in your friends' closets.
Invite everyone to clean out their closet and bring a bag of clothes that are still in good condition.
Then hang everything up on a rack a la clothing store style or just lay it all out around the room.
Avoid issues of everyone diving in for the same item by putting names in a jar and randomly picking to decide who shops first, second, etc.
Everyone gets to pick ONE piece on their turn. Once each guest had a chance to choose, go around again until all the clothes are claimed.
Clothing Swap Party Food Ideas
Since you'll be handling clothes all day, you don't want anything to messy or greasy! Try these appetizers:
Cake pops (all the mess stays on the stick!)
At the end of your party, put leftover clothes in a bag and take them to a clothing donation bin.
---
3. Spa & Makeover Weekend Party
Spend the last weekend before school starts getting your beauty on with a spa & makeover party!
On Saturday, it's all about relaxing and rejuvenating, so break out the spa supplies and treat each other to facials, mani/pedis and more.
Then, on Sunday, spend the afternoon trying out new back to school beauty looks until you find just the right one for you.
Food for your spa party
Since we're going for a spa vibe, go with light and airy treats! A few I love:
Mint cucumber water (see tutorial above)
Need more inspiration? Check out these spa party ideas!
---
4. Totally Unplugged Weekend "Glamping" Party
Once school starts, your phone will be blowing up with texts, reminders and notifications, so take a weekend to just unplug before the madness begins!
Sure, you could go rustic and just pitch a tent for regular camping, but that's not really my thing. Glamping is so much more fun!
Just set up a party tent in your backyard (buy or rent one) and fill it with fluffy pillows, bean bag chairs and other comfy places to sleep!
Food for your glamping back to school party
Glamping is basically an upscale version of camping and the food really isn't any different. Some totally leveled-up camping food ideas include:
Check out the video below for more ideas:
---
5. Back to School Movie Marathon
Load up your Netflix queue with some of the best back to school movies and invite your friends over for a whole weekend marathon!
I love this idea because you can mix it with other party themes (like the spa theme or even the glamping theme if you have a projector for your phone).
Some of my favorite back to school movies include:
Food for your movie party
Stick with traditional movie foods, like popcorn and candy! Check out these yummy ways to serve it:
Now, let's talk a few games that work for any of these parties, shall we?
---
Back to School Party Games
Honestly, you don't need to go crazy with party games to have a good time. If you're having a pool party, just swim. Movie party? Just watch the flicks!
Still, if you want to plan a few activities for the lulls, try these!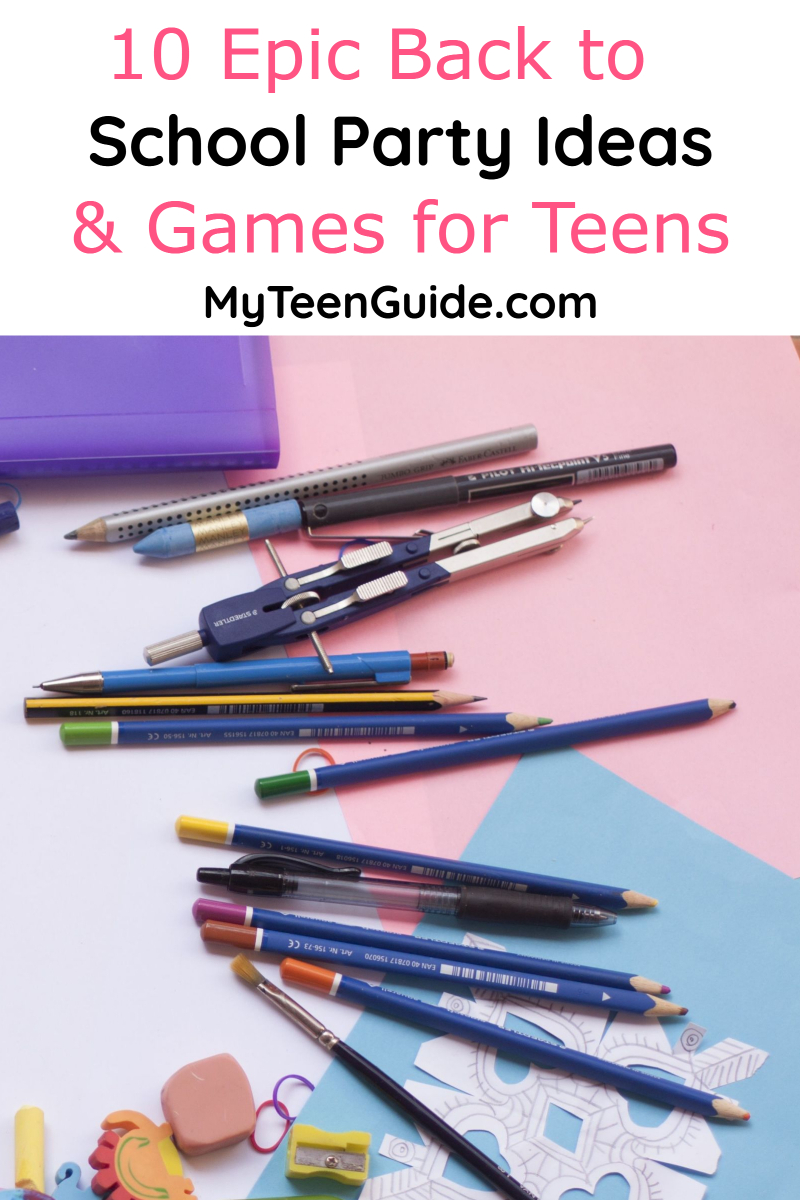 1. School Supply Scavenger Hunt
Before the party, hide basic school supplies throughout your yard and/or house.
Don't go overboard, just stick with cheap things like funky pens and cute notebooks. You can find bulk school supplies on Amazon!
During the party, arm each person with a list and send them out to find everything. The fun part? They get to keep what they find!
---
2. Would You Rather: The School Edition
For this game, you don't need any supplies except a good imagination!
Some ideas include:
Would you rather eat cafeteria stew for every meal for the rest of your life or show up to school naked?
Would you rather spend eternity in Mrs. Smith's math class or Mr. Brown's gym class?
Would you rather be popular but dumb as a box of rocks or the smartest person in the world but a total pariah?
Would you rather use your phone after dropping it in the toilet or spend the entire school day in your underwear?
Check out more Would You Rather questions here! Most of them are adaptable for school situations!
---
3. Truth or Dare
Never underestimate the value of the classics! Truth or Dare is the epitome of teen party games!
Just keep it fun (and legal) by sticking to silly questions & dares rather than dangerous or mean ones.
Here are a few dares to get you started:
Crack an egg on your head
Do the chicken dance in the front yard (works best if you live on a public street)
Talk nonstop for 2 minutes straight saying whatever pops into your head
Prank call your parents (FYI, prank calls are kind of illegal in some places but your parents won't press charges! Just don't say anything that will give them a heart attack!)
Do everything that is asked of you for two minutes (again, keep it nice!)
---
4. Minute to Win It Games
Check out the video above for a TON of ideas!
Minute to Win It games are great because they use supplies you usually have on hand and, as the name implies, only take about a minute per turn!
---
5. School Songs Karaoke
Karaoke is always fun and it's so easy thanks to YouTube and phone apps.
Load up your karaoke list with songs about school! For example:
Schools Out for Summer by Alice Cooper
Getting Better by the Beatles
Another Brick in the Wall by Pink Floyd
Beauty School by Deftones
Education by Pearl Jam
With these themed back to school party ideas for teens and fun games to play at any party, your end of the summer bash will be a huge hit!
Do you have any favorite back to school party ideas for teens? Share below!