Graduation parties mark the end of a significant chapter of your life. You've been in and out of the school system since you were 5 years old, and at 22, or possibly older, you're probably ready to let loose and have a party. To plan the perfect party, you'll need to think about decorations, themes, and other important aspects that will make this celebration memorable.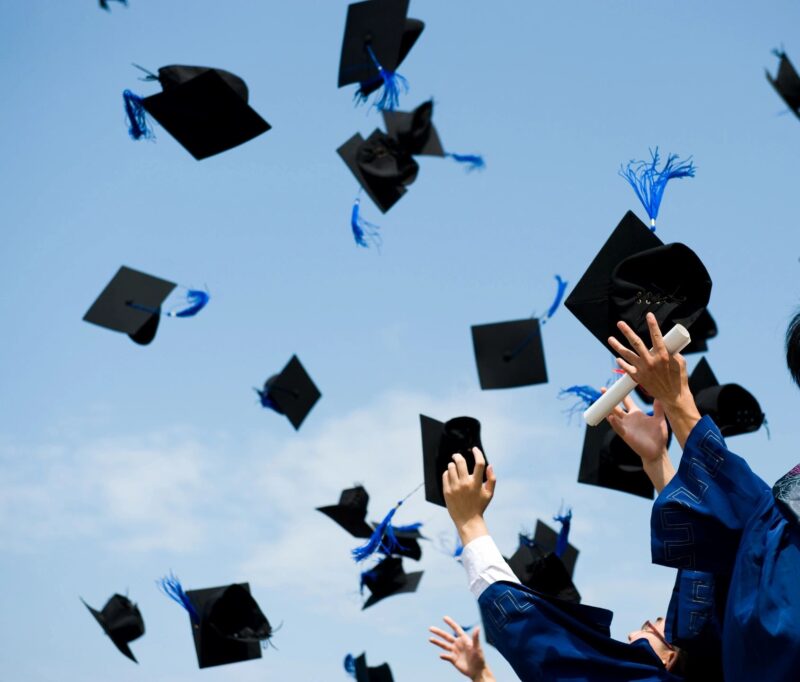 Idea One: Create Picture Centerpieces
Creating a picture centerpiece is easy and doesn't require too much of your time. Simply order multiple bouquets of graduation flowers and set them in a decorative vase. Then, add pictures of your guests on each table to elevate the arrangement and add a personal touch.
Idea Two: Use School Colors
Every college has its own school colors, so why not show a bit of spirit and decorate the party with those incredible shades? You can use this theme throughout the party, including the drinks and food. To make your friends feel like they're at a football game, chant the school motto.
Idea Three: Hang Banners
Banners are easy to make or purchase from a custom printing shop, and they don't have to just say "congratulations." Get creative by putting up banners of a school chant or your guests' names. At the end of the night, guests can take a banner home as a memory of the party.
Idea Four: Photo Backdrops
Just like prom, a college party should have a photo backdrop where guests can post in front for themed photographs. A chalkboard backdrop is quite popular because you can write everyone's name or little messages in the back for that extra personal twist for each guest.
Idea Five: Table Full of Deserts
You don't have to watch your weight at the graduation party, because this kind of event only happens once in a lifetime. Make a spread of different treats that are popular with your guests or some household favorites, like cupcakes, macaroons, date squares, or butter tarts.
Idea Six: Open Bar
Everyone at the party will be drinking age, so hire a bartender for the night. An open bar doesn't have to be truly "open," as all guests can have a cap. You wouldn't want to go over your spending limit! Stock the bar with non-alcoholic options so the DDs don't feel left out.
Idea Seven: Hire a Food Truck
A fully-stocked food truck is a must-have for a graduation party because they're doing all the cooking for you. Plus, none of the food will get cold since it's made onsite. Taco trucks are really popular with college kids, and they can be made gluten-free, vegetarian, or vegan easily.
Idea Eight: Set-up an Outdoor Tent
If you plan on having your party outside, set up a tent with lights in the backyard. A white tent is more than enough, but photo displays and themed balloons are fun additions. Get creative with decorating because there are plenty of fun ways to make the space your own.
Idea Nine: Gift Bags
At the end of the night, hand out gift bags to your guests that have useful or fun things they can use or wear. For example, a t-shirt that says "Class of 20XX" would fit right in with the theme. Stickers, bookmarks, chargers, hair ties, and books are all great additions to a gift bag.
Idea Ten: "Places You'll Go" Map
Set up a map somewhere in the house or outside on a corkboard at the party and ask the guests to pin places they've been and where they'll go. It will be a great memory for the hostess, and it can be a fun thing to talk about with your friends 10 years down the line.
Idea Eleven: Wish Paper
Instead of throwing up balloons or lanterns that have good wishes on them, write on a "wish paper" and set it on fire over a sink or fire pit. Using wish paper is more environmentally friendly. If you want to avoid the fire hazard, blow bubbles or make painted stones.