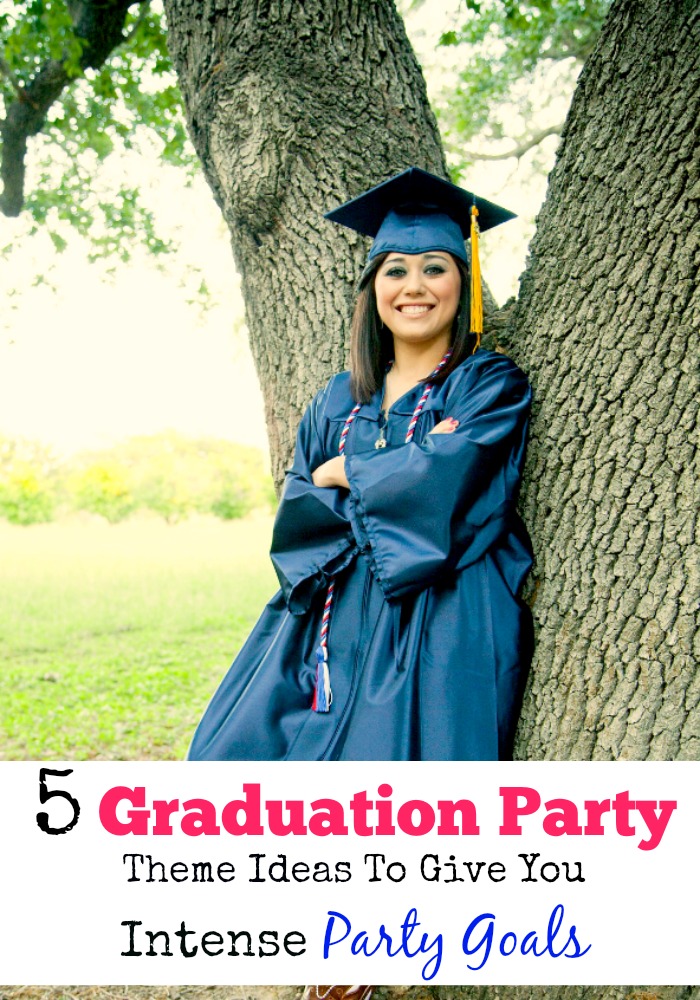 You've worked hard for so long, and now it's time to pick your graduation party theme!
While anyone can throw together a party in your school colors with a few graduation caps, you can make your graduation party extra special.
Your friends are going to a million graduation parties, and I know you want yours to stand out!
So let's go, check out these super fantastic graduation party theme ideas!

5 Graduation Party Theme Ideas To Give You Intense Goals
1- One Smart Cookie
You did it; you've graduated!
Let's let everyone know with a cookie party!
Set up a cookie bar for your friends and family. Include cutouts (and other flavors if you like), icing in your party colors and lots of sprinkles and decorations for a sweet treat.
Don't forget to include some milk for your guests This is the perfect party to have in the afternoon, or for an open house style party, and can be a thrifty graduation party theme.
Nice!
2- Oh The Places You'll Go
This is like the grown-up version of a Dr. Seuss party, and baby you've earned it!
Keep the colors of the party in a bright like pink and orange or teal and green.
Add a globe, maps, suitcases and even passports pictures to your décor and food table.
Have a copy of the Dr. Seuss book
"Oh The Places You'll Go" out and ask guests to write notes and words of wisdom inside for a beautiful memory of your party later on!
3- Breakfast At Tiffany's
If you prefer a posh style party, then a Breakfast At Tiffany's style graduation party is right up your alley.
Breakfast at Tiffany's was all about glam and confidence, and after graduating, you totally have the world on a string.
So decorate with some fake pearls
, tiaras
, elbow length gloves
and lots of pink and black sparkle
.
Decorate with inspiring quotes from the movie and flaunt that with your degree everything is possible!
4- The World Is Your Oyster
I couldn't help but put that awesome song Cake by the Ocean in the post by DNCE for this cool theme.
Take the ocean theme and run with it!
Buy butter cookies that are scalloped and add a gumball as the pearl between two cookies.
A dab of icing will hold the pearl on your cookies.
Decorate with nautical nets shells, anchors, and anything else ocean.
Create labels and invites that are oyster shell shaped.
Of course, make sure to play Cake By The Ocean at your party!
5- Instagram Party
If you are a shutterbug, then an Instagram-themed graduation party is perfect for you!
Create a selfie station as a fun game.
Let guests know on a sign what the hashtag for you party is so they can tag their photos!
Decorate with square photos everywhere! Make a banner full of photos, create personalized coasters, and, of course, feature a giant square photo of the graduate.
You can also decorate with hashtag and Emojis!
You'll have a blast.
So lovelies, which idea if your favorite graduation party theme? Talk to me in the comments!
*Image via Pixabay