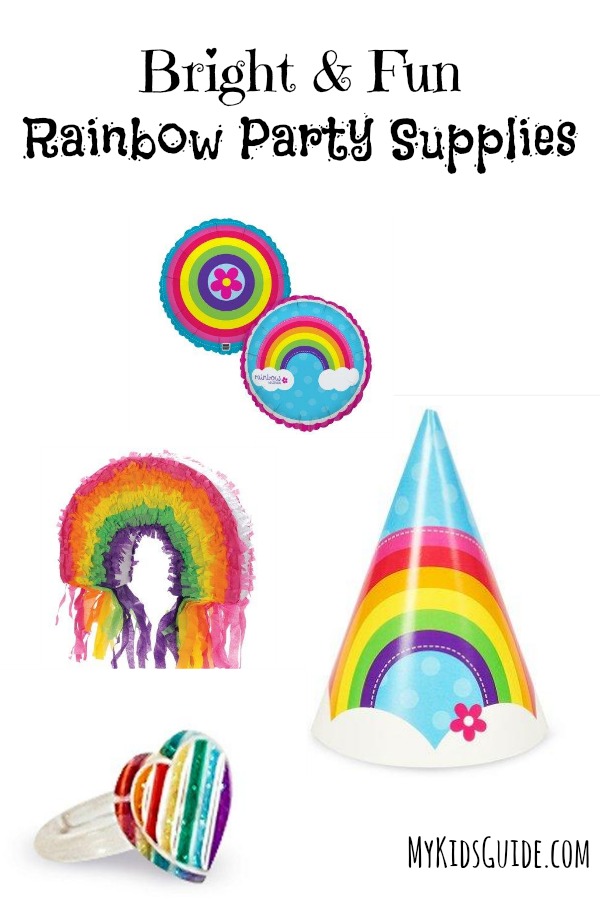 Rainbows are perfect for nearly any celebration from a birthday party to a fun bridal shower.  These Bright & Fun Rainbow Party Supplies are great for any kids event, wedding, birthday, class party or summer pool fest!  Accent with your favorite solid colored streamers and tablecloths to pull together a great event everyone will be talking about for weeks to come!
BRIGHT & FUN RAINBOW PARTY SUPPLIES
This post contains affiliate links. Thank you for your support!
18″ Rainbow Pinata:  A party isn't a real party without a fun and bight pinata to knock down.  Stuff full of candy, toys, costume jewelry or confetti for a great fun treat for everyone!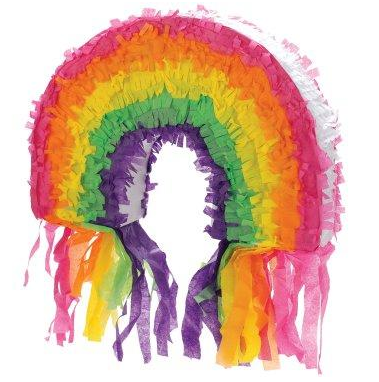 Rainbow Wishes Paper Cups:  Serve your favorite blue, red or green fruit punch in these bright cups!  Perfect for going along side your favorite tasty colorful drink creations!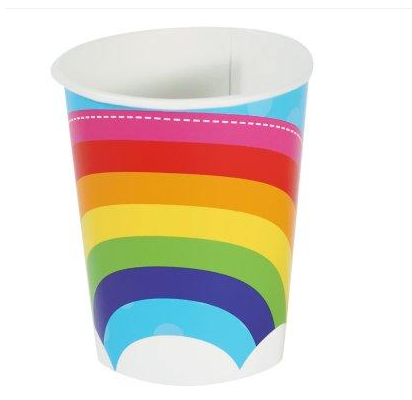 Rainbow Wall Decals:  Decorate the walls of your party with these bright and easy to attach fun peel and stick wall decals!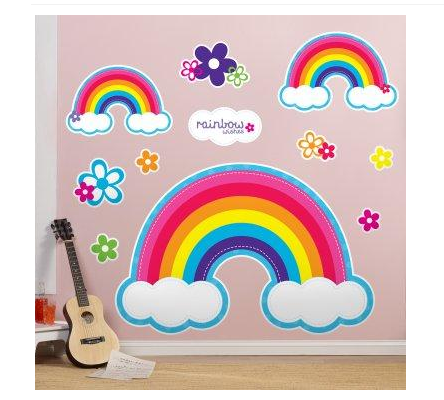 Rainbow Party Hats:  Everyone must wear a hat at your next big party!  These rainbow party hats are the perfect addition to anyone's party ensemble!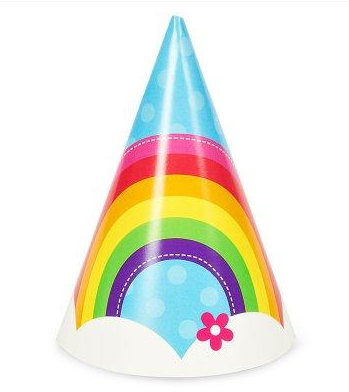 Rainbow Wishes Party Favor Boxes:  Stuff these cute little paper boxes full of treats for kids and friends to take home.  Gold chocolate coins are a great treat to slide inside as if they found the treasure at the end of the rainbow!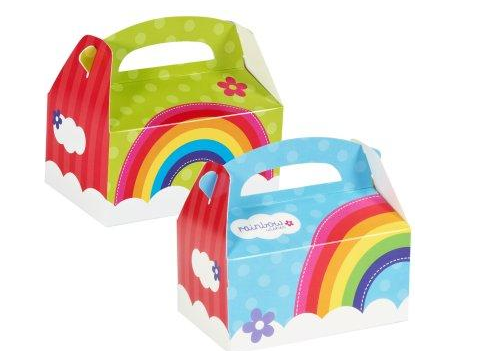 Rainbow Wishes Party Plates: These are great for serving all of your favorite party snacks.  Everything from cake to fruit and even hot dogs and chips tastes better when served on this decorative plate!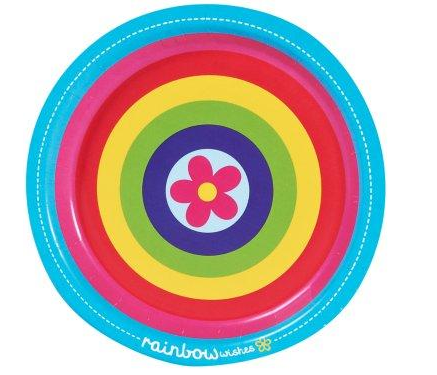 Rainbow Balloons:  Let these great balloons float around the party, or time them to the back of chairs to add to the fun atmosphere of your rainbow themed event.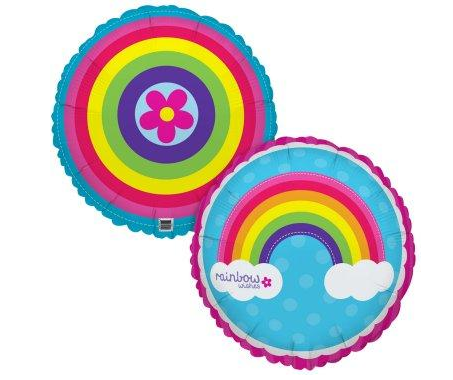 Rainbow Ring:  Those little girls in attendance will giggle with joy at their new fun and colorful piece of jewelry!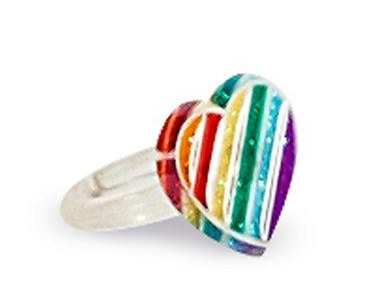 Rainbow Birthday Party Invitations:  If you are hosting a rainbow birthday party, these are the best invitations to send out!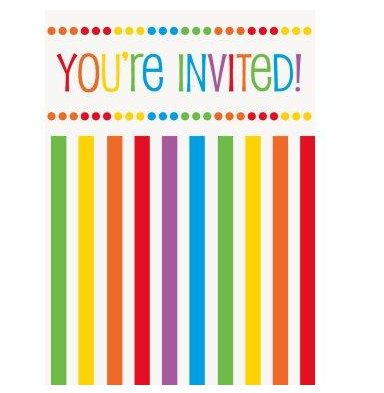 Rainbow Tablecloths:  Accent the gift table, dessert table or main entrance with a great and fun rainbow tablecloth!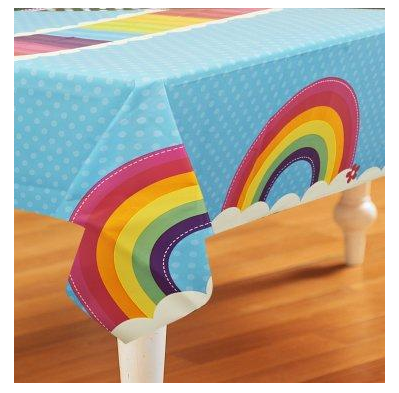 Rainbow Birthday Party Banner:  Post on your front entrance to announce a great birthday event!

Rainbow Cupcake Holders:  Simple vanilla cupcakes take on a new look in these simple and bright cupcake holders full of the colors of the rainbow!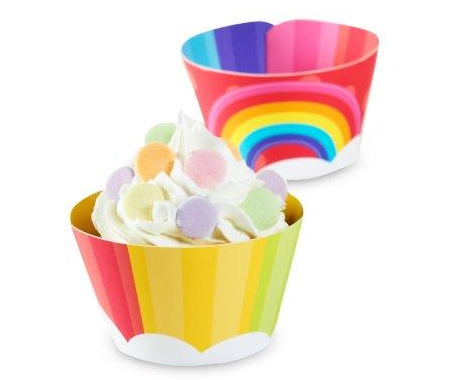 You'll have a wonderful party when you use these great rainbow party supplies.  If there's a real rainbow outside you'll need to pack your rain jacket, but if the party is gifting with sunshine – these party favors enhance the experience either way. Add in some great solid colored balloons, streamers, fun snacks and treats and perhaps a pot or to of gold for kids to search for!
Which of these bright & fun rainbow party supplies are your favorite? Tell us in the comments!