Nothing screams fun like a room full of kids playing Candyland Party Games!
Not only will this classic game take you back to your childhood with wonderful memories, it is truly perfect for creating a fun filled party theme.
Every child loves the game and its dessert theme.
These games will keep the theme going for even the youngest party goer.
CANDYLAND PARTY GAMES FOR KIDS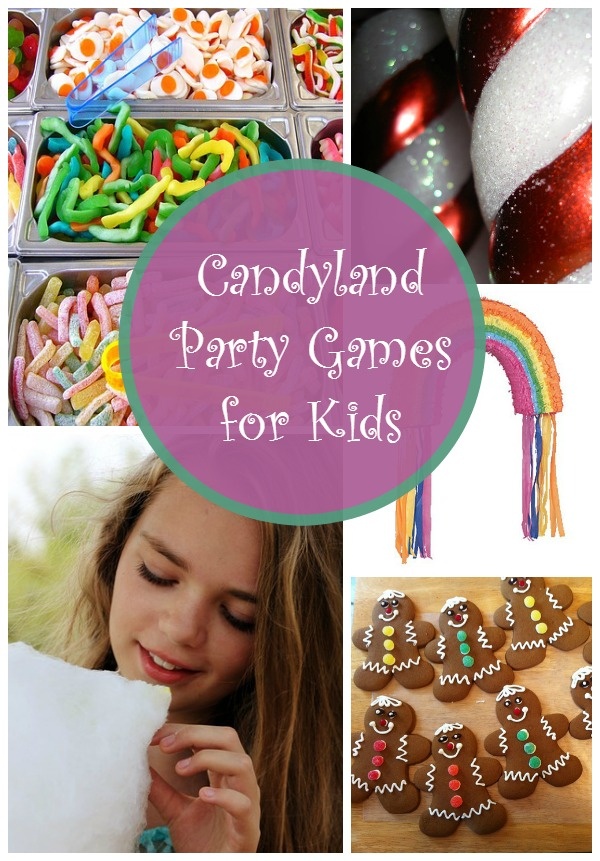 This post contains affiliate links. We earn a commission if you make a purchase.
Build Your Own Candy Necklace:  
https://www.instagram.com/p/Bjlea_Qhf7J/?hl=en&tagged=candynecklace
Grab a box of Froot Loop cereal, some yarn and set up a fun station for kids to create their own custom "candy" necklace and bracelet.
Let them grab the loops from a bowl choosing the colors they want as they assemble, or divide the colors out into bowls of one color each for a fun assembly line method.
Candy Cane Horseshoes:
Candy Bar:
https://www.instagram.com/p/BkxGY7OhMDn/?hl=en&tagged=candybar
Not a game, but still a fun addition to the party.
Create a candy buffet table with cute take out boxes, fun tins or bags and ribbons for kids to scoop and create their own custom candy party favor to take with them.
Include a few different colors of chocolate candies, gummy items like bears, worms and fish in regular and sour flavors, gum balls, candy necklaces, bracelets and more.
Put candy into mini buckets and us mini shovels as the scoops.
Gingerbread Decorating Station:  
https://www.instagram.com/p/BksJ2r3jqXy/?hl=en&tagged=gingerbreadcookies
Gingerbread men are so much fun for kids to decorate then eat.
Make gingerbread cookies and supply kids with candies, sprinkles and tubes of icing to have fun decorating their own special gingerbread men.
Rainbow Pinata:
What party is complete without a great  pinata stuffed full of candy?
Grab one that is a rainbow, big piece of candy or ice cream shape and enjoy the kids banging away until it breaks and candy goes every where.
Pull the party together with this awesome Candyland Party in a Box (affiliate link)
Hosting your own Candyland themed party is made easier with these simple but fun interactive Candyland Party Games.
Not only will the kids love all the sweet treats in this theme, it will be easy for you to decorate and accomplish with the fun of the rainbow colors and candy theme.
Think outside the box to create a truly game board feel to your party.
Use brightly colored paper and streamers to bring the theme alive with these fun party games!