If you're planning to host a neighborhood carnival party, you're going to need some fun carnival crafts for kids! Set up booths throughout the event to give kids a break from all the fun carnival games and indulge their creative sides. We've gathered up a few of our favorite craft ideas that would work perfect at your event. Take a look!

Fun Carnival Crafts for Kids

A corn shaker craft is super easy for large numbers of kids. In the end, they'll have a fun musical toy that they can shake all day long! All it takes is some dried corn, an empty water bottle and some decorative construction paper. We originally made ours for a fall theme, but you can switch out the colors of the paper and turn it into a fun spring theme too.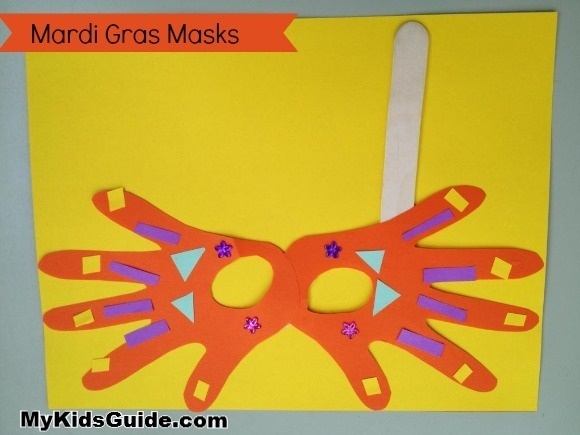 Mardi Gras and carnivals have a lot in common. Repurpose this Mardi Gras mask craft for your carnival themed party! Kids will love creating the masks out of their own hand prints. For this craft, you just need construction paper and some kid-friendly scissors.

Animal masks are other fun carnival crafts for kids that don't require many supplies. You can make them out of paper plates, markers, construction paper or any other essential craft kit supplies you have around. Keep a hole puncher handy to punch holes in the side for string so kids can wear their creations.
More Carnival Crafts for Kids include:
Decorate your own flip-flops! If you have the budget for inexpensive pairs of flip flops, let kids get a jump-start on summer footwear by creating their own designs. Running with Glitter has a super cute water balloon flip flops tutorial that you can follow.
Let kids create their own colorful popcorn paper cones before filling it with sweet treats! You can fill it with popcorn, of course, or other small candies and prizes.
Set up a temporary tattoo booth! Face painting gets incredibly messy (although it's still fun), but temporary tattoos require little more than water and the tattoos themselves. Make sure to get a wide array of designs to accommodate all tastes!
Gather large stones and have a Pet Rock Creation booth where kids can paint their own stone buddy.