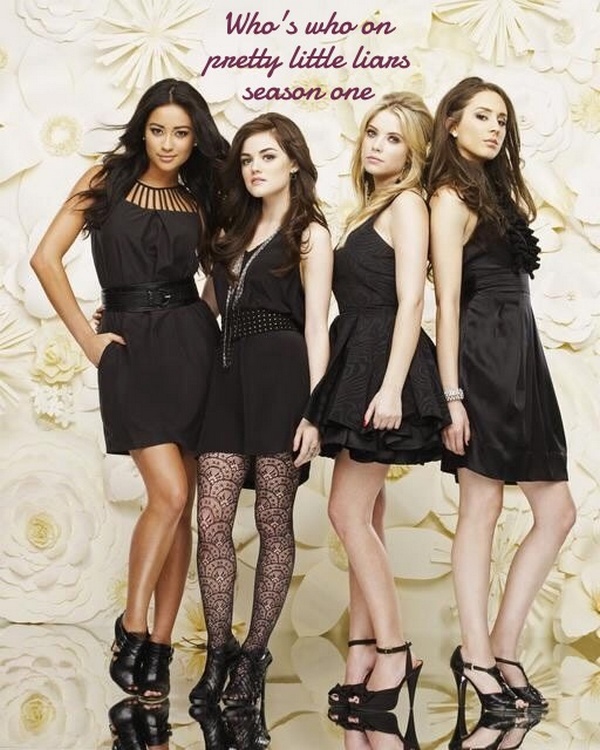 We've already talked about how it all started on Pretty Little Liars, now it's time to figure out who's who in the cast of Pretty Little Liars Season 1! After binge-watching the first season in a week on Netflix, I was really curious to know more about all the amazing actors behind this incredibly addictive show. Let's take a look!
Related: How it All Started on Pretty Little Liars
Cast of Pretty Little Liars Season 1
In case you haven't seen the show, Pretty Little Liars takes place in Rosewood, a fictional town in Pennsylvania. The show follows the lives of four elite girls whose world seems to crumble after the disappearance of their clique leader. They reunite after a year and instantly begin to receive mysterious messages from someone simply known as A. When A threatens to reveal their darkest secrets and their leader is found dead, the girls realize that someone out there wants to destroy their ideal lives. Here is the main cast of of Pretty Little Liars Season 1 .
Troian Bellisario– Troian Bellisario plays the role of Spencer Hastings, a perfectionist who thrives on pleasing her rich family and friends. She is kind, smart, competitive and strong willed. Troian was born and raised in California. She's the daughter of Donald Bellisario, best known as the producer of the hit shows N.C.I.S. and Quantum Leap. She's the second youngest of nine children! Troian overcame a lot in her young adult life, including an eating disorder and a self-harm addiction.
Ashley Benson– Ashley Benson plays the role of Hanna Marin, a girl with a previous eating disorder. Hanna was overweight up until Alison disappears, then she lost weight and changed her entire style to be more like Alison. Ashley was born in California and spent her early years as a competitive dancer. She started modeling at age 5. When she was 10, she decided to pursue a career in acting. She played numerous bit parts before landing a role in Days of Our Lives as Abby. She's also starring in this summer's blockbuster film Pixels.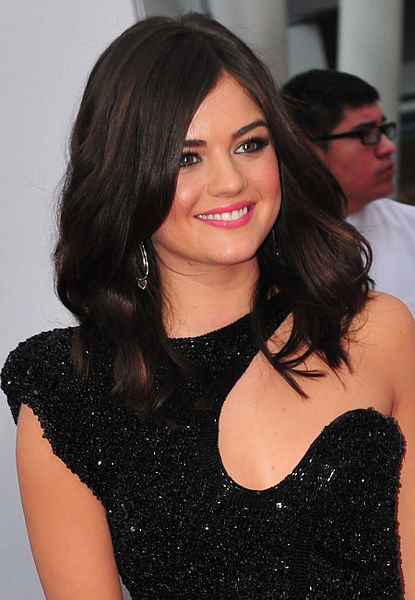 Lucy Hale– Lucy Hale plays the role of Aria Montgomery, an artsy chameleon. Aria has a great fashion sense and is caring and smart. She is a former tomboy who is the glue that keeps her family intact. After Alison went missing, Aria's family moved to Iceland but moved back after spending a year there. When she came back to Rosewood, she was now a girly-girl. Lucy was born in Memphis, the youngest of three. She got her start as a singer and still has a passion for music. Interesting fact: she's only 15 years younger than the actress who plays her mom on the show!
Shay Mitchell– Shay Mitchell plays the role of Emily Fields, a sporty girl who is the best swim team member. Emily is loyal, sweet, kind, shy and a closeted lesbian, who had an eye for Alison. Emily eventually ends up in a relationship with Maya and then Paige.  Shay is a Toronto, Canada native who always knew she'd have a career in the performing arts. After a modeling stint in her early to mid-teens, Shay returned home to study her true passion- acting.
Sasha Pieterse– Sasha Pieterse plays the role of Alison DiLaurentis, a popular girl at school. Alison's disappearance provides her with the opportunity to manipulate her friends and blackmail other people. She is manipulative as well as charming. Sasha is the youngest of her main cast members and the only one who was actually a teenager when the first season aired. She was born in Johannesburg, South Africa, then raised in Las Vegas before settling in Los Angeles.  Like most of her other cast members, she also has a talent for singing.
Ian Harding– Ian Harding plays the role of Ezra Fitzgerald (Fitz), a one-time teacher at Rosewood High School and current professor at Hollis College. He had a relationship with Aria, until he discovered she was one of his students. Although the age gap between Aria and Ezra in the show seems pretty wide, in real life they're just three years apart. Ian was born in 1986 in Germany.  He is the son of the author, Stephen Harding.
Laura Leighton– Laura Leighton plays the role of Ashley Marin, the mother of Hanna and Rosewood bank worker. Ashley will do whatever it takes to protect her daughter, including sleeping with the local detective so Hanna isn't charged with shoplifting. She is still romantically tied to Hanna's father, Tom for a while anyways. If you were a fan of Melrose Place back in the day, Laura may look familiar. This  Iowa City, Iowa native was also coined one of the 50 Most Beautiful People in the World by People Magazine back in 1996. Even after almost a decade, she's still stunning.
Holly Marie Combs– Holly Marie Combs plays the role of Ella Montgomery, the mother of Aria and Rosewood High School teacher. I'll be honest, I started watching the show because she's in it. I am a HUGE Charmed fan. She played Piper, the middle sister, in the show. When I found out she was in the cast of Pretty Little Liars season 1, I decided to give the show a try. So glad I did!
Chad Lowe– Chad Lowe plays the role of Bryon Montgomery, the father of Aria and Hollis College history professor. Aria knows that her father had an affair with one of his students, Meredith. Byron moves to Iceland for a year as a sabbatical. I was a fan of Chad's back when he played in Life Goes On with Kellie Martin. While Chad's older brother, Rob, was always the big screen actor, I've always thought that Chad had a great depth to him that really brings his characters to life.
Bianca Lawson– Bianca Lawson plays the role of Maya St. Germain, Emily's first love. She is the one that helps Emily become brave enough to tell her friends and her parents that she's gay. She only a part of the cast of Pretty Little Liars season 1 for a short time, though, as she gets sent away early in the first season. Don't worry, it's not the last you'll see of her. Bianca was born in 1979, making her the oldest of the girls. Did you know that she was originally cast to play Cordelia in Buffy the Vampire Slayer? She had to turn it down though because she was in a contract for another show.
Of course, there are other members of the cast of Pretty Little Liars season 1, but we'd be here all day if we listed them all! Don't worry, you'll see more about some of your other favorites later on!