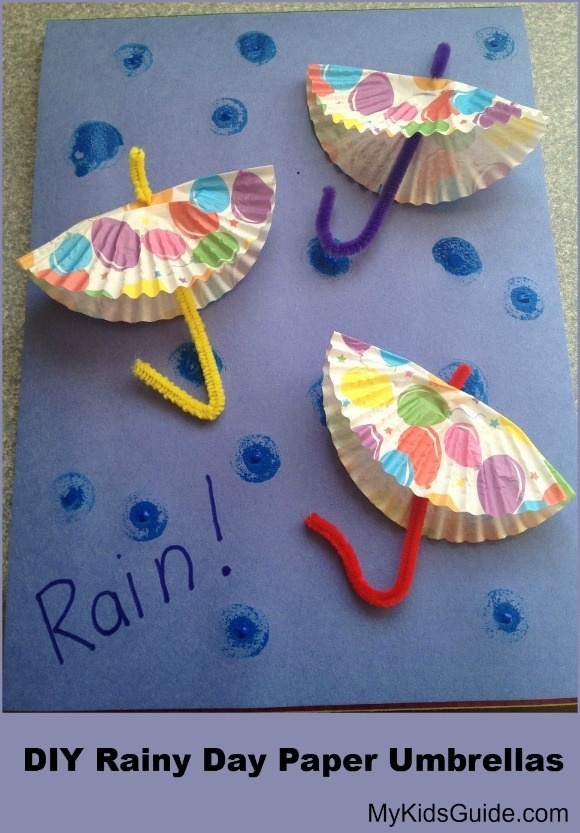 April is known for its rainy showers! Here is a fun and frugal rainy day DIY craft for kids that focuses on the beauty of the wet and rainy month of April which we are sure to see this season. Of course, all of that wetness and rain  may keep kids holed up indoors, but that is no excuse to let boredom set in! This Rainy Day Paper Umbrellas craft for kids is just as sweet and fun as it sounds, and they look like the real ones as shown here. A few inexpensive and simple supplies are all you need to get kids going on this rainy day project. It will be a great addition to these great indoor activities for kids.
You can't have rain without umbrellas, right? A great umbrella is the best part of a fun rainstorm. So whip up some mini umbrellas of your own to display. Here is what you will need!
Rainy Day Paper Umbrellas Craft for Kids

Supplies: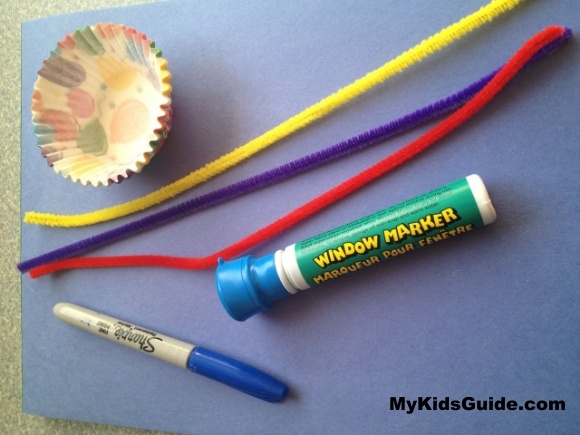 Construction paper of any color
Blue construction paper
Scissors
Cupcake liners (affiliate link)
Glue
Tape
Pipe cleaners in any color
Bingo Blotters (affiliate link)
You may already have most of these supplies, but if not I was able to find all of these supplies at my local dollar store. Not sure what a bingo blotter is?  Bingo Blotters are the bottles of ink that bingo players blot their numbers with. These are perfect for creating "raindrops" so grab a bottle of this for sure!
Directions:
1. Start by having your child paint or decorate the cupcake liners with markers. You can also use ones as seen here that are already decorated.
2. Add some glue dots to the paper.
3. Add your rain drops by using your paper to cut scraps or use your blotter.
4. Start a conversation. This is a great point in the activity to ask questions such as "Where does rain come from?" or even "Do you like the rain?" Allow them to answer and ask their own questions too.
6. Fold the cupcake liners in half or cut.
7. Bend and added the pipe cleaners to the cup with tape.
8. Add more glue for your umbrellas.
9. Add the umbrellas and let dry.
That's it! This craft for kids is a great way to not only create a sweet spring time decoration, but to talk to your child about the changing weather (read our post about weather activities for kids) and what they can look forward to in spring. Why not welcome April showers with this fun umbrella cupcake cup craft? It is perfect for little hands and is an educational activity for the whole family.
Take this fun craft for kids further!
While you are crafting, here is a fun rainy day poem you can teach them and enjoy as well!

Can You Hear The Rain?
By Mother Goose Caboose

(Act out the poem as noted.)
"Pitter-patter, pitter-patter," can you hear the rain?
"Pitter-patter, pitter-patter," on the window pane.
"Pitter-patter, pitter-patter," let's go out to play.
I just love to jump in puddles on a rainy day.
Little raindrops, "Splashing, splashing," all across my face.
Little raindrops, "Splashing, splashing," splashing every place.
"Pitter-patter, pitter-patter," do you hear that sound?
I just love to hear those raindrops falling to the ground.
In my red galoshes, I make lots of sploshes, jumping up and jumping down,
Turning 'round and 'round and 'round.
"Pitter-patter, pitter-patter," suddenly, I stop.
Then I fall down on the ground and make a big "kerplop!"
Little raindrops "Splashing, splashing," splashing on my face.
Little raindrops, "Splashing, splashing," splashing every place.
"Pitter-patter, pitter-patter," raindrops on the ground.
"Pitter-patter, pitter-patter," I just love that sound!
You can also dive into some fun rainy day books, such as Rain by Robert Kalan. This book explores rain and all its sounds, sights, and properties and is beautifully illustrated by Donald Crews.
So enjoy the rain, and happy crafting! For more fun ideas to welcome spring, check our list of spring crafts for kids.