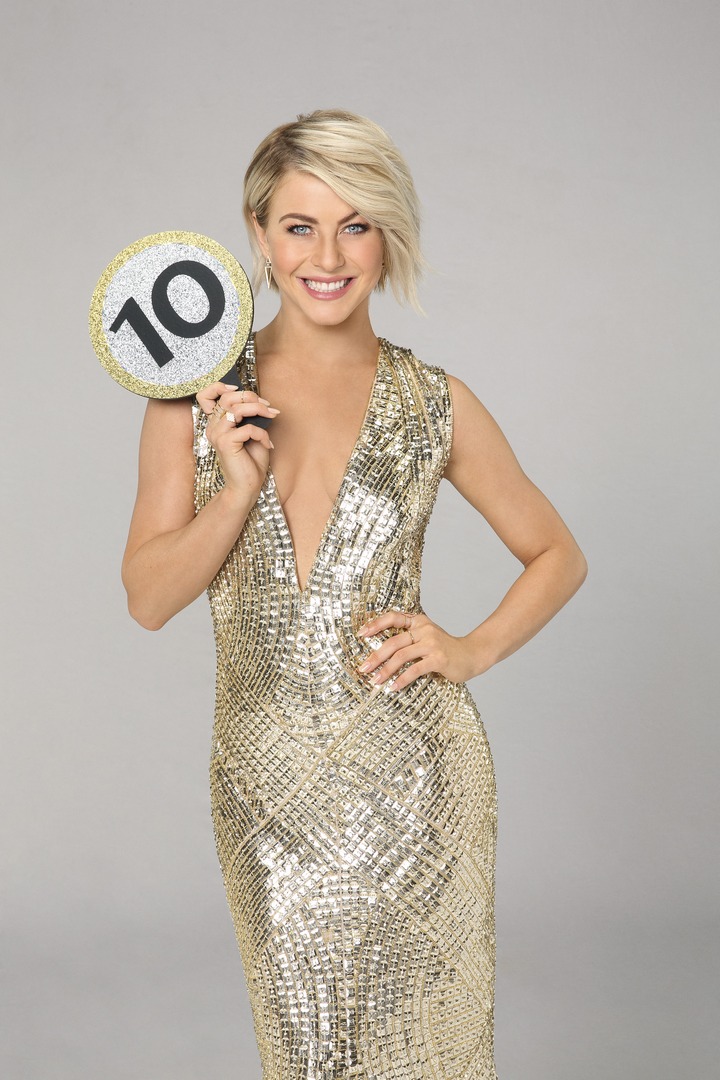 So here we are at week 6, with 9 couples still left, with one couple going home tonight. Tonight's theme is Famous Dances Night, with the couples recreating iconic dance routines from movies as well as music videos. Tonight's guest judge is Olivia Newton John. Also Erin Andrews will not be co-hosting tonight because of previous sports commitment so Leah Remini will be her replacement tonight.
Dancing with the Stars Week 6- Famous Dances Night Recap
Here is the songs and dances that the couples will perform tonight:
Alek & Lindsay – "Jailhouse Rock" from Jailhouse Rock – Jive
Alexa & Mark– "I'm A Slave 4 U" by Britney Spears – Cha Cha
Andy & Allison – "Good Morning" from Singing In The Rain
Bindi & Derek – "(I've Had) The Time of My Life" from Dirty Dancing – Rumba
Carlos & Witney – "Pony" from Magic Mike – Rumba
Hayes & Emma – "You're The One That I Want" from Grease
Nick & Sharna– "You Should Be Dancing" from Saturday Night Fever
Paula & Louis– "Vogue" by Madonna
Tamar & Valentin– "Rhythm Nation" by Janet Jackson
First up:
Hayes and Emma-
So, Hayes admitted he has never seen the movie Grease before. Seriously, how can you have not seen Grease Hayes? Wow! They do a great job with this dance. Hayes looked just like a young John Travolta, even down to the greased-up hair. I think Hayes still needs some work though in some areas. He didn't miss any steps but he seemed a bit he isn't always as precise as he should be. But overall, well done to both of them.
Carrie Ann- 8- She said Hayes needs a bit of finesse in his dancing
Olivia- 8- She called Hayes a baby John
Julianne- 8- She said Hayes owned the dance
Bruno- 8- He said Hayes had star quality but needs to splice the beat
Total: 32 /40
Andy and Allison-
Andy brings in some confidence this week from his time with Sharna last week. Andy and Allison get some great advice from Patricia Kelly, Gene Kelly's widow. I love how well Andy is doing tonight. He looks like a whole new Andy out there on the dance floor, confident and smiling. He is not making the mistakes he has made in the past. Very, very well done!
Carrie Ann-10- She said the dance had ease and grace
Olivia-10- She thought it was wonderful
Julianne-10- She said Andy is continuing to improve each week
Bruno-10- He thought Andy did an honor to this classic dance
Total: 40/40
Alexa and Mark-
Alexa is confident from last week's first perfect score of the season. Since they are recreating the dance, in comes the snake, giving Alexa a scared look on her face. So how was she this week? I am not sure if she is too confident because of last week's score but she is not living up to her potential this week. It wasn't horrible or anything but just not her full potential.
Carrie Ann-8- She thought Alexa missed the essence of the dance
Olivia-7- She called it sexy
Julianne-7- She said Alexa wasn't as good as last week
Bruno-8- He said it worked very well
Total: 30/40
Bindi and Derek-
I have to say that this is the one dance that made me a bit nervous. The lift is the most famous part of this dance and I haven't ever seen Derek do a lift before. Jennifer Grey shows up to rehearsal to give Bindi and Derek some advice. Derek was definitely nervous as lifts are not his thing. They started out amazing and totally NAILED the lift! They recreated the dance so well that you would have thought it was Jennifer Grey and Patrick Swayze out there. Amazing, amazing, amazing!
Carrie Ann-10- She said Bindi makes her job so easy
Olivia-10- She said it touched her heart
Julianne-10- She loved the dance details
Bruno-10- He called it blindingly brilliant
Total: 40/40
Paula and Louis-
Here we go again with Paula. She was happy with the 7's she got last week. She does understand that those scores will not keep her in the competition right? I was a bit surprised by their choice of dance this week. Let's face it, Madonna and Paula are like night and day, they are nothing alike. Paula is doing her usual out on the dance floor, absolutely nothing. Her costume was hideous, she reminded me of Little Bo Peep. It was just awful, I couldn't even find one good aspect of this dance.
Carrie Ann-6- She wondered what happened to the Paula from last week
Olivia-6- She said Paula looked gorgeous
Julianne-6- She said the energy just wasn't there
Bruno-6- He didn't think it was Vogue
Total: 24/40
Carlos and Witney-
Carlos is clearly not happy about doing this routine since it is a raunchy one and that just isn't who he is. I think this is one of those dances that people will either hate or they will love, nothing in between. Well, I don't know about anyone else, but I loved it. Carlos did some raunchy moves but he also did some actual rumba steps. Also, in the movie, this is a solo dance so kudos to Witney for transforming it into a duet dance. It was hot, it was awesome, amazing job!
Carrie Ann-10- She called it a great routine
Olivia-9- She is speechless and said Carlos missed his calling, jokingly
Julianne-9- She called it the sexiest rumba ever
Bruno-10- He said he thought he experienced all 7 deadly sins in one dance
Total: 38/40
Nick and Sharna-
I think this was another dance I wasn't too sure about. I mean, after all, Nick is a Backstreet Boy, not a disco dancer. Nick is doing very well channeling his John Travolta, however. It was so much fun to watch Nick and Sharna. They did a great job with the samba steps.
Carrie Ann-9- She said that Nick was in and out of character
Olivia-10- She said Nick brought disco back
Julianne-10- She said it was a true re-invention
Bruno-10- He said the samba incorporation was seamless
Total: 39/40
Alek and Lindsay-
Alek was a bit hard on himself because of last week's scores. Lindsay brought an actor in to rehearsals that played Elvis in several movies. I think this did him some good to channel his inner Elvis. Oh and the hair…props to the hair and makeup department for Alek's hair. So, those are the good points. While it was good, it wasn't great by any means. I just really expected more from him this week. But he just didn't bring it to the table.
Carrie Ann-8- She saw some improvement
Olivia-7- She said he did a great job
Julianne-8- She said Alek improved but she wants to see him connect more
Bruno-7- He said it was enjoyable but Alek went the wrong way several times
Total: 30/40
Tamar and Val-
Tamar did not have one of her good weeks. She was sick and lost her voice. Val is worried about them staying in the competition so Tamar is determined to give it her all this week. And boy, did she ever bring her A game. That is the Tamar that we all love and enjoy watching.
Carrie Ann-10- She said it was a tough dance but Tamar nailed it
Olivia-10- She loved the choreography
Julianne-10- She called the dance fast and intricate
Bruno-10- He called Tamar the star of the show
Total: 40/40
Judge Leaderboard After Week Six:
Tamar & Val- 40/40
Bindi & Derek- 40/40
Andy & Allison- 40/40
Nick & Sharna- 39/40
Carlos & Witney- 38/40
Hayes & Emma- 32/40
Alek & Lindsay- 30/40
Alexa & Mark- 30/40
Paula & Louis- 24/40
It is elimination time people! Finger crossed that Paula is done with this competition. So, Paula and Louis as well as Alexa and Mark are in jeopardy, while everyone else is safe! Are you kidding me…how can Alexa and Mark be in jeopardy? Well, Paula and Louis are the ones to go home! Thank you, thank you, thank you!
Did you catch the Dancing with the Stars Week 6 episode? What were your thoughts? Did Paula and Louis deserve to go home? Tell us in the comments!