Thank you QVC for sponsoring this post. While this was a sponsored opportunity from QVC, all content and opinions expressed here are my own.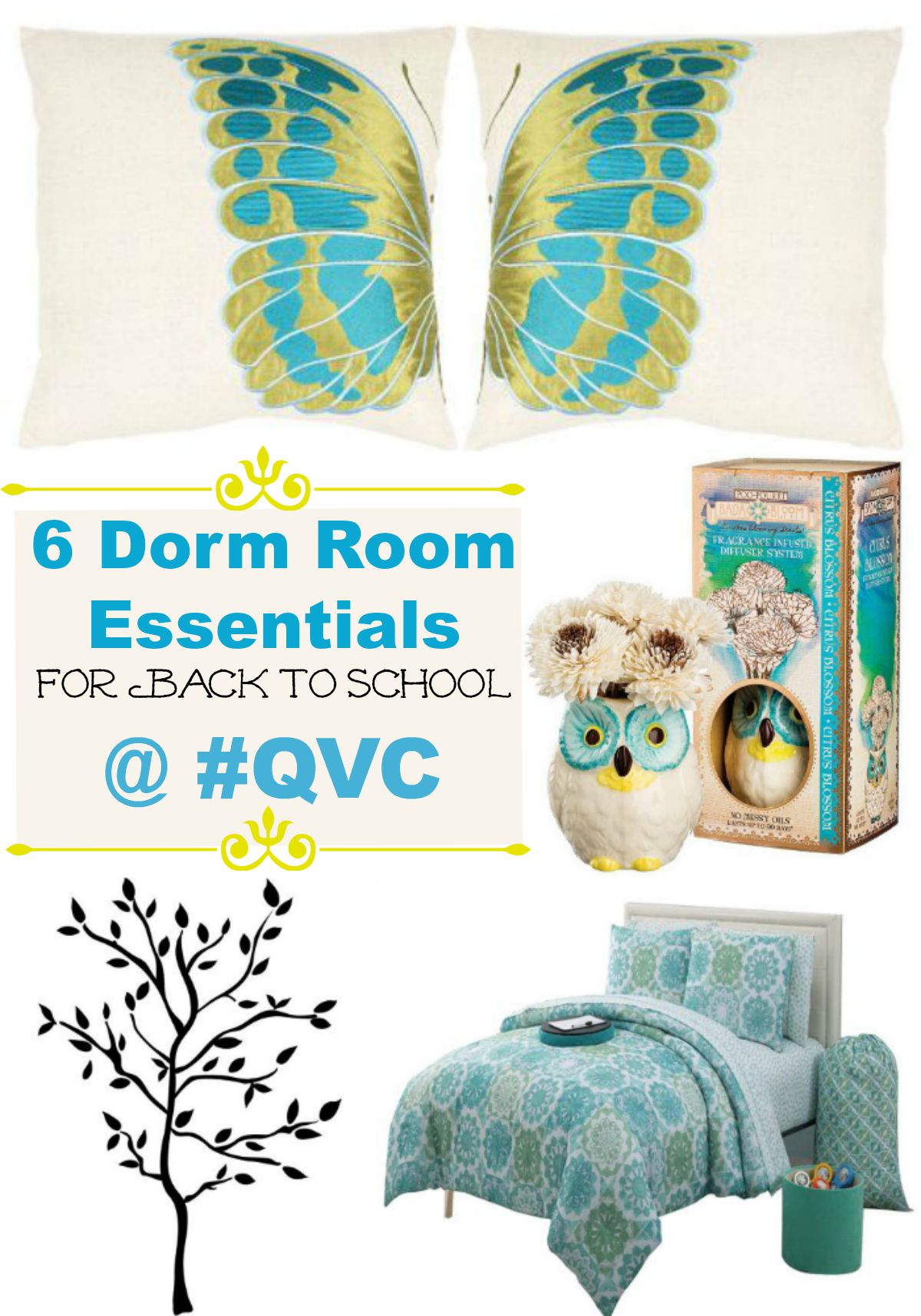 Whether you are headed off to college (#excited!) or want to freshen up your space before the new school year, you simply must check out all of these cute dorm room accessories I found over at #QVC. QVC has so many cute items. I had trouble narrowing down my selections. If you are a nature loving girl or are in love with turquoise, then this selection is just perfect for you.
Now I know as you are shopping there is always a wee little hang up to all of your fabulous room ideas called the budget. The great news is QVC has a brand new Easy Pay, Every Day option for QCard holders. This means you can shop for your new dorm or for all of your school supplies and everything you buy can be split into three payments at checkout, excluding gift cards. Once you open a QCard account, you can choose this option for any QVC items (except gift cards) with no minimum order or extra charges every day. That works perfect if after you place your first order, you happen to spot something else fab you have to have. That gives you some more wiggle room in the budget to create that perfect space for studying and unwinding.
So now that we can relax a bit, let's shop for the perfect room!
Bedding

I started off in the bedding section as your bedding is one of the centerpieces to any fab dorm room. You simply must check out the Isadora 9 – Piece comforter set. This set includes a comforter, sheet set, a standard pillowcase and two standard shams. What sets this set apart besides the beautiful pattern is it also includes a matching laundry bag, a small ottoman that doubles as storage and a dry erase board for scribbling a note to yourself or your roomie.
Isadora 9-Piece Twin Comforter Set @ QVC – $100.82
Pillows

I could never have enough pillows for studying and hanging with my friends in my dorm. These pillows could be thrown on the bed with that beautiful bedding set, or added to a futon or couch to look adorable. The butterfly wing pillows are beautiful. I simply could not resist the beautiful wings! I would expect to see pillows like these on Taylor Swift's couch. The dragonflies are too cute and blend easily in almost any room including with that bedding set.
Indra Blue Wing Pillows (Set Of 2) @ QVC – $60.68
Azure Dragonfly Applique Pillows (Set Of 2) @ QVC – $46.42
Organization

You need somewhere to keep all of your books, and this foldable storage shelves is the solution. This piece has two file folder bins on the bottom, and each of the three shelves can support up to 50 lbs. At the end of the year fold it back up and move to your next place! Add some matching storage boxed to keep yourself organized and looking pretty.
Safco Onyx Mesh Fold-Up Shelving @ QVC – $106.30
Accessories

Dress up that boring blank wall with this adorable peel and stick tree. This design will give any room a peaceful feeling while studying for exams. While you are decorating, you can combine beauty with function. This adorable little owl will keep your room smelling great even if the laundry is piling up in the hamper.
RoomMates Tree Branches Peel & Stick Wall Decals @ – QVC $24.99
BadaBloom Owl Room Fragrance by Poo-Pourri @ – QVC $38.74
Pick up all of these great pieces at QVC now. Don't forget to apply for a QCard so you can split your order into three payments at checkout, excluding gift cards.
Readers, which is your favorite piece for your room?