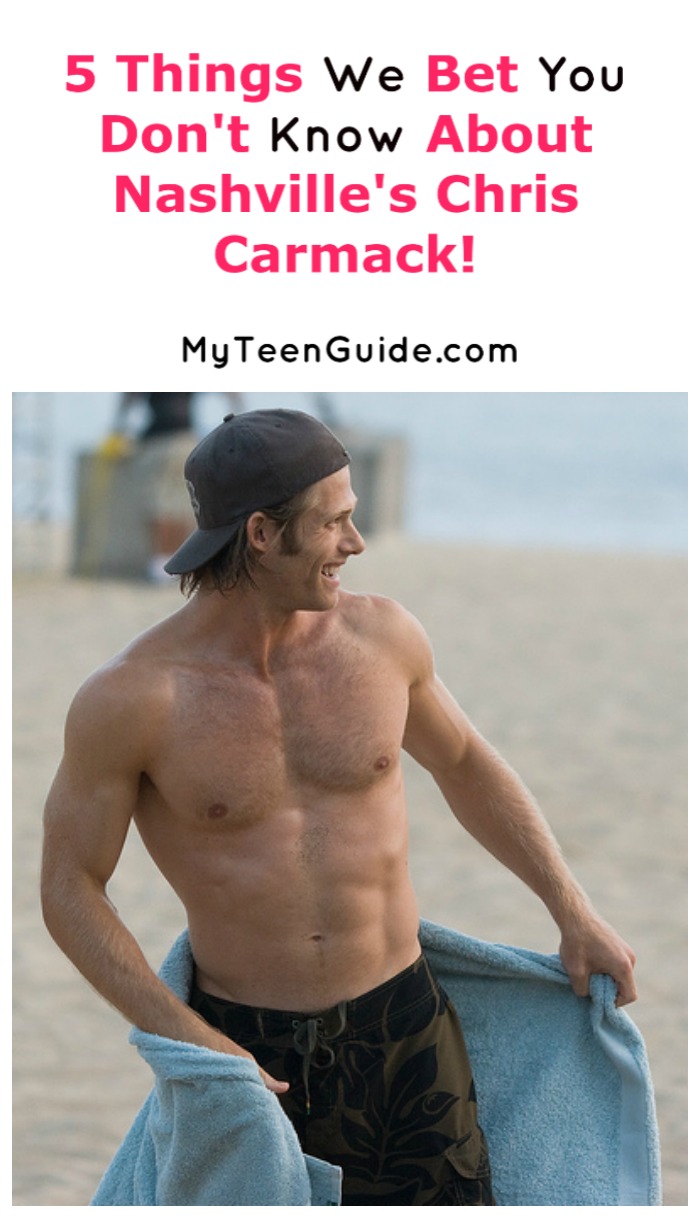 As a Nashville fan, you know Chris Carmack as Will Lexington, right? He has appeared on the show as a recurring character in season 1, episode 16 and has been a main character since season 2. Will is the ex-boyfriend of Brent McKinney and Kevin Bicks, the ex-husband of Kayla Grant and the current boyfriend of Zach Welles. Here are some things you may not know about the actor, singer and model, Chris Carmack.
5 Facts About Chris Carmack
Affiliate links included below. Thanks for your support!
Chris Carmack was born James Christopher Carmack on December 22, 1980 in Washington, D.C.
Before his acting career started, he was a model for Abercrombie & Fitch, Macy's, Guess, Lord and Taylor, Target and Nautica.
He has appeared in several movies and TV shows. In film, he starred in the 2005 Love Wrecked as Jason Masters, the 2009 The Butterfly Effect 3: Revelations as Sam Reide, the 2009 Into the Blue 2: The Reef as Sebastian White and the 2010 Alpha and Omega as the voice of Garth. For his television acting credits, he starred in The O.C. as Luke Ward from 2003 to 2004 and Beach Girls as Cooper Morgenthal. He also appeared on Smallville as Geoff Johns in 2005 (season 4, episode 13), CSI: Miami as Cole Telford in 2007 (season 5, episode 23), Desperate Housewives as Tim Bremmer in 2008 (season 4, episode 11), CSI: NY as Colby Duncan in 2008 (season 5, episode 11) and NCIS as Kevin Nelson in 2009 (season 6, episode 14).
In 2015, he released an EP titled Pieces of You. The EP features 5 of his original songs: Being Alone, Can't Do It Again, What Has Changed, Always Mine and Pieces of You.
In 2013, he started dating Erin Slaver, after she appeared on the show as a backup singer for Juliette Barnes (Hayden Panettiere). Erin is an actress, singer, songwriter, fiddle player and violinist. The couple became engaged on March 1, 2016, with no immediate wedding date set. They welcome a baby girl into the world, at St. Thomas Mid Town Hospital in Nashville, Tennessee, on August 30, 2016. The couple has not released the name of their daughter.
He has a pretty decent social media following. His Facebook account has 38,002 Likes and 37,647 Followers;  his Twitter account features 5,226 Tweets, 72,903 Followers and 16,856 Likes and his Instagram account has 43,398 Followers.
Have you heard any neat facts about Chris Carmack? Share below!