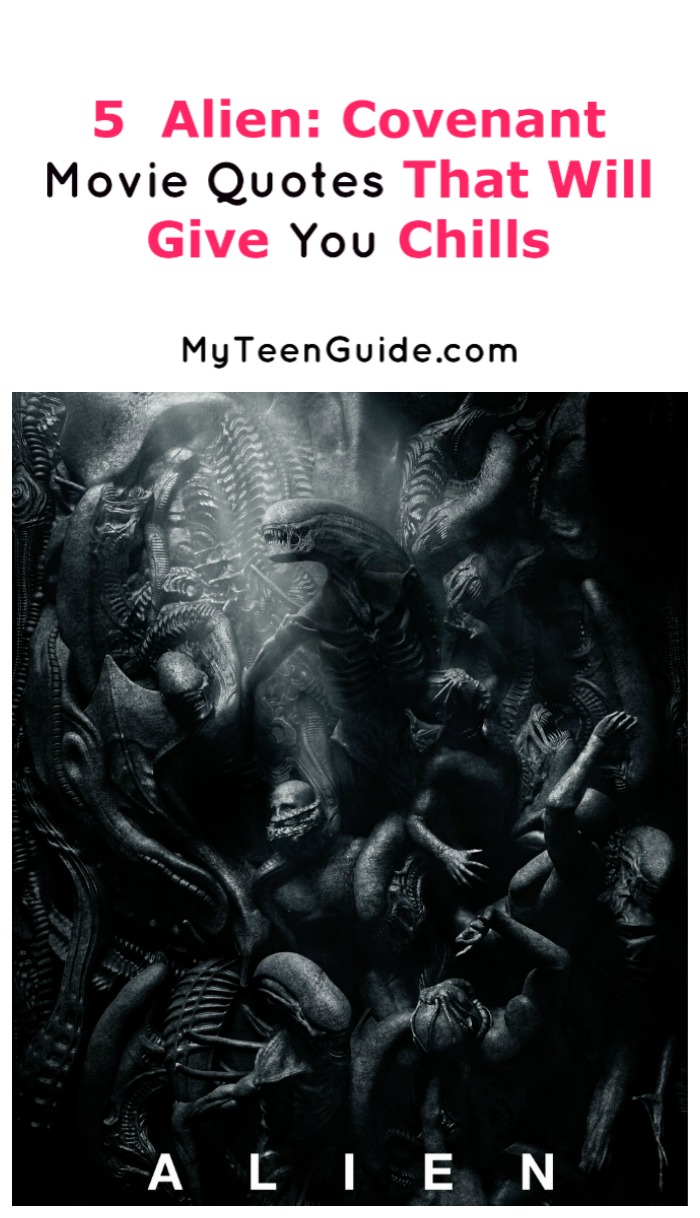 These 5 Alien: Covenant movie quotes prove that there's something else out there…and it may not be friendly! If you checked out our Alien trivia post yesterday, you know that Alien: Covenant is a 2017 science fiction horror movie that is the sequel to the 2012 movie, Prometheus. It is also the 6th movie in the Alien movie franchise, with the others being the 1979 Alien, the 1986 Aliens, the 1992 Aliens 3, the 1997 Alien: Resurrection and the 2012 Prometheus. Here are some quotes from the upcoming movie as well as one quote from the 2012 prequel, Prometheus. First, let's check out the trailer, shall we?
Quotes from Alien: Covenant
Walter, talking to Daniels, before leaving on their journey to the remote planet:
Walter- "Cryosleep will commence in one hundred and fifty-three minutes, allow one hour before taking the purgative, and please ensure to consume the requisite liquid and the vitamin pack."
Cryosleep is not a real concept just yet, but it is a method of putting astronauts into a hibernation state with the use of a drug or cold chamber. Walter, is a synthetic android, played by Michael Fassbender. Daniels is an Earth-shaping expert and the wife of Jacob Branson, the captain of the Covenant.
A conversation between Jacob Branson and Tennessee, prior to leaving for the remote planet:
Jacob- "I just wanted to say hey before I jet out, I'm feeling kind of queasy."
Tennessee- "What, you're not feeling good?"
Jacob- "I'm just burning up."
Tennessee- "I thought we were going to have one more drink before we went into Cryosleep. Who's going to lead us in our toast?"
Jacob- "I've asked Daniels. She'll know what to say."
Tennessee- "Aye-aye, Captain."
Jacob Branson is the Covenant's captain, played by James Franco. Tennessee, played by Danny McBride, is the Covenant's chief pilot and is married to Faris, played by Amy Seimetz.
Daniels, making her speech to the crew members, before leaving on their journey:
Daniels- "You've all sacrificed so much to be here, to be a part of this. This is the first ever large-scale colonization mission to come this far into our galaxy and making history. And everyone back on earth is really grateful for your hard work and your courage. I just want to say I couldn't pick a better bunch of jerks to get marooned on a distant planet with. So, um, to the Covenant!"
A conversation between Daniels and Christopher Oram:
Daniels- "You hear that?"
Christopher- "What?"
Daniels- "Nothing. No birds, no animals, nothing."
Christopher Oram, played by Billy Crudup, is the first mate of the Covenant and married to Karine, a biologist, played by Carmen Ejogo.
Quote from Prometheus
Elizabeth Shaw, as the last lines of the movie:
Elizabeth- "Final report of the vessel Prometheus. The ship and her entire crew are gone. If you're receiving this transmission, make no attempt to come to its point of origin. There is only death here now, and I'm leaving it behind. It is New Year's Day, the year of our Lord, 2094. My name is Elisabeth Shaw, last survivor of the Prometheus. And I am still searching."
Have you heard any awesome Alien: Covenant movie quotes yet? Do you have any favorites from the other Alien movies? Share below?