This fun fall crafts for kids post contains affiliate links.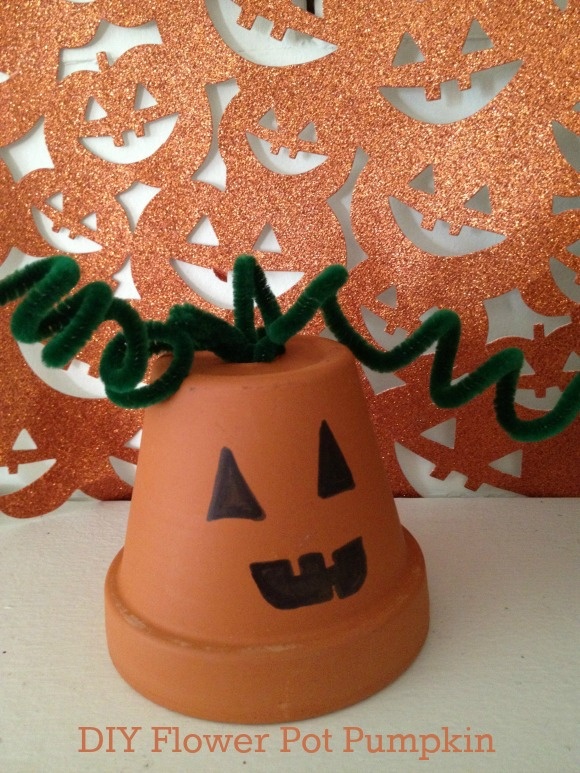 There are certain signs of fall you just can't miss: leaves, mums, corn, and of course, pumpkins! Pumpkins and fall go hand in hand like peanut butter and jelly, or cider and donuts. This fall, why not teach your children more about pumpkins and follow up the lesson with this DIY flower pot pumpkin craft? It only takes a few minutes to make, and it uses some fun and ordinary supplies in not so ordinary ways. So gather the kids and let's talk about pumpkins. Then, try your hand at making these flower pot pumpkins and see what you can come up with. Take a peek at how easy it is to make these fun fall crafts for kids!
Fall Crafts for Kids: DIY Flower Pot Pumpkin:
Supplies Needed: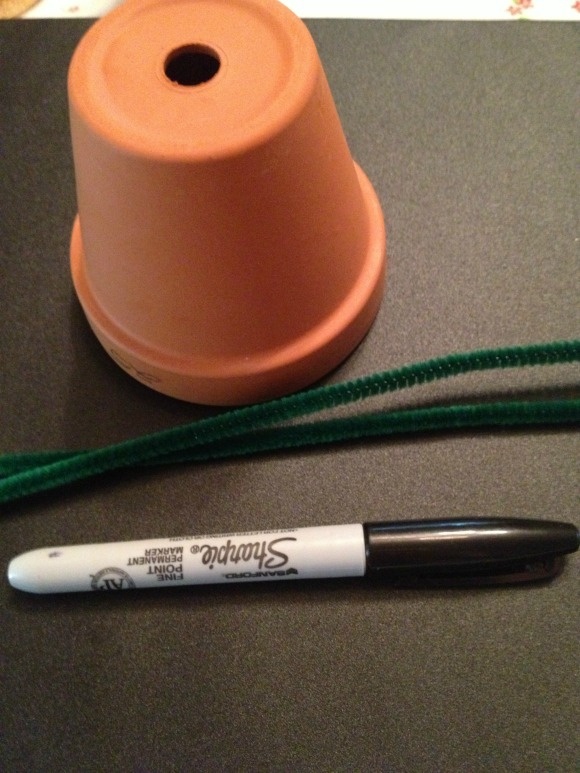 See how easy this craft is? Three supplies are all you need to get started. Check your local dollar store for all of the supplies listed above. If you can't find any small flower pots, your local retail store such as Walmart should still have them. Tiny ones such as these can typically be found for less than $1 each, so this craft is not only a unique one, but a frugal one too. Perhaps you even have some left over from the seedlings experiment we did over the summer!
Directions:
First, flip your flower pot over so it is resting upside down. This is going to be the base or body of your pumpkin.
Take your black marker or paint and add the face of your choice. Be creative! You can make your pumpkin look scary, sweet, sleepy, happy, or any other expression you choose. You can use stencils if you wish or just freehand. While you are making these faces, why not talk about the shapes you are making? This is a wonderful opportunity for a mini lesson.
Once your face is in place, it is time to add the final touch, the stems. To do this, twist green pipe cleaners around your fingers and them insert the pipe cleaners into the drainage hole that is at the top of the pot. Bunch the pipe cleaners up a bit so they won't fall through the whole but instead rest in it snuggly.
You can continue to twist the stems to give them a quirky look or leave them alone for a more natural look.
Your pumpkin is now ready to be displayed. Why not buy several pots and create a whole pumpkin patch of these flower pot pumpkins? It is simple to do, and the finished effect is quite fun.
While creating your pumpkins, continue to make a mini lesson out of it by talking about pumpkin facts. Talk about the color of them, the different shapes, how they grow in patches, have stems, and the various colors the pumpkins go through at they grow. All of the information is so fun for children to absorb, and it will make the activity more interesting for them.
So gather your supplies and get crafting with your kids. This is one fall craft you will want to try, and one that will leave you with a pumpkin you will be able to enjoy for years to come. We have more fun fall crafts for kids coming your way, so be sure to come back and check those out!